"Fan's Eye View" // Arlington SX // February 20, 2016
By: Krystyn Slack
You know the saying, "Everything's bigger in Texas"? Well, that means everything, including Monster Energy AMA Supercross and let me tell you, Round 7 did not disappoint! This week's "Fan's Eye View" segment comes to you from the home of the world-famous Dallas Cowboys – AT&T Stadium in Arlington, TX.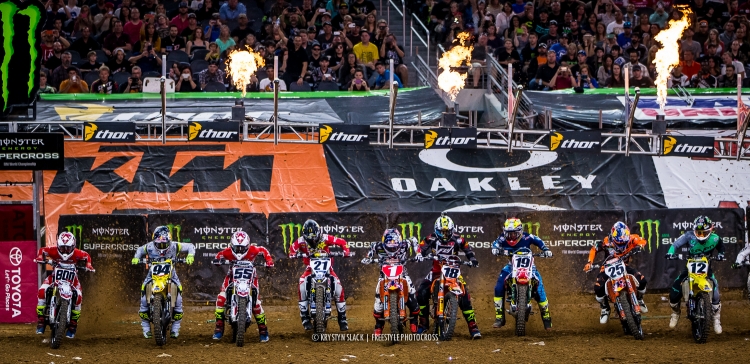 When the season begins, there is always a big buzz surrounding Anaheim 1 because it takes place right in the heart of Southern California, a place many would consider the nucleus of all things Supercross. While Supercross may have been bred in Southern California, the fans in Texas bring a level of dedication to the table that has been unmatched by any other stop in the series thus far. You know you're in Texas when fans are dressed in a moto jersey, boots, and jeans or some fabulous handcrafted t-shirt adorned and bedazzled with their favorite rider's name and number or a jersey or shirt covered in autographs from season after season of avid fandom. That's right California; I'm calling you out. Texans know how to party.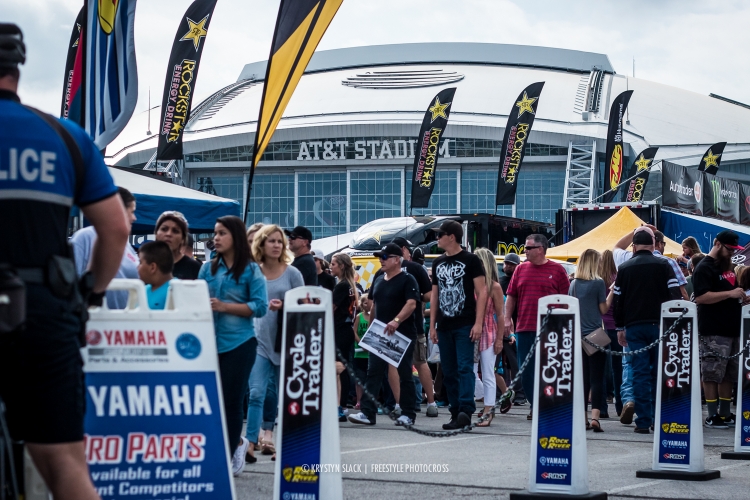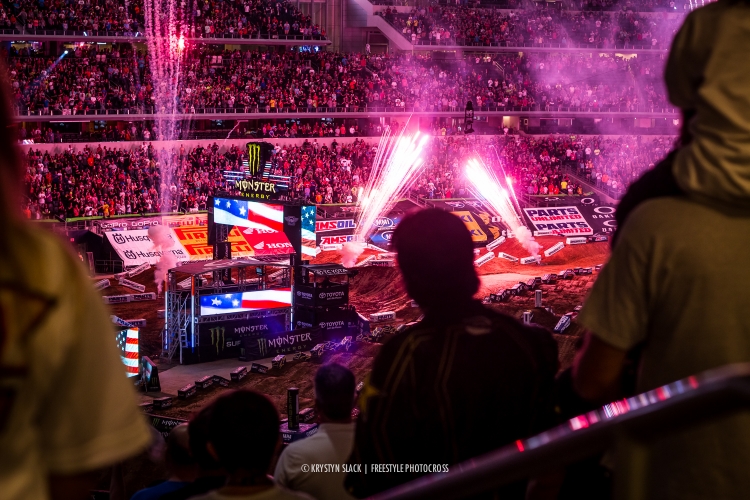 Round 7 marked the last round of racing for the 250 West contenders until the April 2nd stop in Santa Clara, CA and that meant the battle was on in Arlington. Defending champ Cooper Webb, current points leader Joey Savatgy, and comeback kid Christian Craig came out the gate guns blazin'. But we can't forget about Zach Osborne either. Osborne has consistently qualified in the top 5 every single round thus far, but has not been able to come away with as many podium appearances. This would be their last chance to stake their claim on as many as 25 more points before the series heads east, a critical race for all of the frontrunners. Who would come away with the momentum and points advantage heading into the break? We've seen Webb, Craig, and Savtagy in the front of the pack with Osborne and Nichols in close pursuit through seven rounds.

In Arlington, the gate dropped on 15 laps of intense racing, that ultimately resulted in Savatgy giving up the points lead to reigning champ, Cooper Webb after a racing incident run in with Christian Craig that left Savatgy on the ground. Once he was back on the bike, after getting passed by the entire fleet of 250 riders, Savatgy managed to finish the night in 10th place. – not exactly the result he was expecting though. He now sits 11 points behind Webb.


After leading 10 of the 15 laps of the Main Event, Christian Craig came away with a 2nd place finish, to Cooper Webb. He heads into the break sitting third in points, only 16 points behind Webb.



While we've seen Zach Osborne consistently qualify in the top 5 through all 7 rounds, he has not been able to make as many podium appearances. In Arlington, however, Zach was able to put the pieces together with a 4th in qualifying and a 3rd in the Main Event, his third trip to the box this season. He now sits 5th in points.


The 250 West riders may be headed into a break so their East coast counterparts can get some seat time, but for the 450 guys, they've got a 20-lap Main Event to race all the way through the finals in Vegas. The fellas sure did put on a great show for us in Arlington. Ken Roczen grabbed the holeshot and hung on tight in a bar to bar and back and forth battle with Ryan Dungey that lasted the entire Main Event. Fans were loud and excited lap after lap with collective cheers erupting every time Dungey almost passed Roczen as the battle unfolded. However, it would be Ken Roczen who emerged victorious in Texas, followed by Ryan Dungey. We also saw an impressive run from Jason Anderson, who made his first podium appearance since winning the opening round in Anaheim on January 9. Anderson now sits third in points behind Ken Roczen and points leader Ryan Dungey as the series heads East to Atlanta.




The theme of the week may be "Everything's Bigger in Texas", but we can't forget about the little rippers that got to tear it up during the KTM Jr. Supercross Challenge. They may be small in stature, but these groms can rip! They took on the massive Texas track and rode away with the experience of a lifetime. All of the participants rode with impressive skill, but it would be Jaden Palmer who dominated the exhibition race, and ended with a larger than life victory dance in front of the packed house. Naturally, the stadium broke out in collective cheers for Jaden and all of the little guys (and girls) out there.


As for your weekly dose of "Fan's Eye View", this segment will be on hiatus until the series returns to California in April. But have no fear; you'll still be able to catch plenty of Freestyle Photocross action as I turn my focus toward the Amateur Motocross Race season. I'll be travelling all throughout the Golden State snagging photos of the groms on their way to Loretta Lynn's and Mammoth Motocross.
A big "thank you" goes out to Thor Motocross and all of my followers and supporters for making this segment of "Fan's Eye View" possible.
See you at the races! 🙂