Anaheim 1 marks the start of the Monster Energy AMA Supercross, an FIM World Championship season. For 2018, there has already been plenty of speculation of who would be a championship contender and who would fall short, even before the first gate drop. Of course, the story that has been most readily talked about is Ken Roczen's triumphant return to racing after a devastating injury nearly a year ago. Early on in his recovery, it was questionable if he would even be able to keep his arm, let alone ever ride a dirt bike again. But with numerous hours in the gym, countless days of physical therapy, and immense amounts of strength training, Ken Roczen was able to line up at the opening round of Monster Energy Supercross. Ken would go on to lay down the fastest qualifying time in the 450 class, then take 3rd in his heat, and finally 4th in the Main Event – not bad considering he hasn't been riding under race conditions since January 21, 2017.
Eyes were also on Eli Tomac, who missed the 2017 Monster Energy Supercross championship by six points (five points to tie, six to win), but went on to win the 2017 Lucas Oil Pro Motocross Championship. Tomac has long since been a staple in the "wicked fast" department, but simple mistakes have kept the championship just out of reach. Would 2018 finally be his year to shine? The evening started off with the typical Tomac speed we've become accustomed to – a gnarly holeshot that instantly left him seconds ahead of his competitors. However, after leading the Main Event for 7 laps, he had a crash that left him with a shoulder contusion and in a bizarre chain of events, broken pants. Tomac would end up pulling off the track and ending his night early. He was scored in 22nd, earning only 1 point. Obviously not the ideal start to the season, but not an entirely impossible one to overcome either.
While these are only two of the hot topic stories from the Anaheim 1 season opener, here's a "Nifty Fifty" gallery of my favorite 50 images from the kick off of the 2018 Monster Energy Supercross Season!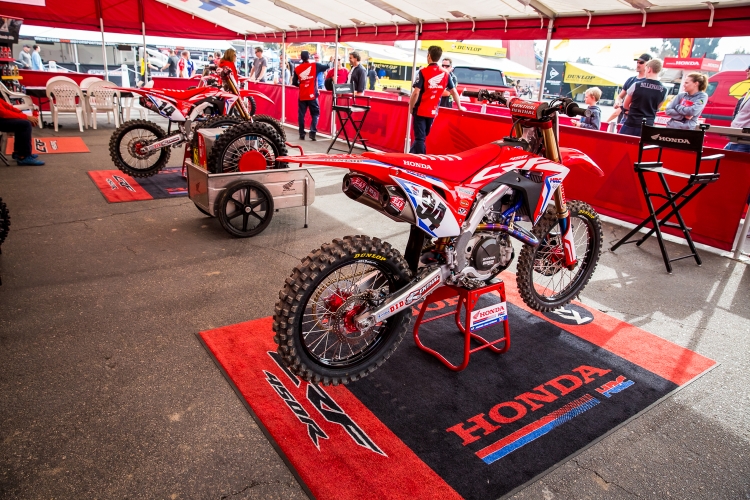 Join us this next weekend as we head east to NRG Stadium in Houston, TX for Round 2 of
Monster Energy Supercross
!