Round 4 of the Lucas Oil Pro Motocross Championship took place at High Point Raceway in Mount Morris, PA on Saturday, June 15, 2019. Hard to believe that the 2019 season is already a third of the way done, but competition is just starting to heat up. It's been said many times that 2019 has produced some of the best and most competitive racing we've seen in recent years and on any give day, there are nearly ten riders in each class that could easily finish the day with a moto win. Granted, until this point, only four riders have won motos thus far this year – Adam Cianciarulo and Justin Cooper in the 250 class and Ken Roczen and Eli Tomac in the 450 class. But this is where the tables turned. For the first time this season, we saw new moto winners emerge on the incredibly tough and technical track. Here's a look at the top five most memorable moments from Round 4 of the Lucas Oil AMA Pro Motocross Championship in this week's Fast Five Recap.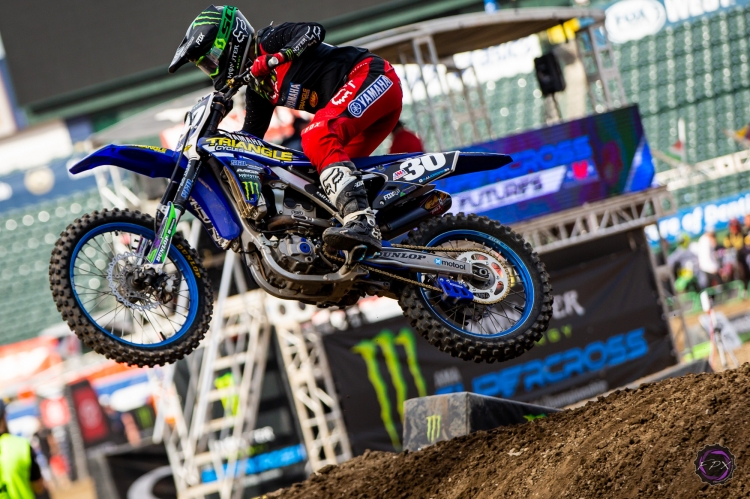 5. Jordan Jarvis Makes Pro Motocross Debut
If you've followed the amateur circuit in recent years, then you've definitely heard the name "Jordan Jarvis". Jarvis has racked up her fair share of wins and championships in the women's classes over the last few seasons, but this year she's ready to make a jump that no female has yet to accomplish – competing in the Pro Motocross series as a viable 250 competitor. Of course, Jarvis is no stranger to competing with the boys, as she has done it for a good chunk of her racing career in her supermini days. She has also raced the Monster Energy Cup in both the Supermini and All-Stars classes as one of the very few female competitors in the field. But making the jump to the pro class is a whole new ball game. Unfortunately, the WMX disbanded after the 2018 season, leaving female racers with very few options to race, and certainly no options to race professionally. So Jarvis got to work earning enough points to qualify for her AMA pro license. After plenty of hard work to earn her AMA Pro License, Jarvis was able to make her Pro Motocross racing debut at the High Point National. Jarvis ultimately qualified in 48th out of 70 competitors in the 250 class, a mere four seconds outside of the Top 36. She would go on to compete in the 250 Consolation race, where she would finish 29th. Although Jarvis did not qualify for the motos in her debut, it is only a matter of time before she is on that 40-(wo)man gate competing with the best in the world. I look forward to seeing Jordan continue to be a pioneer and charge forward against an entirely male field.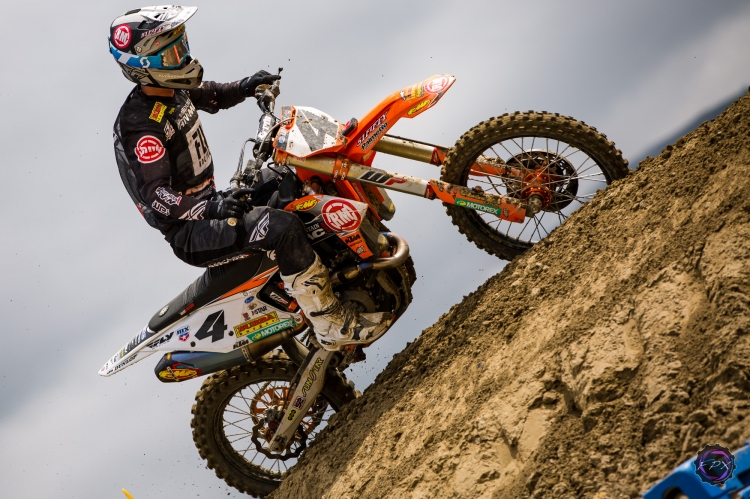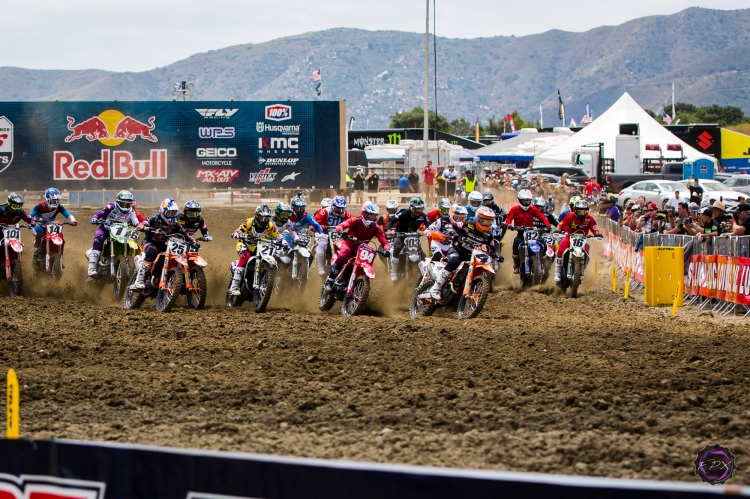 4. Blake Baggett Wins 450 Moto 1
Blake Baggett, "El Chupacabra" as he is known, hasn't had the most ideal start to his Pro Motocross season, but everyone knows that he is fast, really fast on a dirtbike. It has been some bad luck that has gotten in the way of consistent fights for podium position, but don't let that fool you about his ability. Baggett is one of the most skilled riders in the field with the speed and intensity to match. Remember, on any given day, nearly 10 different riders in the 450 class could easily be on the top step of the box when the checkers fly. With competition so fierce, it is a feat in and of itself to get to the front of the pack and having 40 of the fastest guys on the planet on the line with you every weekend certainly doesn't make that an easy task. During Moto 1 at High Point, Blake Baggett was able to get up front early – something he's done many times already this season. However, at High Point, he not only got up front early, he checked out early. Baggett would go on to lead an impressive 17 out of 17 laps on the incredibly challenging track, taking the win more than nine seconds ahead of 2nd place finisher, Jason Anderson. This would be Baggett's first 450 Moto win since High Point 2017. This also marked the first not Tomac or Roczen moto win of the season. Of course, there is still plenty of racing left in the season and plenty of points on the line, which means there is plenty of time for Blake to get even more moto wins! Baggett currently sits 8th in the points standings.






3. Impossible "Moto Math" in the 450 Class
As you know, the overall finishing position for riders is determined by the combined number of points they earn in Moto 1 and Moto 2, with the Moto 2 finish being the "tiebreaker" if necessary. Usually, the riding is fairly consistent between the top guys in both Motos, so computing "Moto Math" in your head is a fairly easy to accomplish task. But not at High Point! The overall winner and podium positions changed hands almost every single lap by the time Moto 2 rolled around.
Moto 2 starts out with Moto 1 winner, Blake Baggett, as well as the only other moto winners from the season, Ken Roczen and Eli Tomac, with a less than ideal start off the line. Cooper Webb gets out front early, followed by Joey Savatgy in second and Jason Anderson in 3rd. Tomac, Roczen, and Baggett were back in 7th, 8th, and 9th respectively. We also saw Marvin Musquin crash off the start before the holeshot line, which put him back in 15th. As riders make daring and impressive passes, the overall winner continues to bounce between riders. At one point Anderson was in the running for the Overall win, what would be his first in his career. Then more passes occur and all of a sudden Webb is in the running for the Overall. But remember, it's the total score between motos with Moto 2 being the deciding factor if points become tied. We find Moto 1 winner, Blake Baggett, back in as far as 17th at one point after cross-rutting and going down. Ken Roczen, who finished 6th in Moto 1 made incredibly decisive passes throughout Moto 2, including a pass on Zach Osborne where he jumped downhill and over the braking bumps – a very bold move by any rider! Roczen continued to make up speed and find passes that probably no other rider would try and ultimately charged hard from 8th to challenge for the lead! From 8th place to gapping Cooper Webb by more than 8 seconds for the lead, it's safe to say that Ken Roczen was riding in full beastmode during Moto 2, because at this point, every point counts.
All of a sudden, with Kenny's pass for the lead, Cooper Webb is now out of contention for a podium spot all together. Then the battle continues to unfold between Jason Anderson and Eli Tomac, but like many times before, Tomac is having a hell of a time finding the line to make a pass on Anderson stick. He finally makes the pass, taking Anderson out of contention for the overall, but he'll still have to make a pass on Webb in order for Tomac to be the overall winner. Are you lost yet? Because we all were watching the most complicated "Moto Math" unfold lap after lap. At one point, Roczen, Webb, and Tomac were all TIED in points for the overall win, but Kenny's first place finish in Moto 2 would give him the upper hand. I can't remember a race where three riders were tied in points for an overall win. Finally, at the tail end of the moto, Tomac was able to make a pass on Webb by taking the long way around on the outside. This changed the overall winner AGAIN! When all was said and done, the 450 podium was Eli Tomac in 1st overall with 3-2 finishes, Ken Roczen in 2nd with 6-1 finishes, and finally Jason Anderson in 3rd overall with 2-5 finishes. From the looks of it, it didn't even look like Eli Tomac realized that he was the overall winner when he crossed the finish line. As we head into Round 5, we now have Eli Tomac and Ken Roczen tied for the points lead with 176 points and then a pair of Rockstar Husqvarna teammates, Jason Anderson and Zach Osborne, tied for 2nd in the championship standings at 144 points, followed by Marvin Musquin with 139 points.





2. Eli Tomac Takes the 450 Overall Win with a 3-2 Finish
As you've just read, the 450 motos were filled with excitement and an almost exhausting list of potential overall winners. The overall winner changed hands so many times that even the announcers and riders weren't sure who would ultimately emerge victorious and on the top step of the podium. As Tomac crossed the finish line in 2nd in Moto 2, I'm not sure even he was aware that his 3-2 finish was enough to grab the Overall. But sure enough, when you add up all the points, it was Tomac who was able to stand center stage on the podium. He heads into Round 5 tied for the Points Lead and red plates with Ken Roczen. The battles unfolding this season are ones that you certainly don't want to miss.






1. Hunter Lawrence Accomplishes his Career First Moto Win and Career First Podium
Australian rider, Hunter Lawrence, is making quite the splash in his US Pro Motocross debut season. From the moment the first gate dropped, it was evident that the 19 year old had the speed to challenge front runners like Adam Cianciarulo, Dylan Ferrandis, and Justin Cooper. Up until this point in the season, the only Moto winners we have seen in the 250 class is the #92 of Adam Cianciarulo as well as the #32 of Justin Cooper. But High Point was a round of firsts in both classes. As the gate dropped on Moto 1, an epic battle was unfolding near the front of the pack where there is less than two seconds between riders in 1st and 5th place! With so many riders in a position to make a pass for the lead, consistency once again comes into play big time. High Point was an incredibly rough, rutted, and technical track, which means riders needed to be on their A-game and really minimize any potential mistakes. One tiny bobble and it's certain that you were going to get passed for a position. In contention for the lead were Justin Cooper, Colt Nichols, Hunter Lawrence, Dylan Ferrandis, and Adam Cianciarulo – all fast guys who could theoretically win a moto on any day. But this day, all eyes were on the #196 of Lawrence. He was in a good position off the start in 3rd and was ready to put his head down and get to work. It took nearly half of the moto before Lawrence was able to set himself up for a pass that would stick on leader, Justin Cooper. He surprisingly makes the pass from the outside line and starts to immediately pull away. For only making his US debut this season, Lawrence has a racer IQ of someone with much more experience, which will continue to serve him well. Lawrence is able to race ahead of him very well, without worrying much about what is going on behind him. This is a maturity that some riders take years to learn. Once Lawrence made the pass for the lead, he was able to really show his skills on a tough track and ended up gapping his competition be more than 8 seconds. As he crossed the finish line, Hunter Lawrence captured his carer first moto victory in an incredibly stacked 250 field. As the battles continued to unfold, Lawrence was able to continue charging in Moto 2, finishing in 3rd. The 1-3 finish was enough to put him on the box for 2nd overall, his career first overall podium.
Round 4 at the High Point National was a race of many first and a heck of a lot of epic battles. If you haven't watched Pro Motocross in a while, now is the season to get back into it! Riders in both classes are so incredibly competitive that racing is exciting again. Join us this next weekend as we head back to the Sunshine State of Florida at WW Ranch for Round 5 of the Lucas Oil AMA Pro Motocross Championship!