One of my favorite annual articles is my "Top 10 Freestyle Photocross" moments of the year. It's always fun to actively reflect on the year and remember all the fun places and opportunities that exist because of my camera and being part of the moto industry. In 2019, I may have made it to less races than previous years, but it was still full of adventure, good times, and racing memories that I'm sure to cherish forever. I'm very much looking forward to 2020 and hopefully covering more events from non-moto avenues, but without further ado, here's a look back at the Top 10 Freestyle Photocross moments of 2019.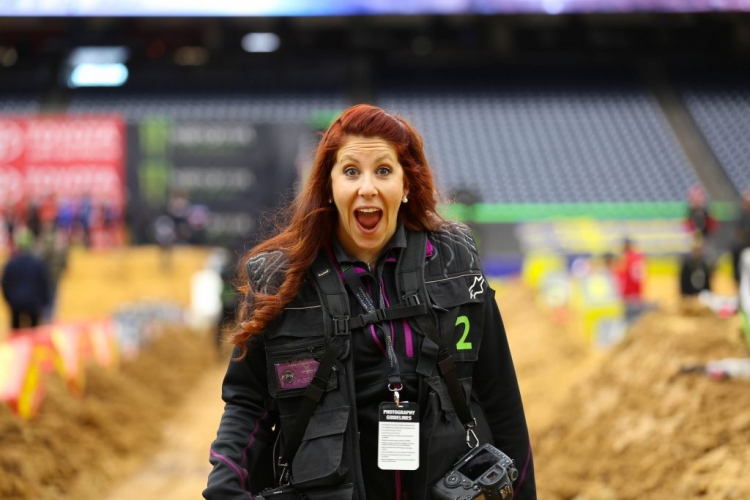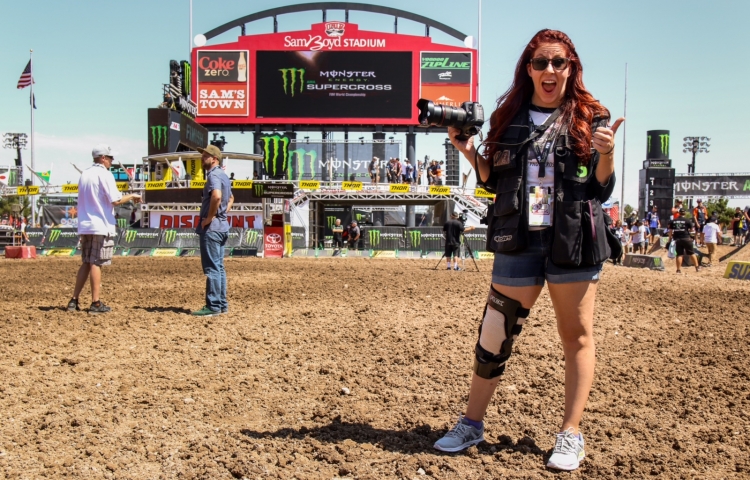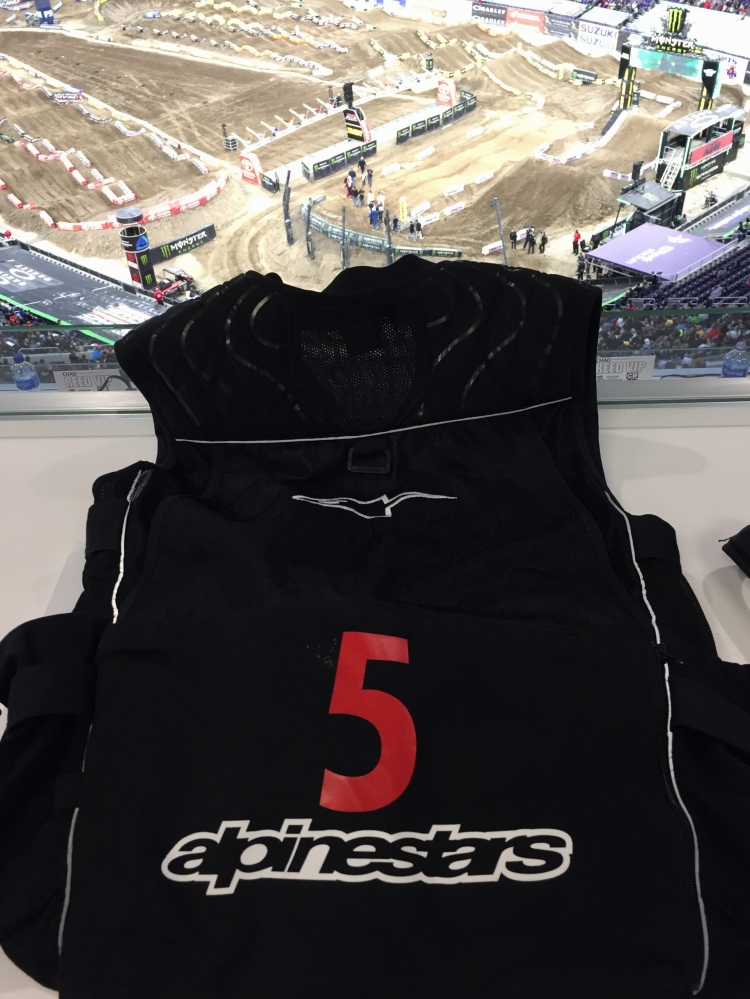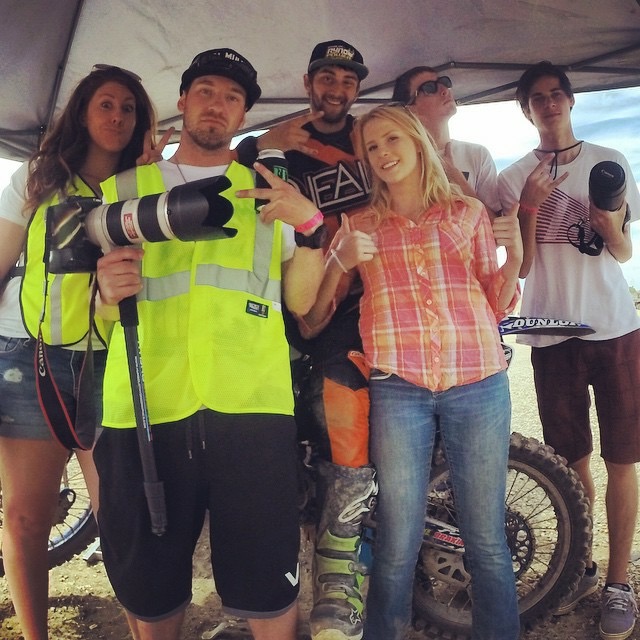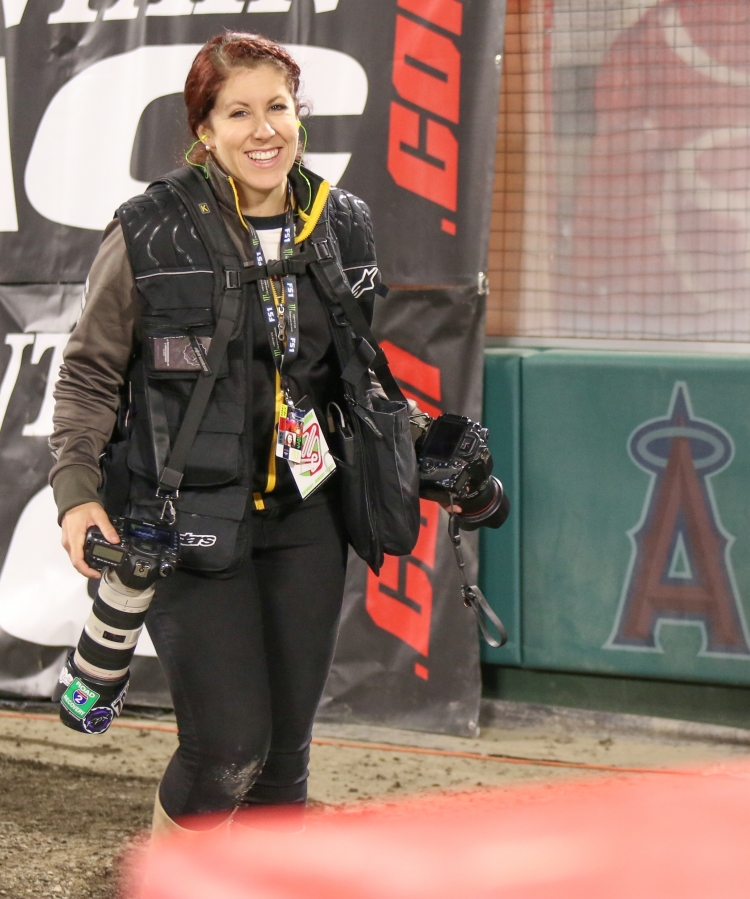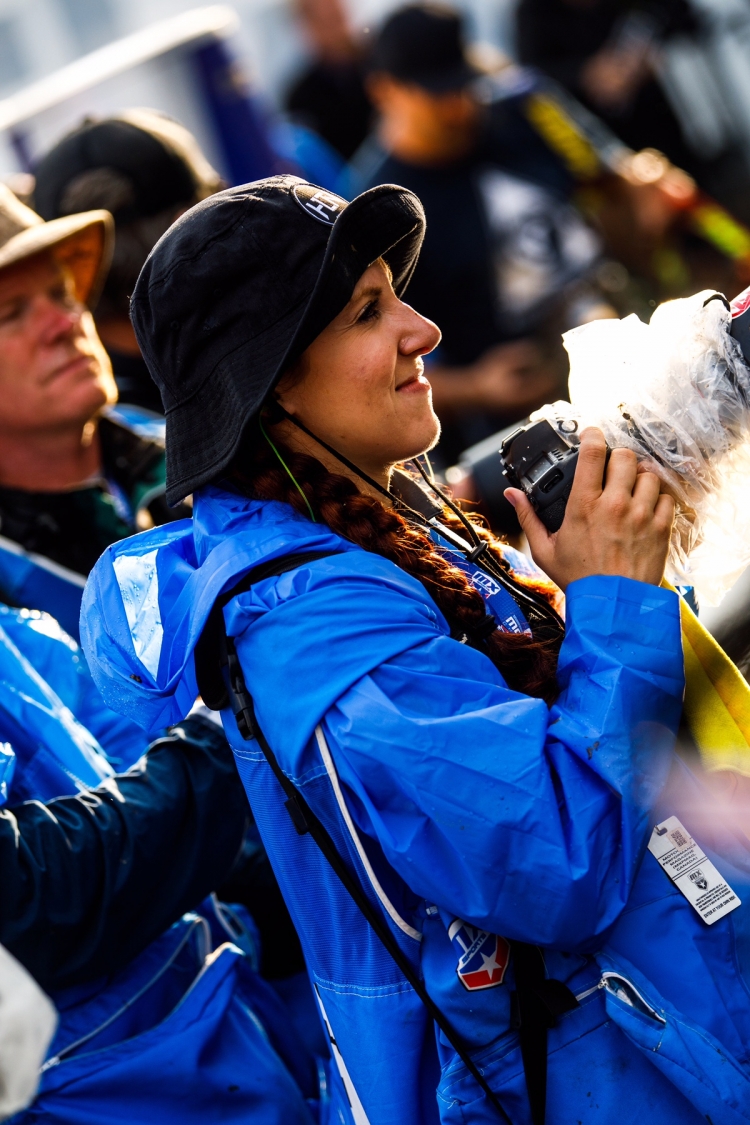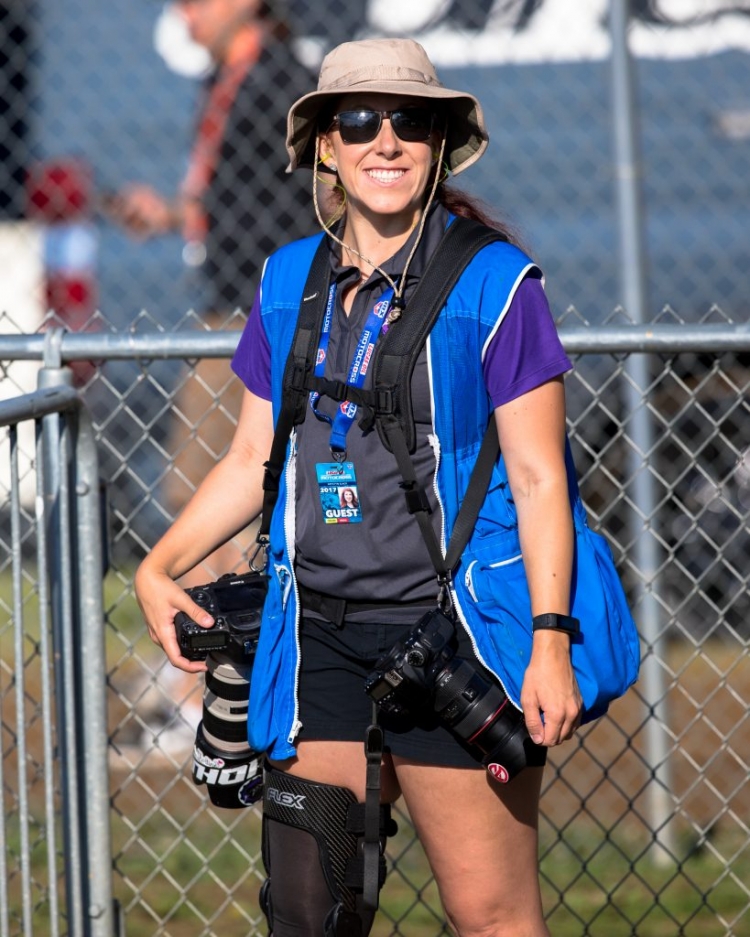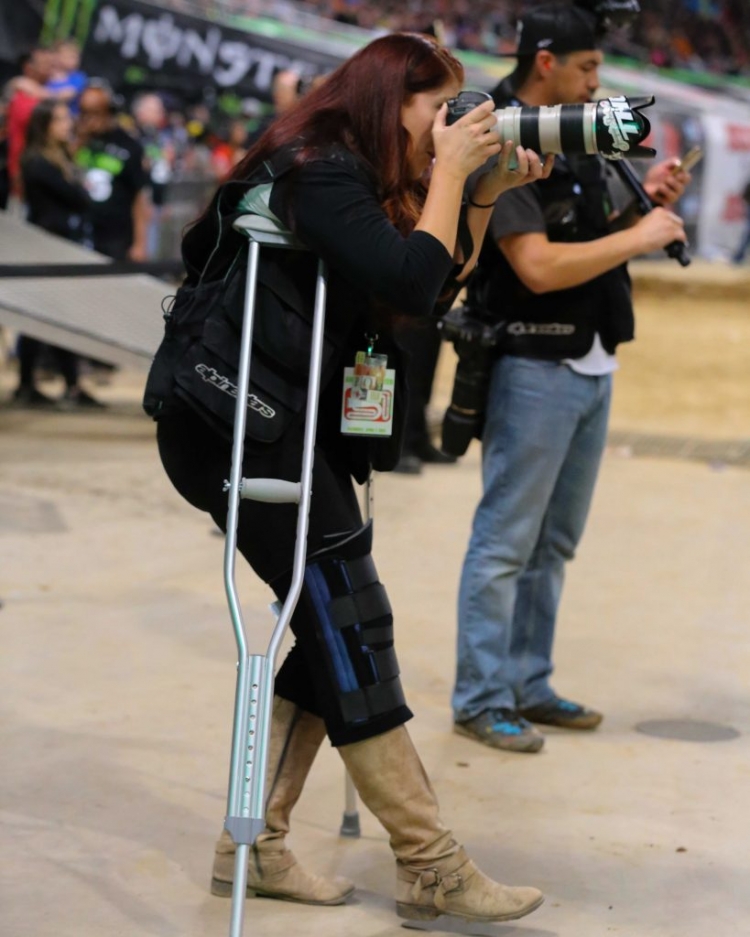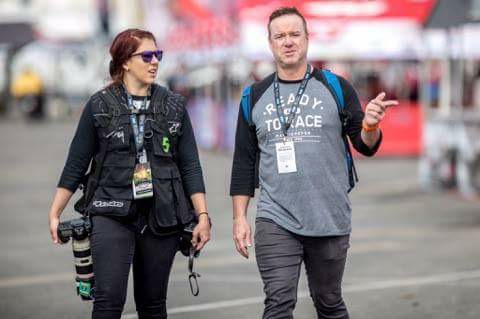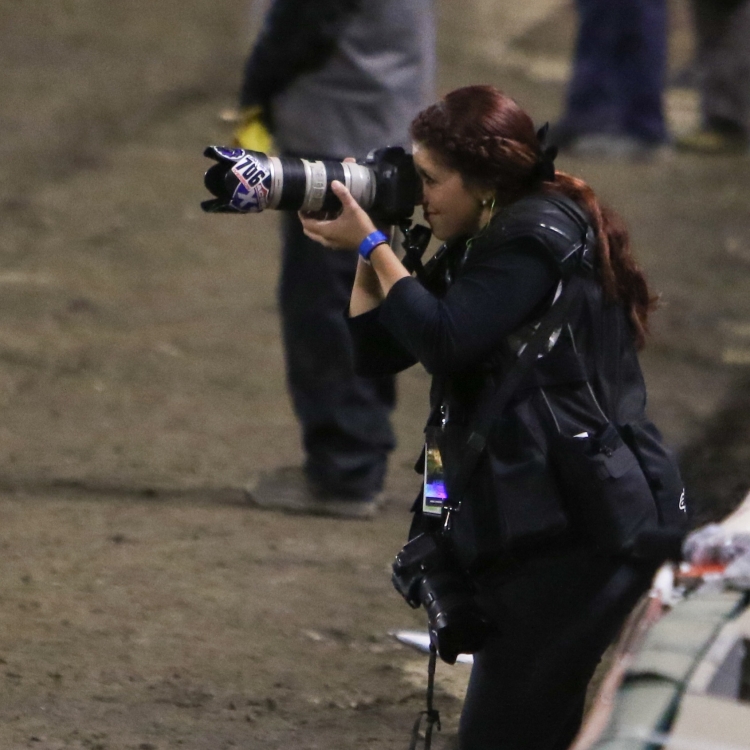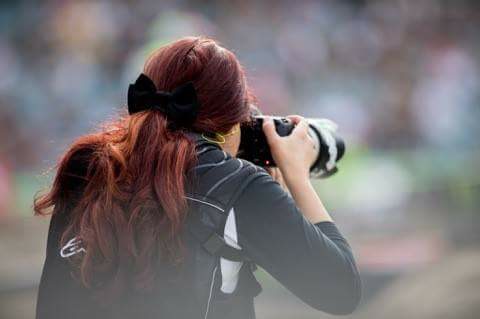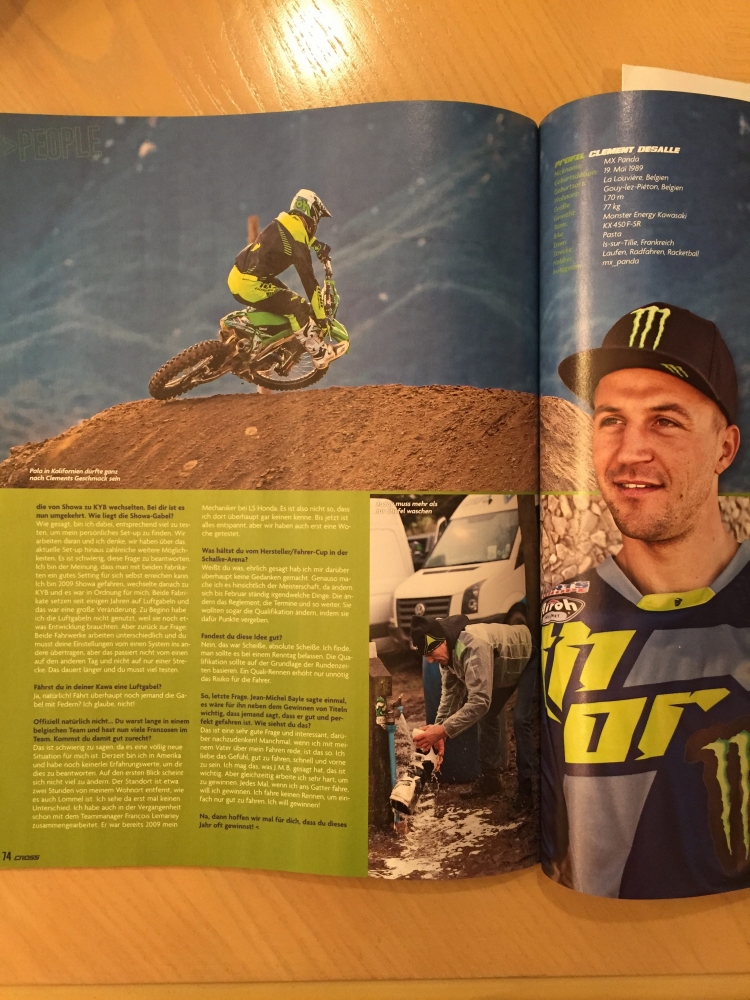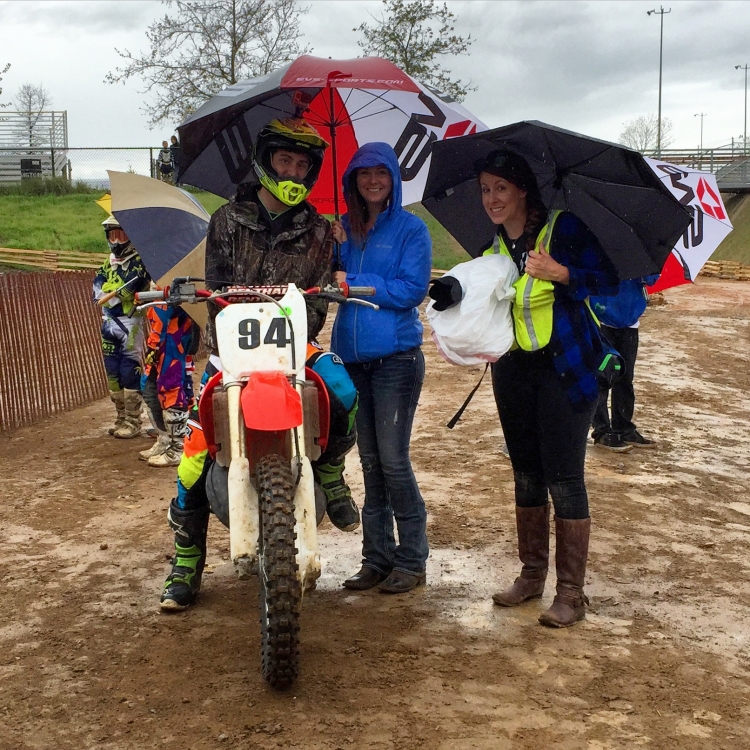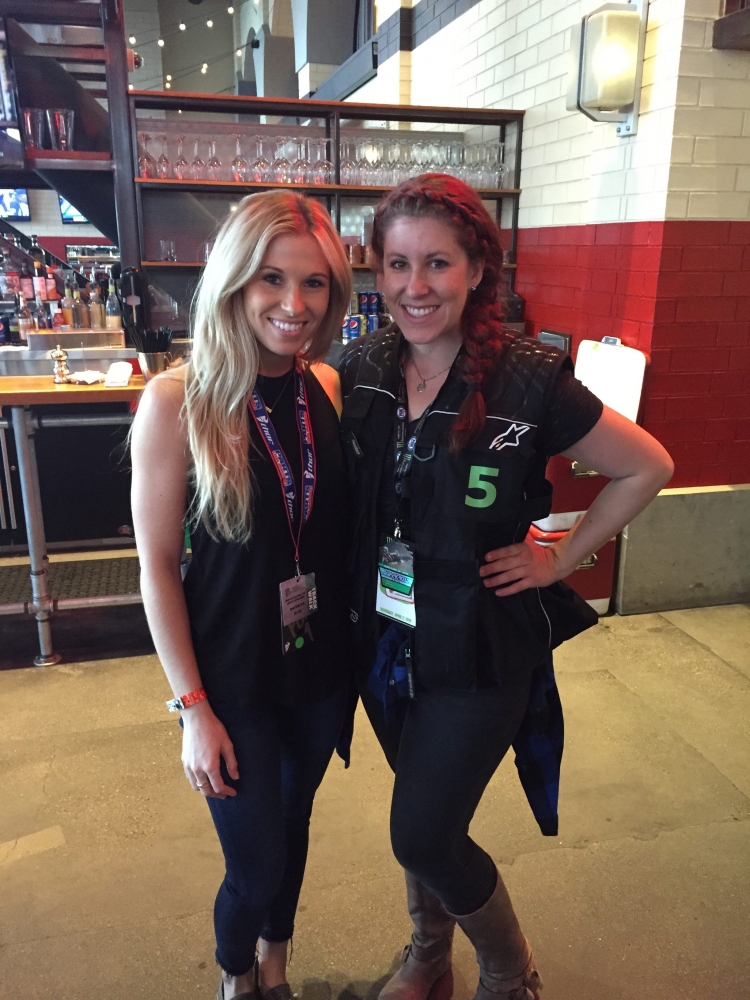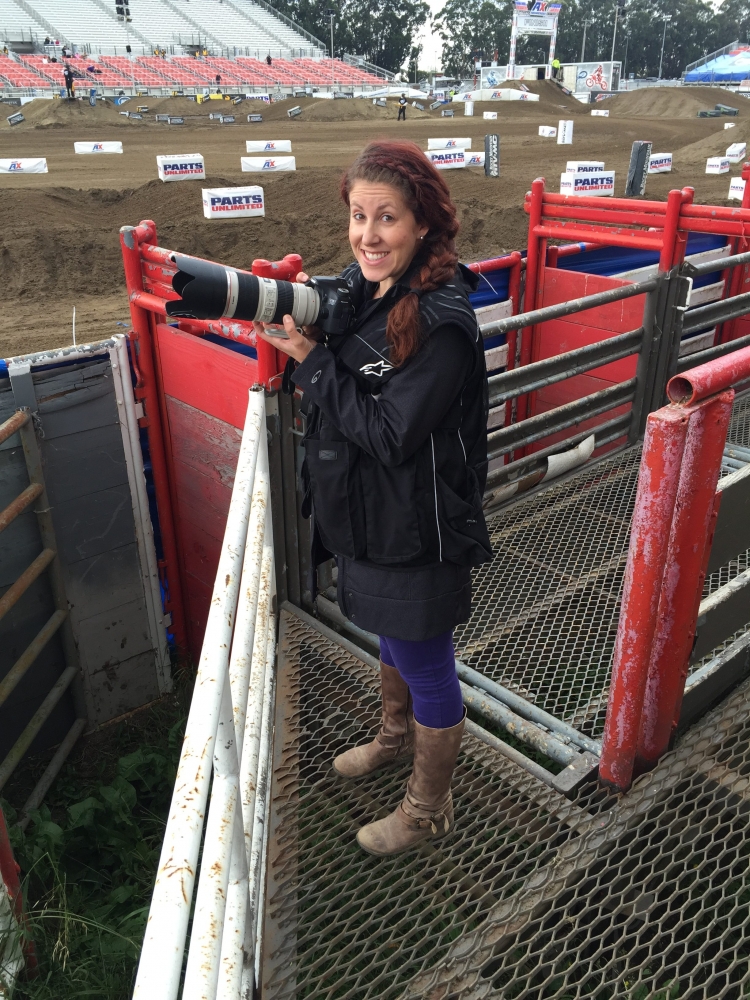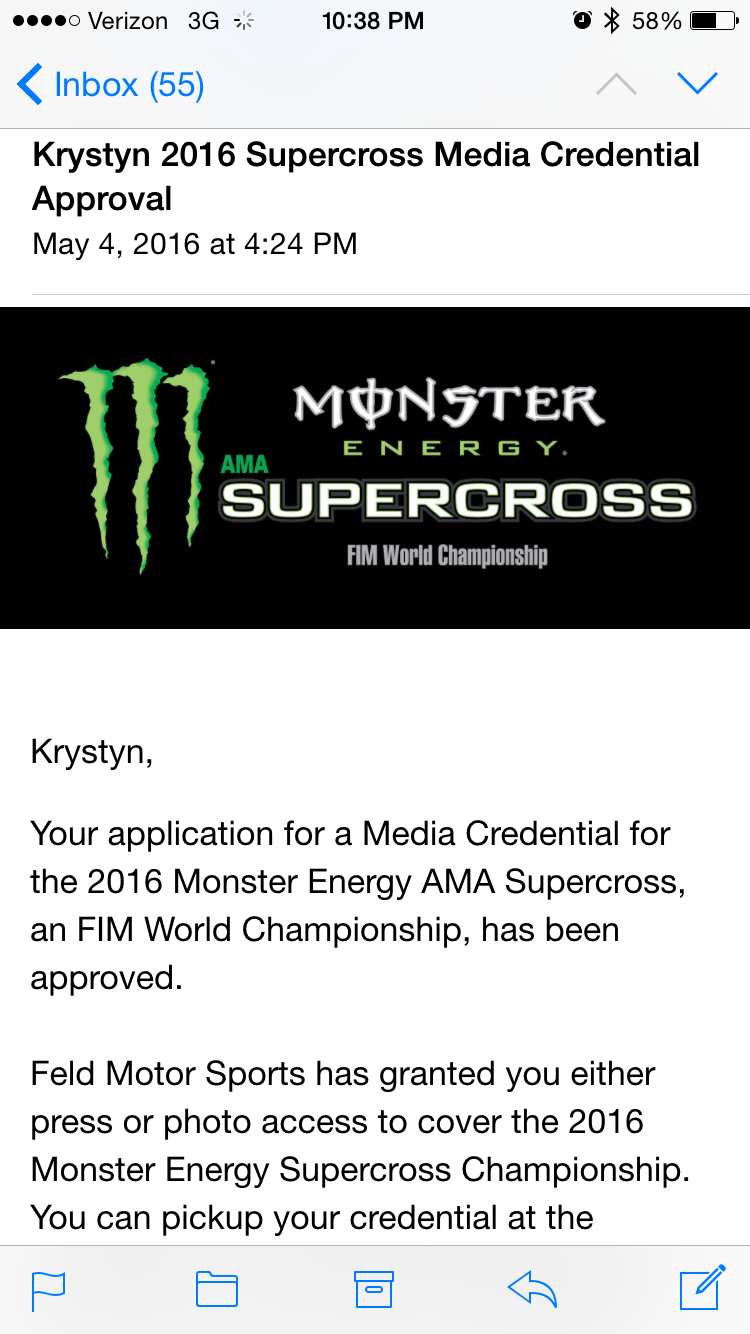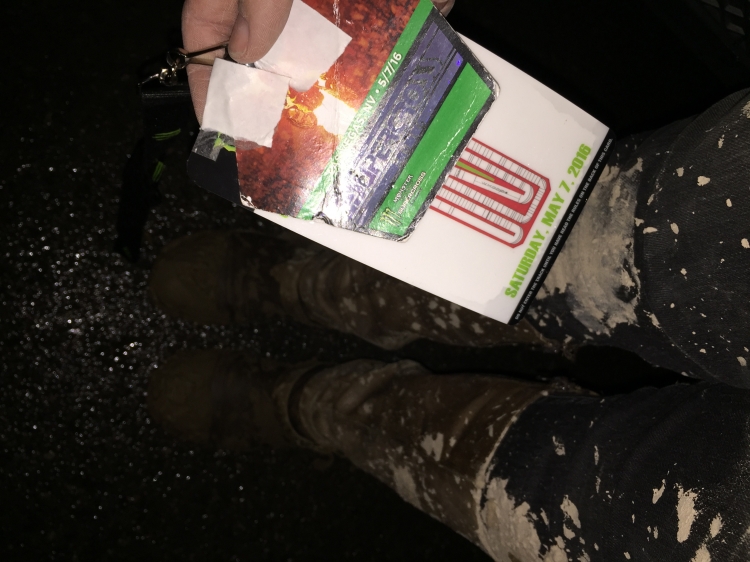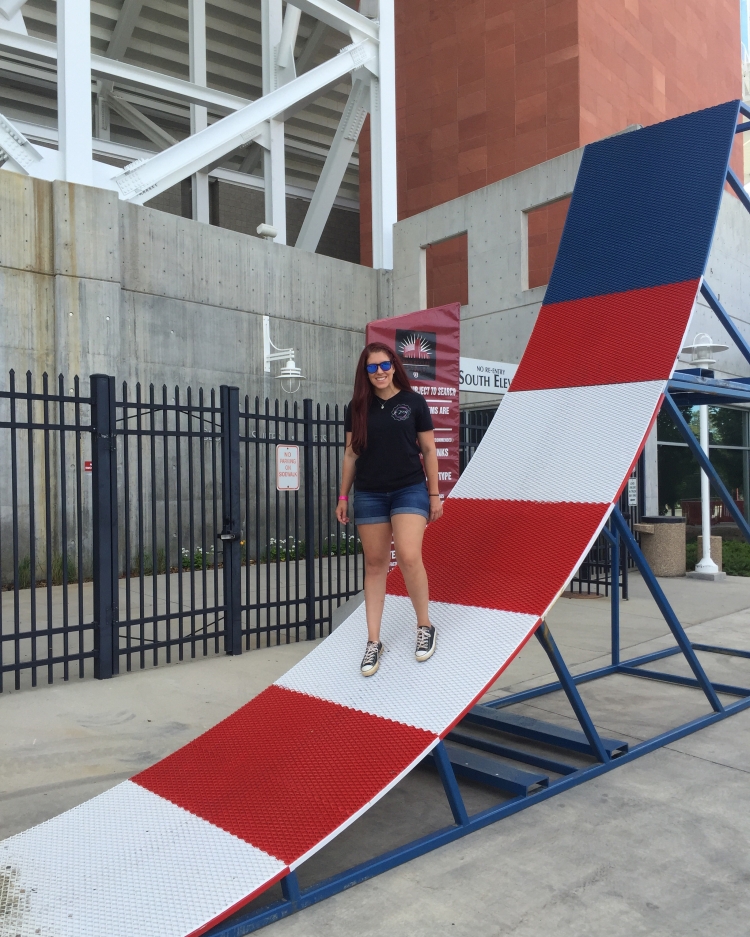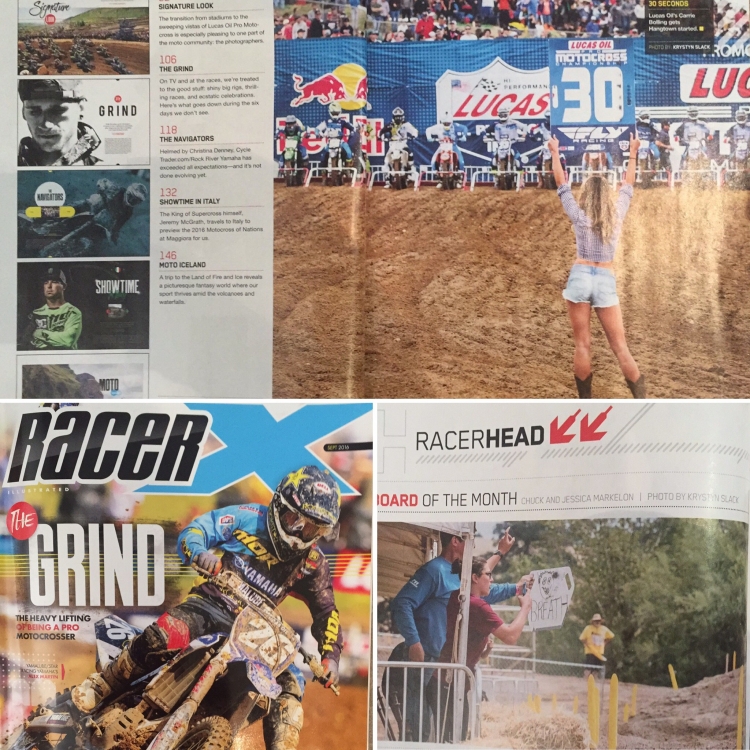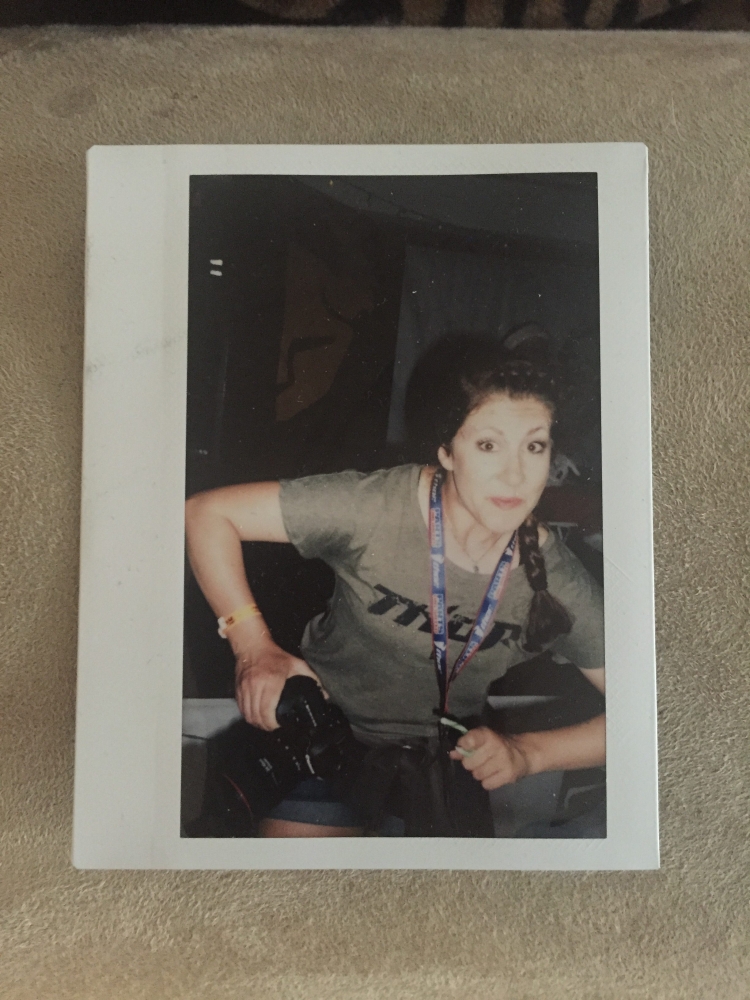 10. Freestyle Photocross Celebrates 5 Year Anniversary
2019 was a big milestone year for Freestyle Photocross – I celebrated five whole years of creating unique moto content that differs from the rest of the male owned and operated sites. Freestyle Photocross is "female owned and motorsports driven', one of the only female owned Supercross/motocross media sites in the country. During these last five years, I have had the opportunity to write articles, conduct interviews, and shoot photos for some of the top motocross publications in the country (and around the globe), including: Racer X Illustrated, Motocross Performance Magazine, Motocross Action Magazine, and Dirt Bike Magazine. I've been able to cover some of the most well-known moto events, both on the amateur circuit and the professional circuit – Monster Energy Supercross, AMSOIL Arenacross, Lucas Oil Pro Motocross, Red Bull Straight Rhythm, Supercross Futures, Daytona Supercross Presented by Honda, Motocross des Nations, Thor Mini Olympics, Fly Amateur National, and even the Monster Energy Cup. Building the opportunities to cover these events and share the race stories from a female perspective is truly one of the highest honors. I never feel as "at home" as I do with two cameras holstered to my side, covered in dirt and sweat, with 40 motorcycles zooming by at top speeds. Even amongst the roar of the engines, my mind is always quiet and my soul ignited as I sink into my own little zen world as I'm tasked with capturing race moments that some day might be embedded in the history books. I plan on being able to create more unique content for years to come, and truly, I couldn't do it without all the support I continue to have from all of you – so thank you!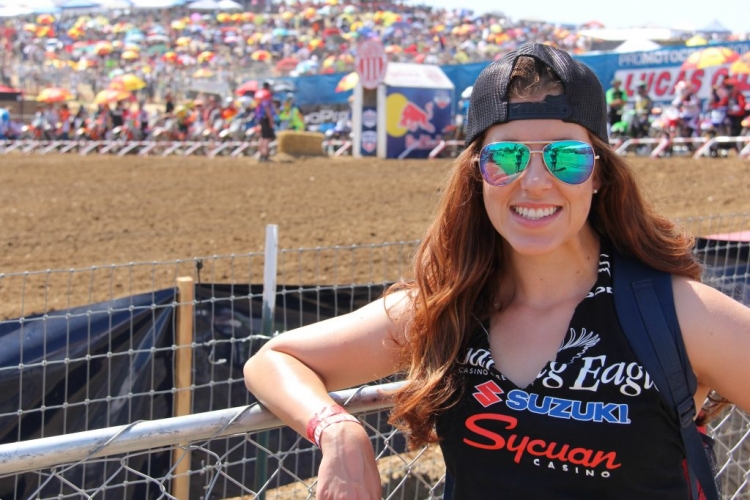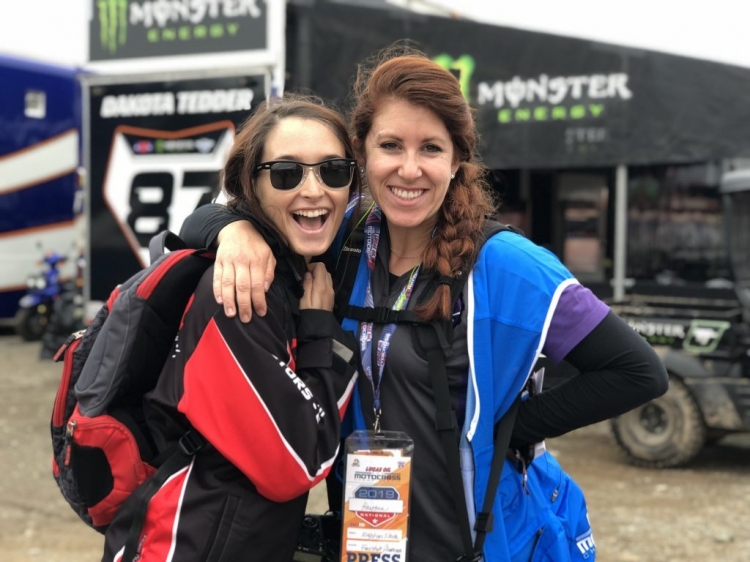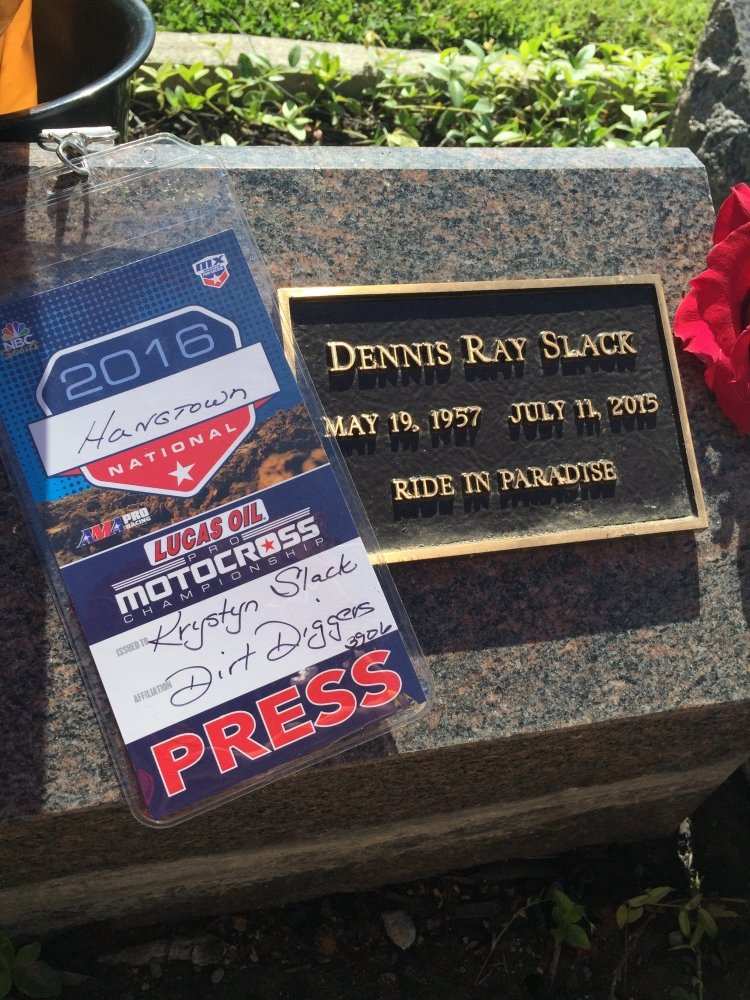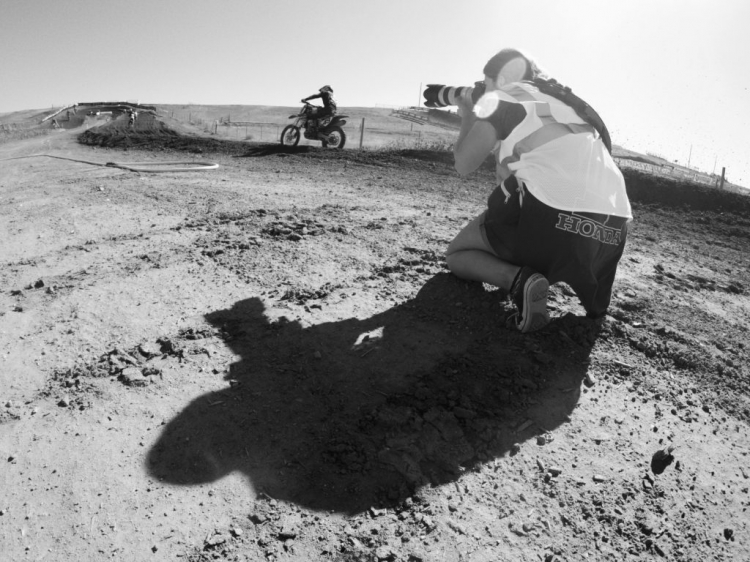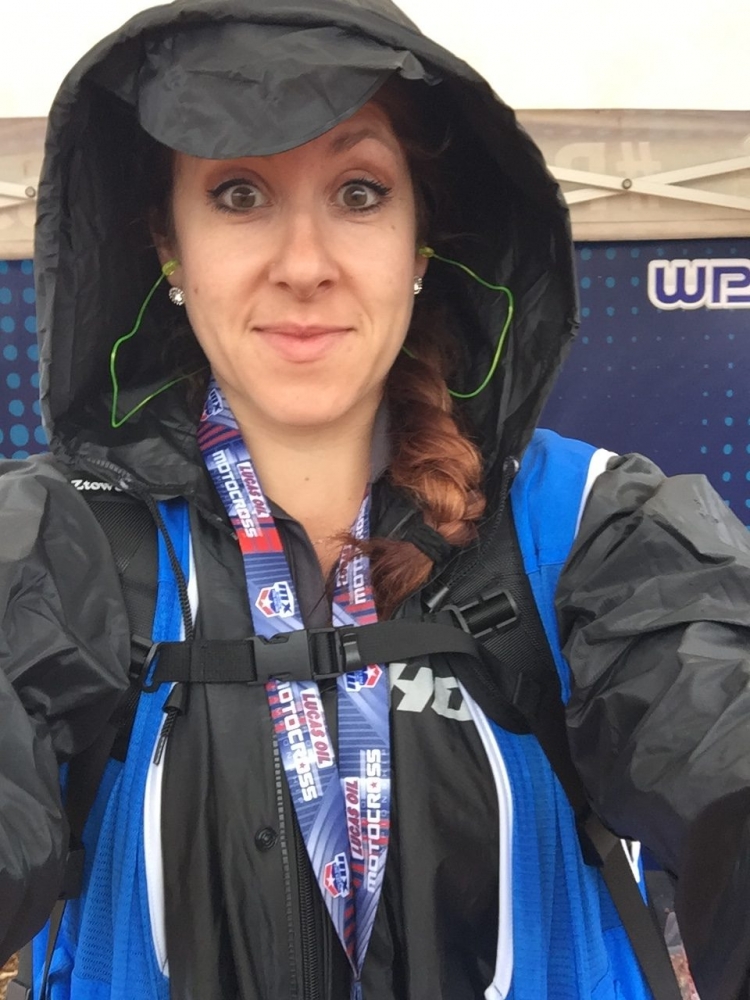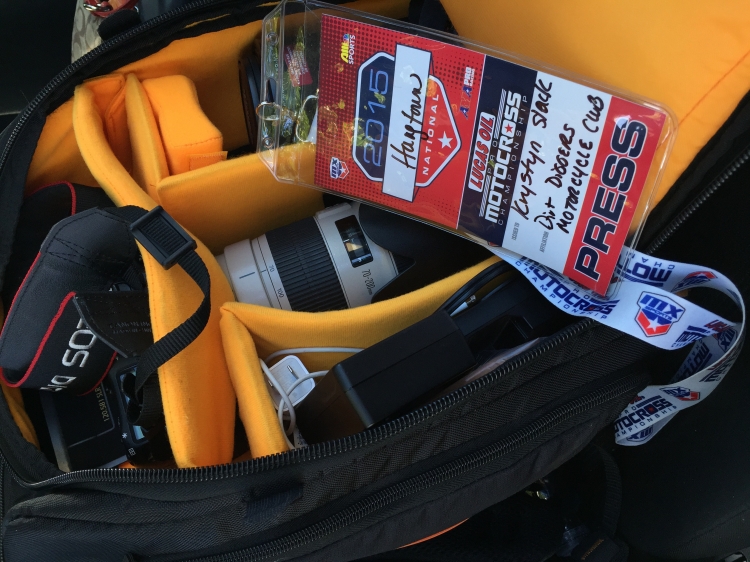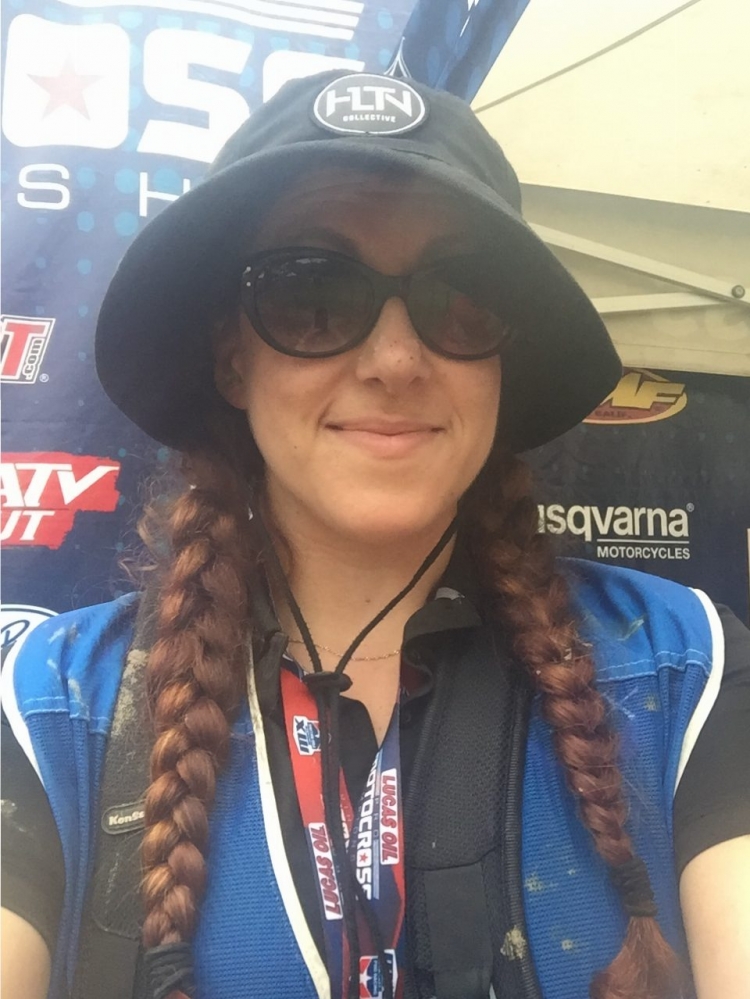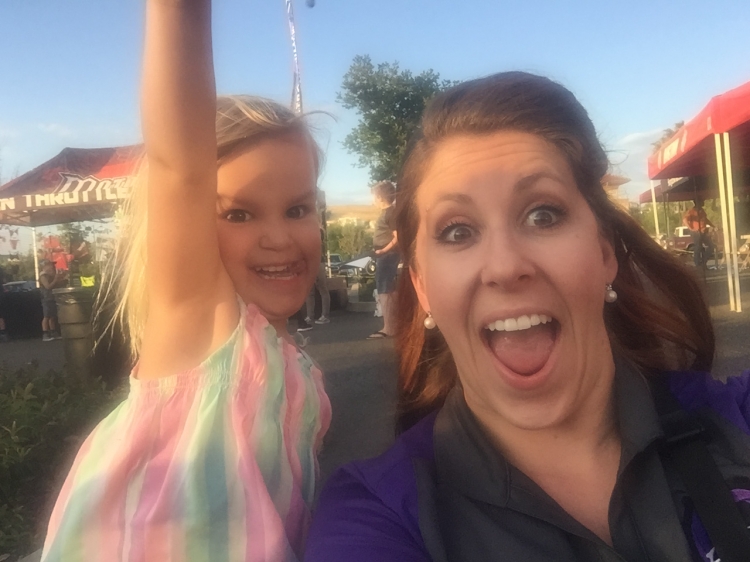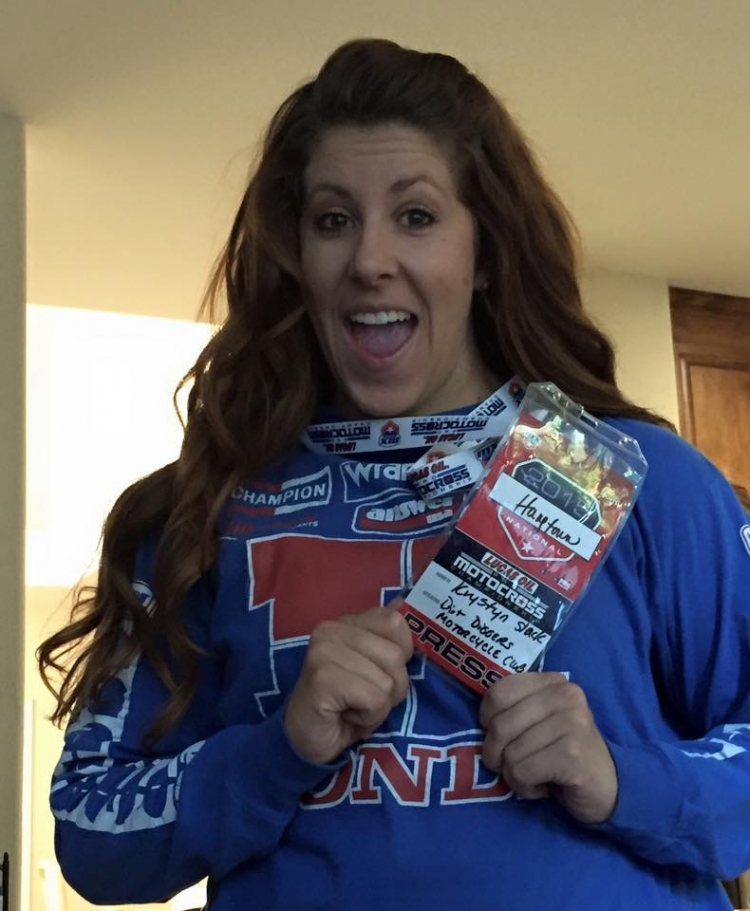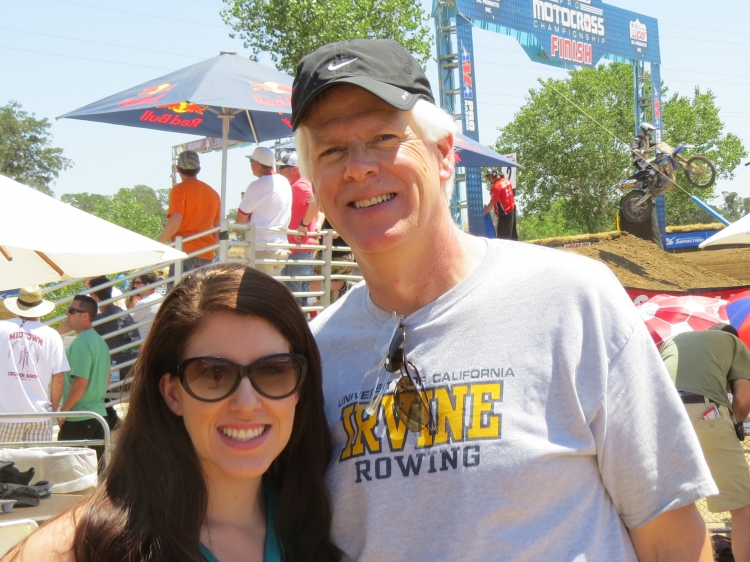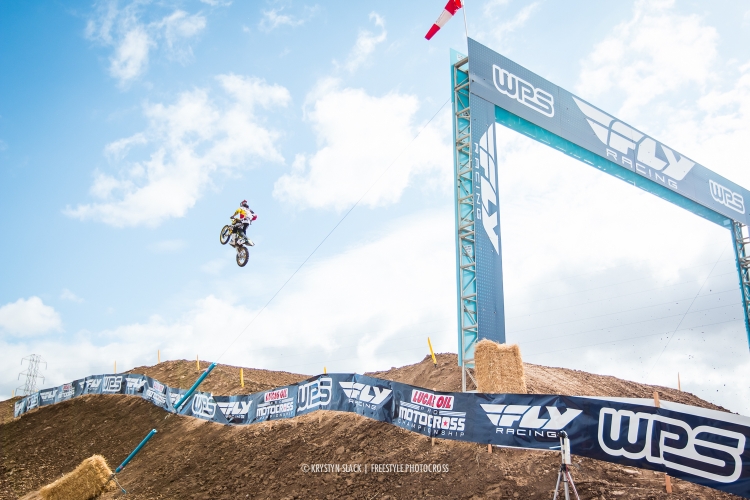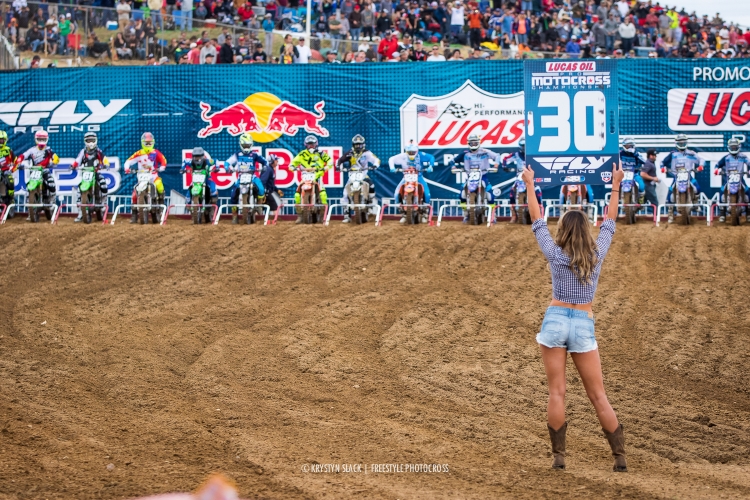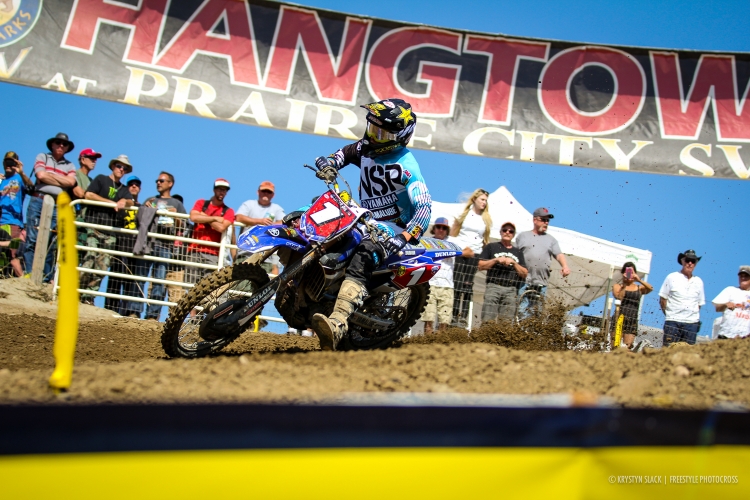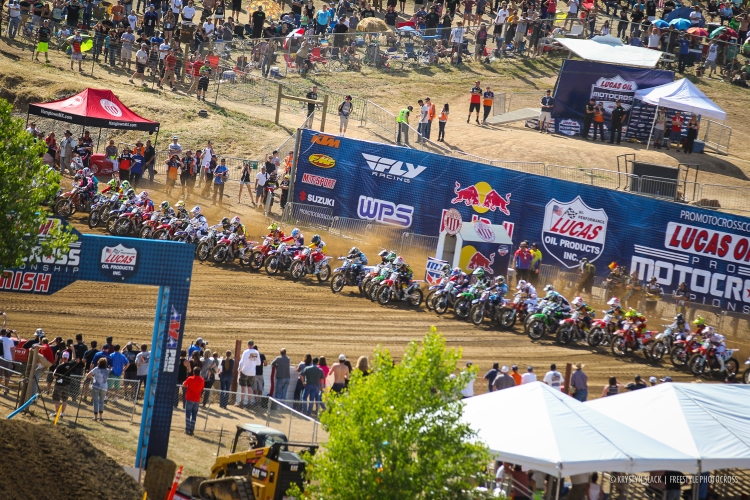 9. Fifth Hangtown as a "Media Guy"
The Hangtown National at Prairie City SVRA has always been a very special event to me. Not only was it the very first Pro Motocross race that I ever attended in person, but it was also the first venue that I ever stood trackside at a race, long before I ever picked up a camera. If you've followed along the Freestyle Photocross journey for any of the five years, then you've also heard me talk about attending the race with my dad. The Hangtown National, more often than not, takes place on my and my dad's birthday weekend. I was born on May 18 and he was born on May 19 and we are both big moto fans, so when we discovered that a real Pro Motocross race took place practically in our new backyard (we moved to Folsom, CA in 2002), we knew it would instantly become our co-birthday celebration tradition. This is where my love for motocross photography really started to take off and the seed was planted in my head that maybe one day I could become one of the "media guys" shooting trackside. At every race I attended, it was always "media guys" because not once did I ever see any female photographers out there. When I started to dream up Freestyle Photocross in 2014, that was still the case that very few (if any) motocross photographers were female. In fact, when I finally received an opportunity to shoot my very first race as a member of the media in 2015, I was told directly by the media coordinator for the Dirt Diggers Motorcycle Club "…but you're a girl, and girls DON'T do this!" To which my response was, "Well, I am a girl and I am doing this, so I don't know what to tell you". That was the 2015 Hangtown National where I first had the opportunity to receive my first-ever Media Credential. I placed that credential around my neck with such pride and a rush of excitement that has remained steadfast in every media credential I have earned since that day. That event in 2015 also happened to be the only professional event that my dad ever got to see me work. Tragically, he suffered a massive heart attack and died while we were out riding together on July 11, 2015. My dad was my ultimate buddy and supporter and my favorite person to attend the races with. Through the years, the Hangtown National has remained one of the most important annual events in my life. It is a place filled with so many cherished memories and Freestyle Photocross firsts. If it weren't for my dad in the first place, I don't know that I ever would have even picked up a camera, let alone chase the dream of becoming a professional motocross photographer and media company owner. Flash forward to the Hangtown National in 2019 where, for the fifth year in a row, I got to return to that Media Check-In and once again receive that coveted media credential lanyard as one of the "Media Guys" – only now when I walk up to that tent, I don't get questioned on my purpose for being there – nope, instead I get greeted with warmth and big hugs from the MX Sports staff as I'm welcomed back into the "media guy" family for another season of great racing!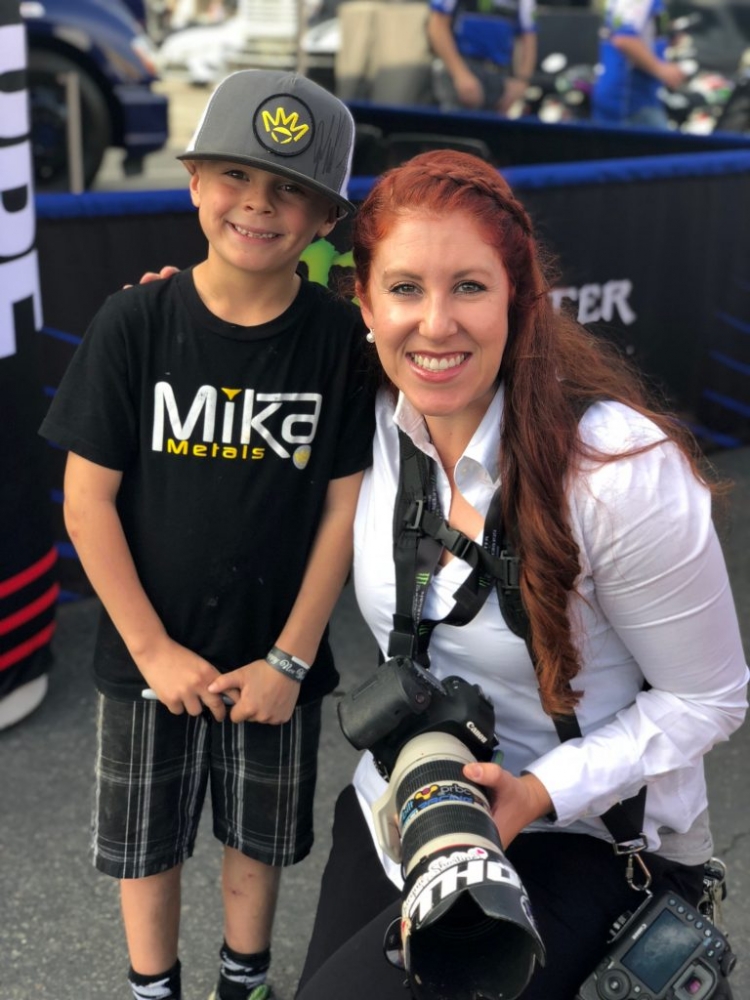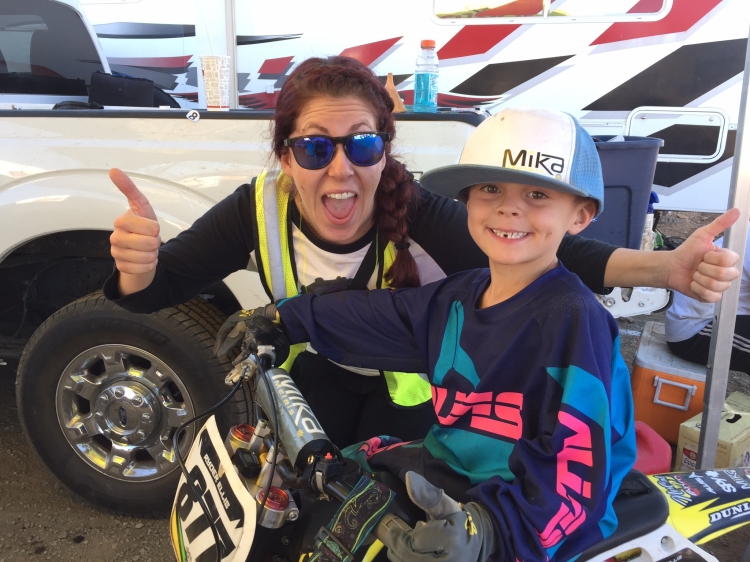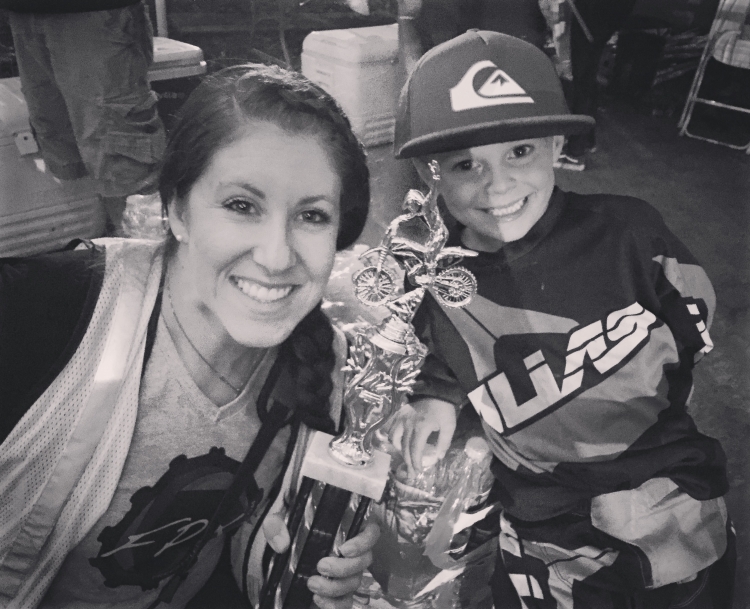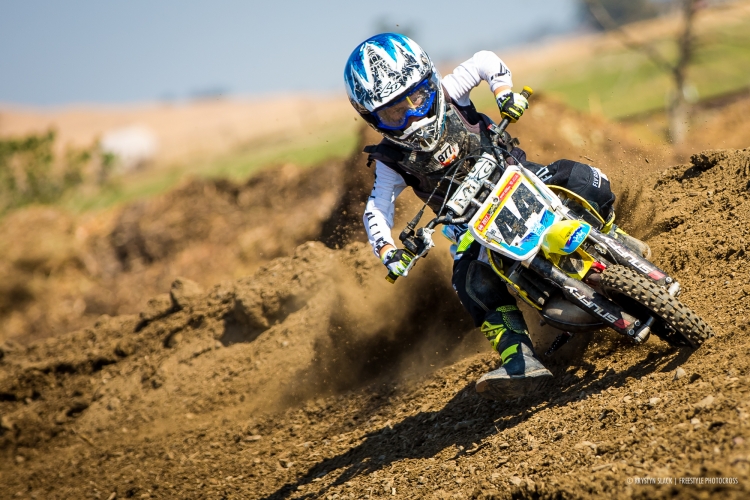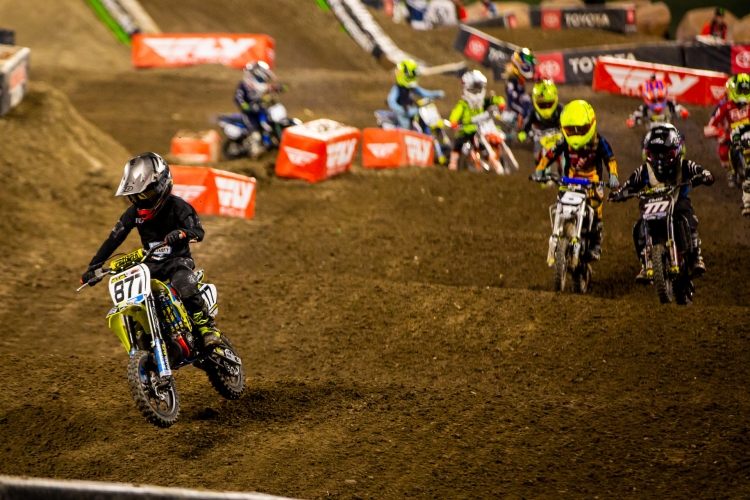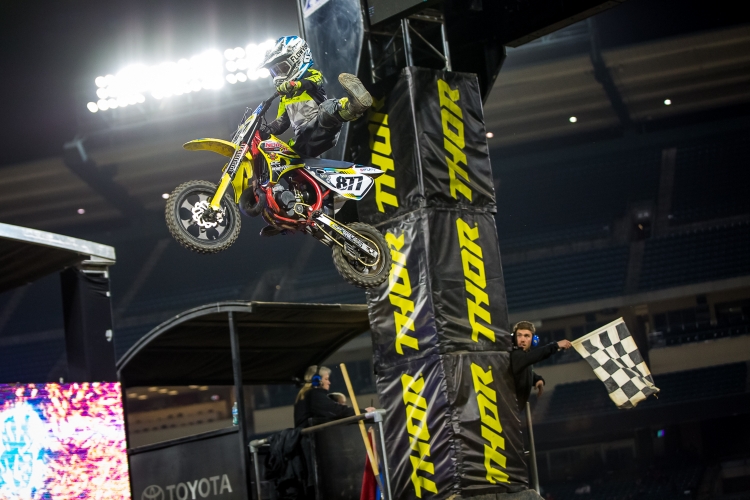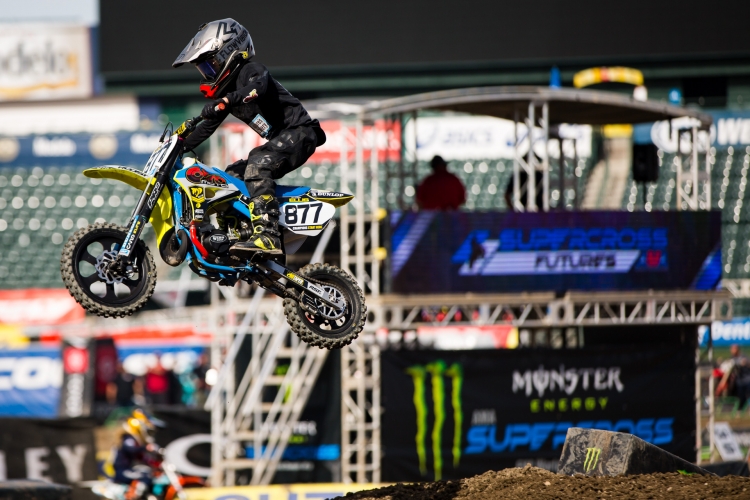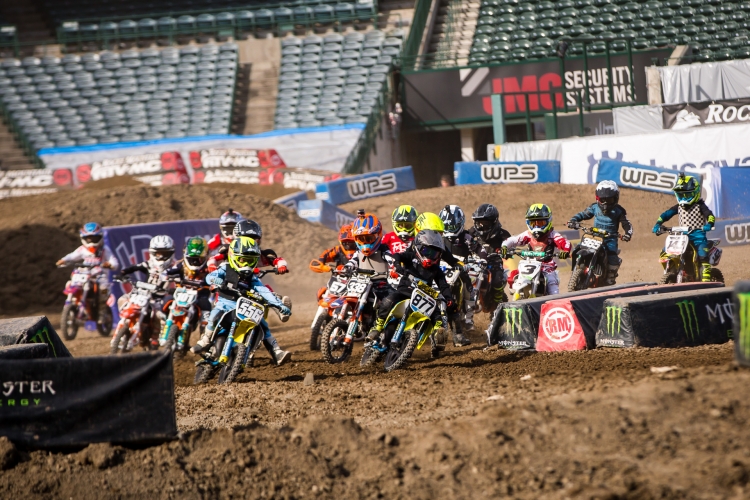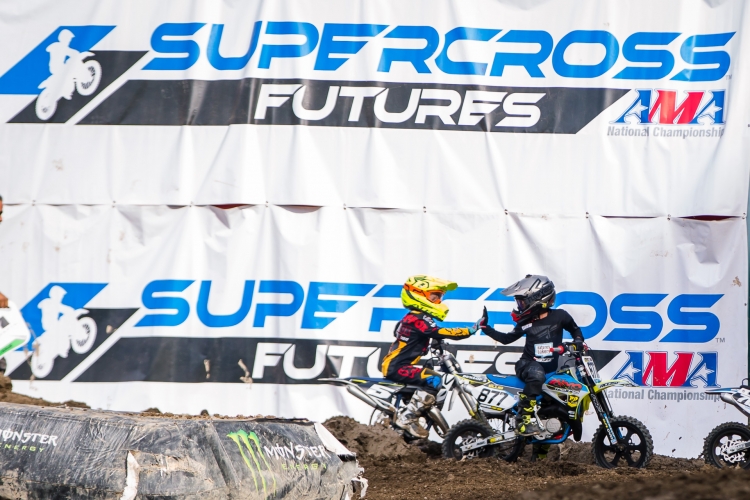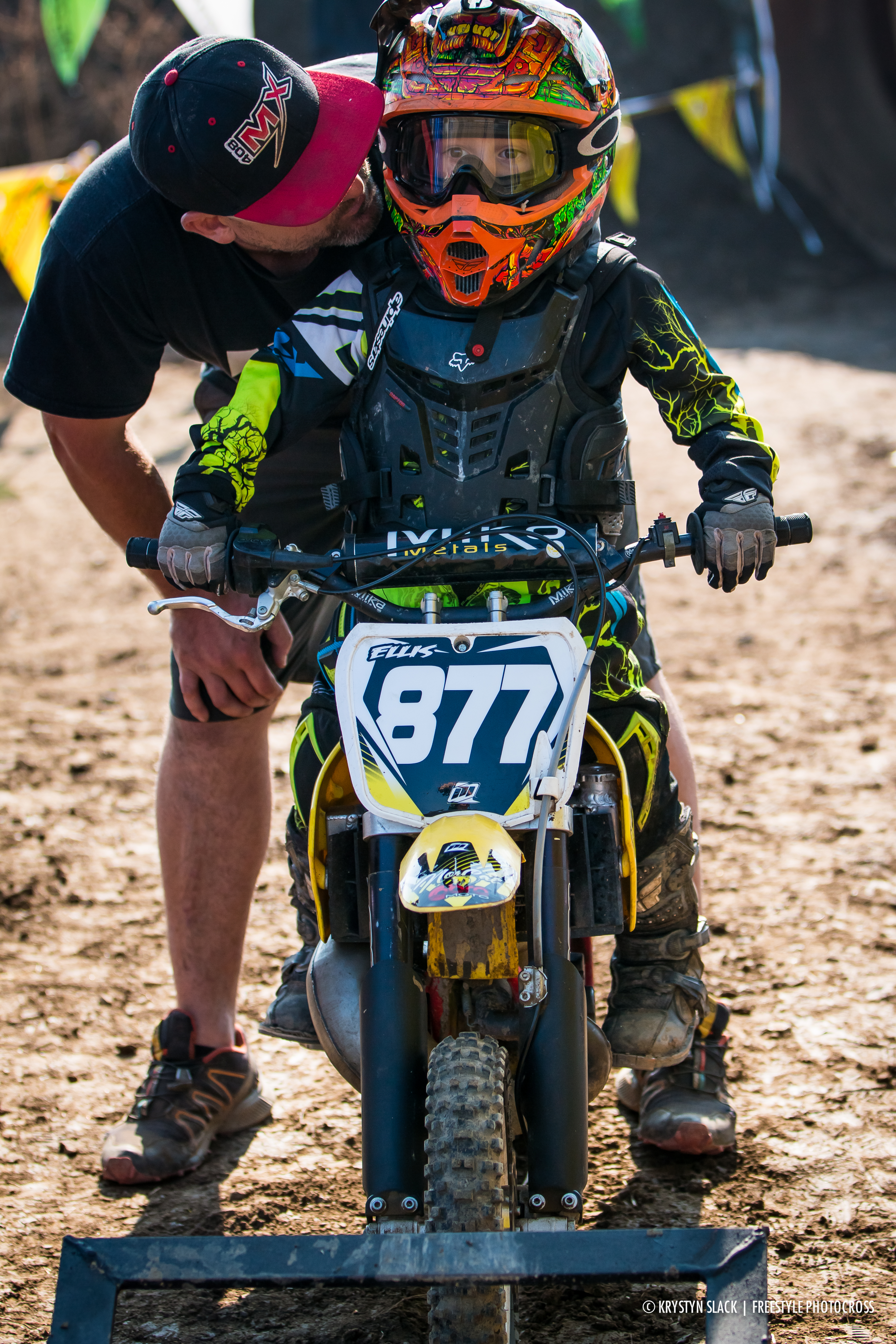 8. Ryder Ellis Dominates Round 1 of Supercross Futures
The #877 of Ryder Ellis is a kiddo I've had the opportunity to photograph from one of his very first races ever when he was barely 4 years old. That first race, Ryder asked his mom if he should "wave at Krystyn while she was taking pictures?" In the short time since that first race, I have watched Ryder go from this kid who would barely roll jumps to a kid throwing one footers off a huge finish line jump. In January of 2019, I had the chance to watch Ryder compete at the Supercross Futures event at Angels Stadium of Anaheim. Supercross Futures essentially replaced the AMSOIL Arenacross series with an opportunity for riders of all ages and classes to race on the same (but toned down) track that the pros race on the night prior. From gate drop to checkered flag in every qualifying heat and Main Event, I watched Ryder absolutely dominate his competition. He competed in the 51cc Limited (Ages 6-8) and 51cc Limited (Ages 4-8) classes and took the win in his qualifying heats as well as the Main Events for both classes. But the coolest thing about my little dude is not the insane progress he's made in a very short amount of time, but rather his sportsmanship. This kid not only works hard on the track, but has a heart of gold toward his fellow competitors. His amazing parents, Rob and Amber, have already instilled incredible values of humility, work ethic, and sportsmanship that will be sure to carry Ryder through any venture in life. No matter what, the rule in his family is always, "Do your best, have fun, be kind". Sure, it's incredible to watch this kid become a force to be reckoned with on the track, but it's more incredible to see him give a thumbs up or high five to every other competitor, no matter the results. Coming away with two Main Event wins at the first round of Supercross Futures was just the beginning for Ryder in 2019 as he made the transition from 50 up to 65 and even signed his first factory contract with Kawasaki's Team Green amateur program! I'm so proud of this little dude and I absolutely cannot wait to continue to photograph his progress throughout his race career! Another decade and we'll probably see him make his pro debut – of course, only if he wants to!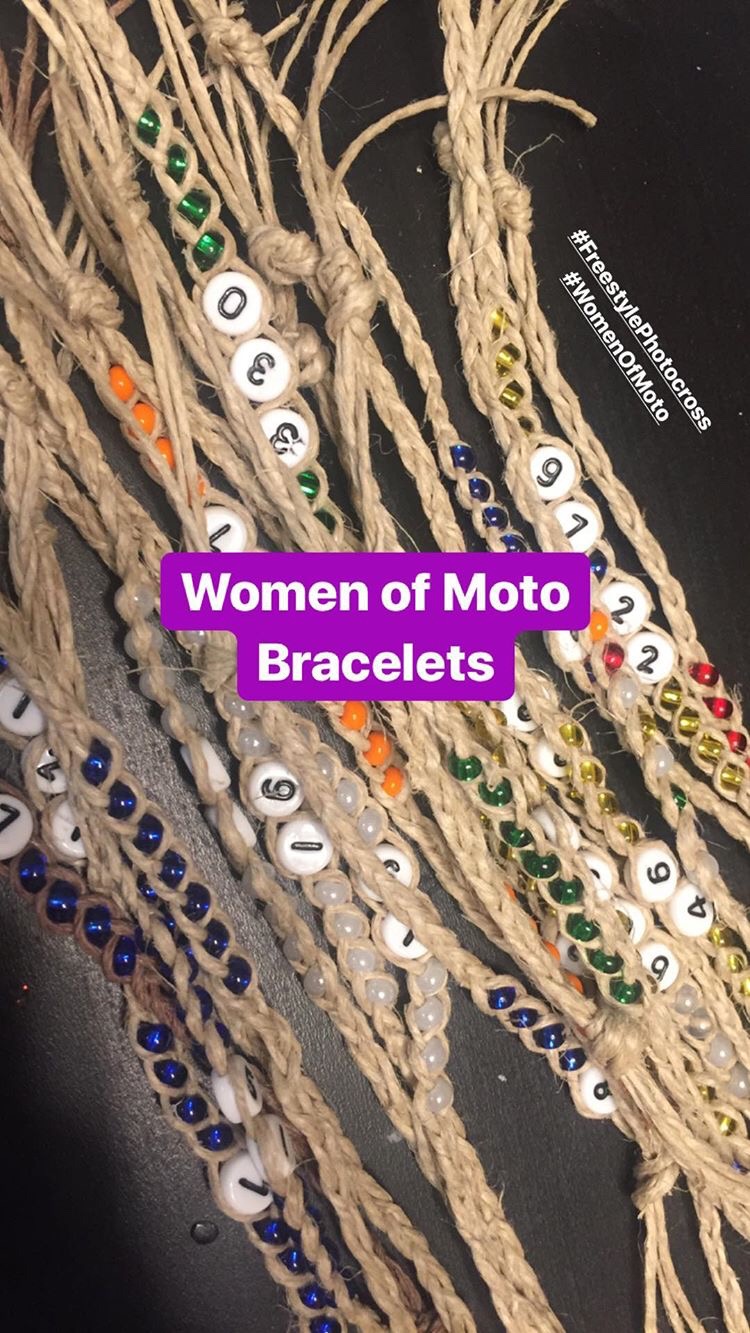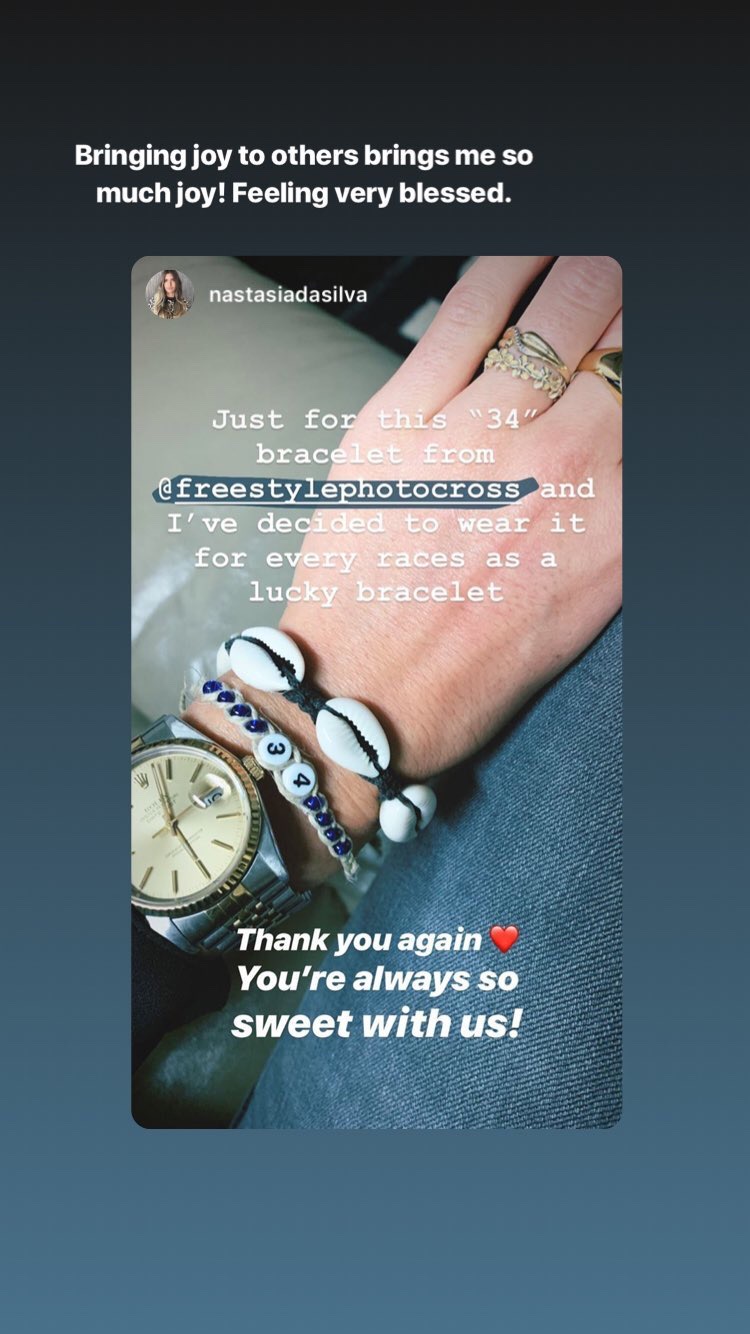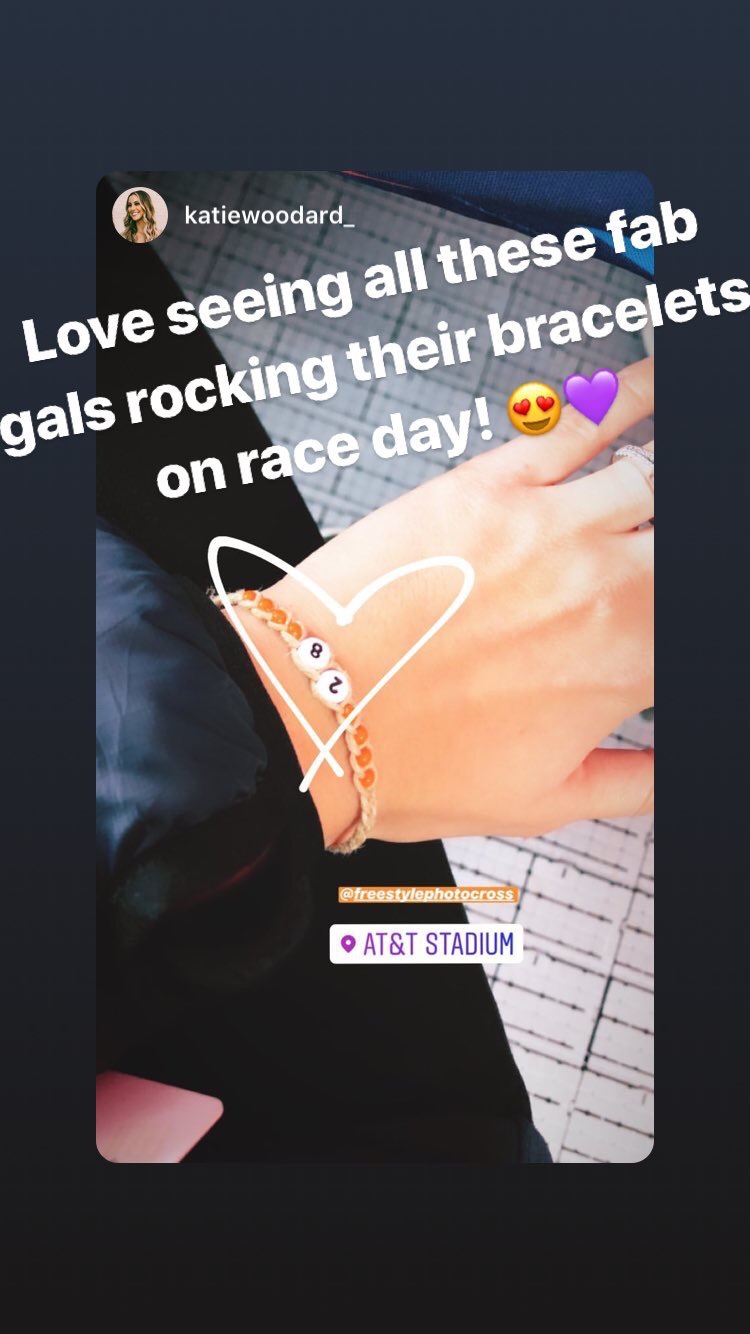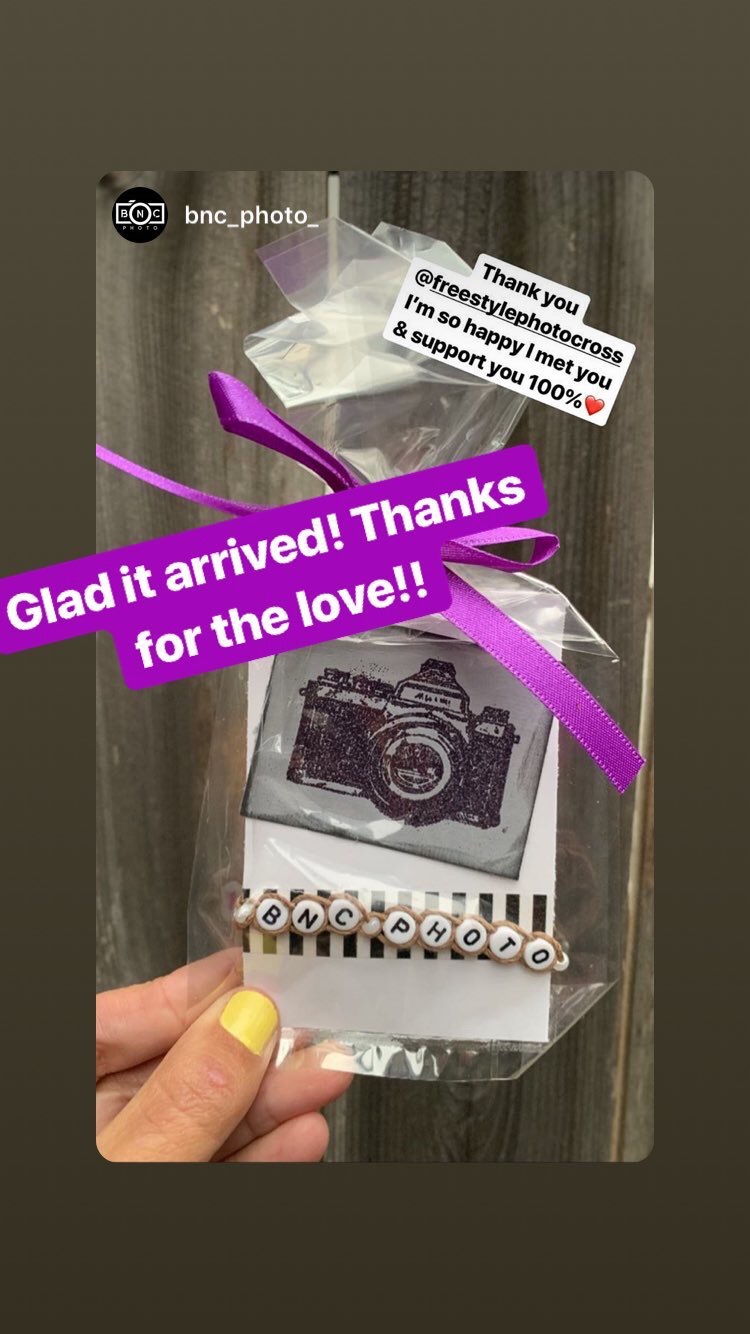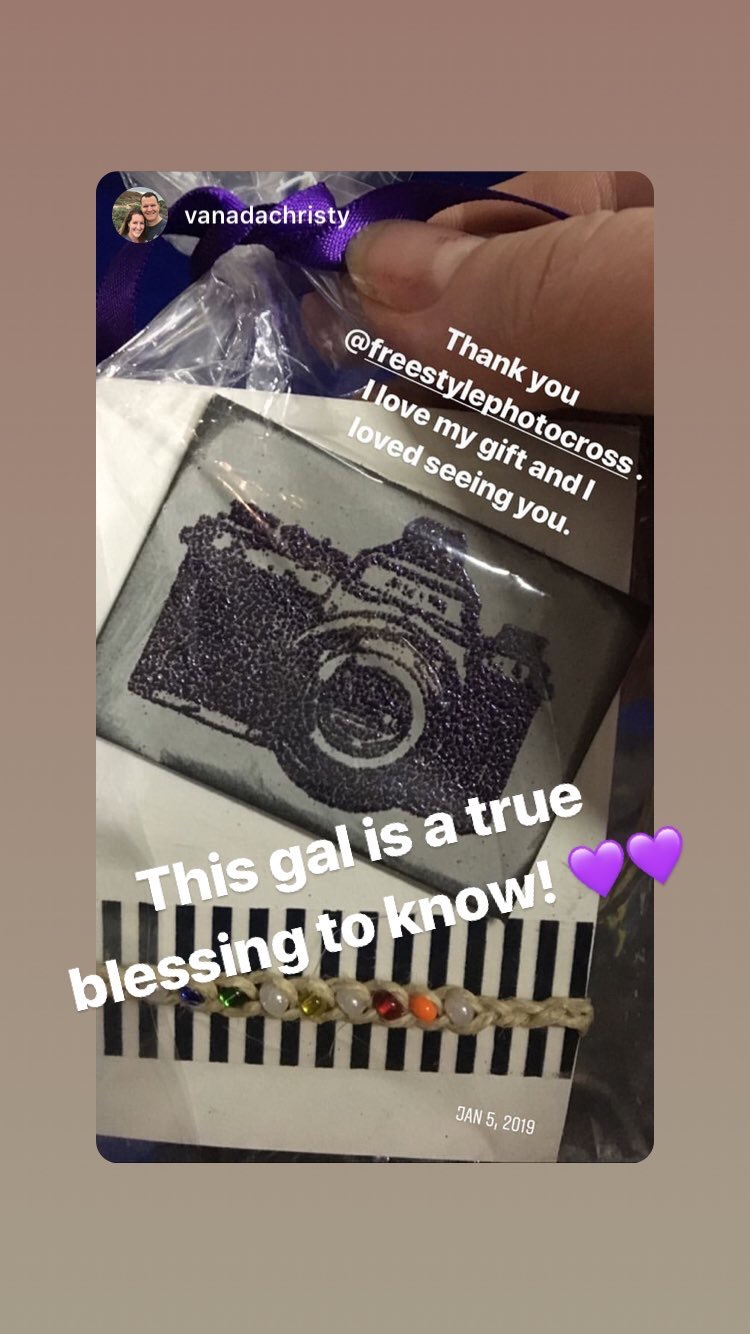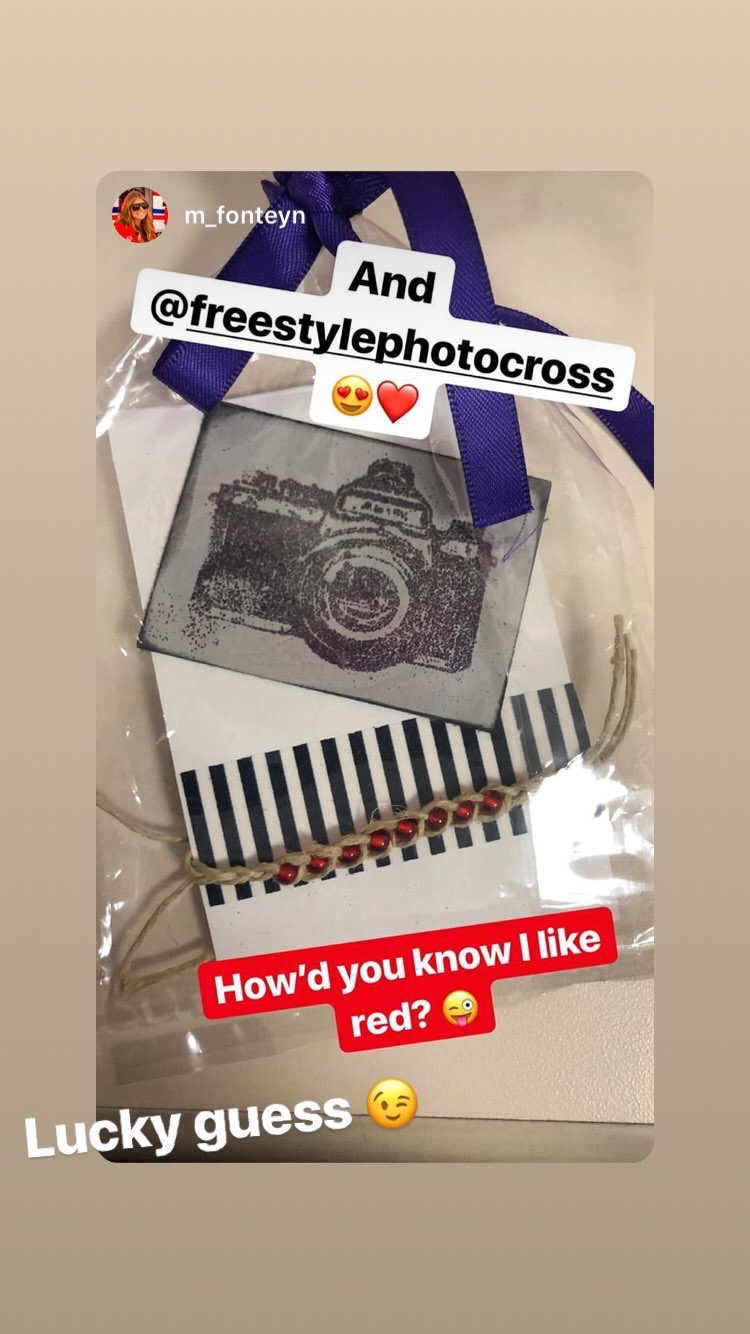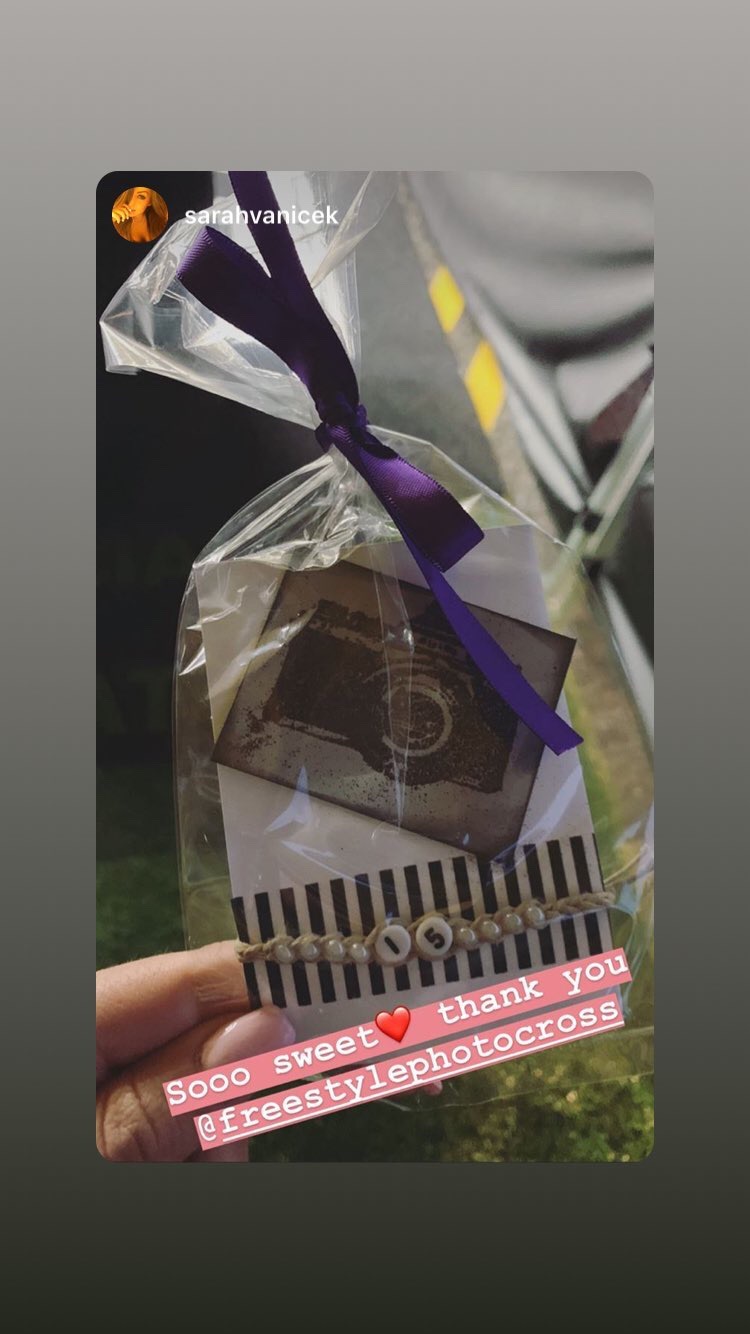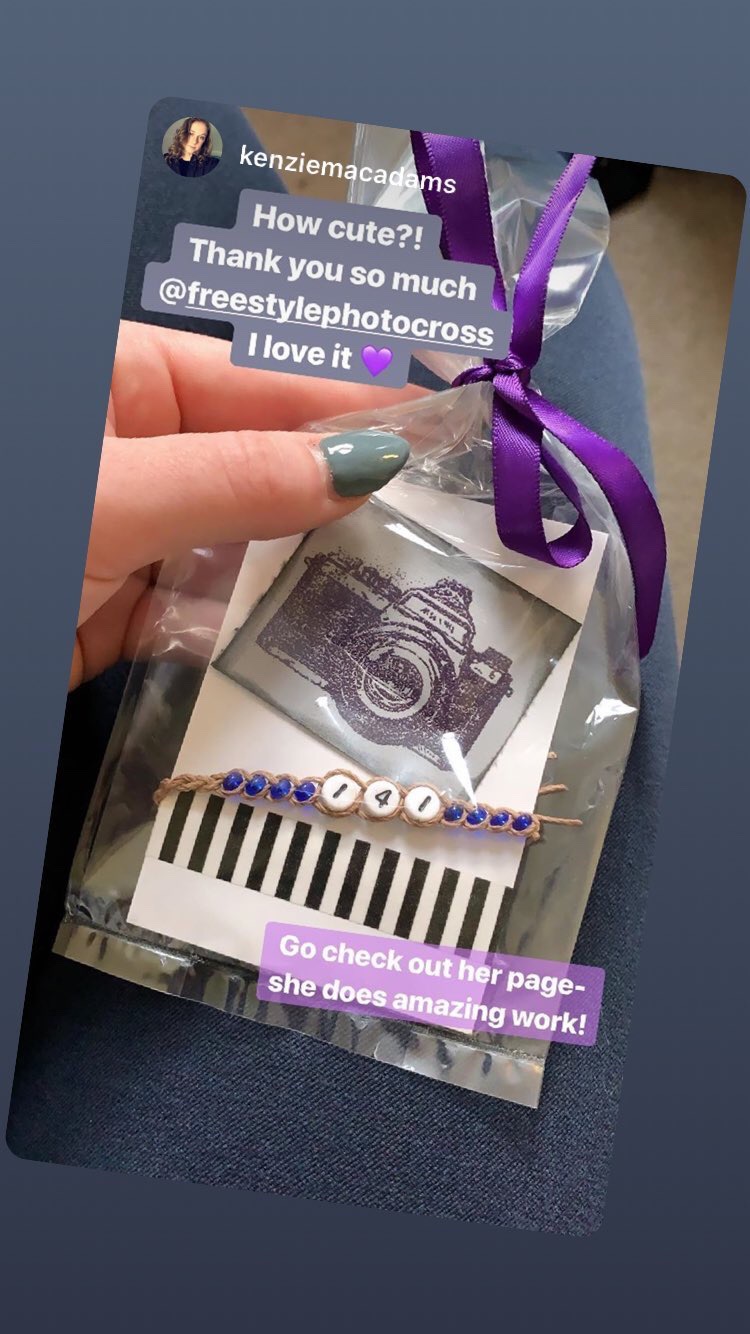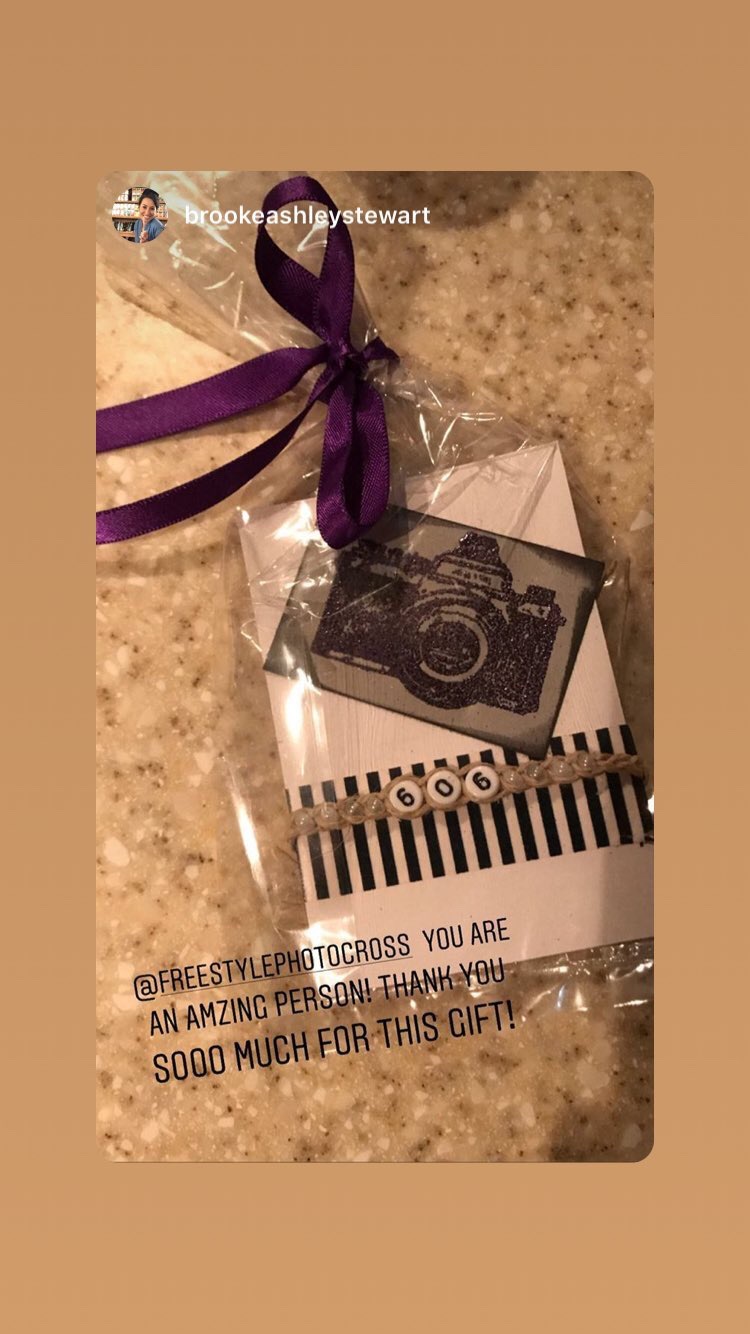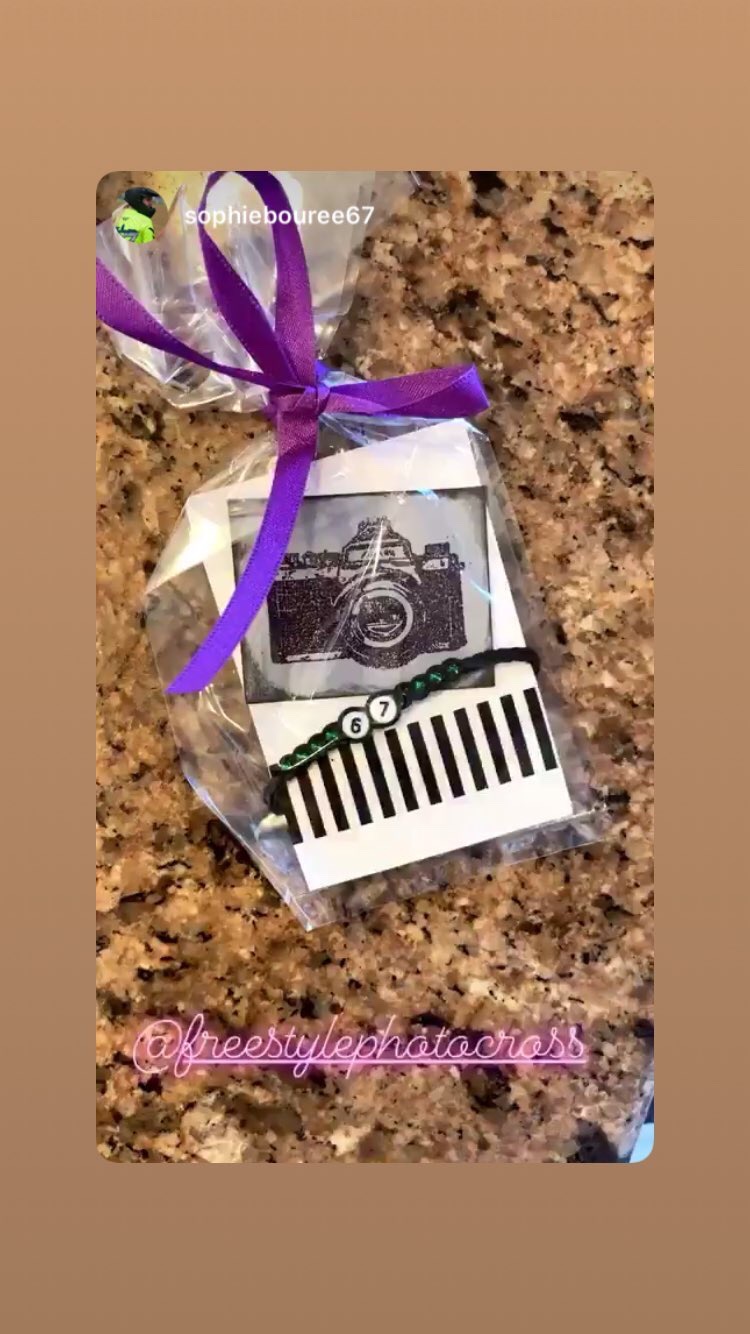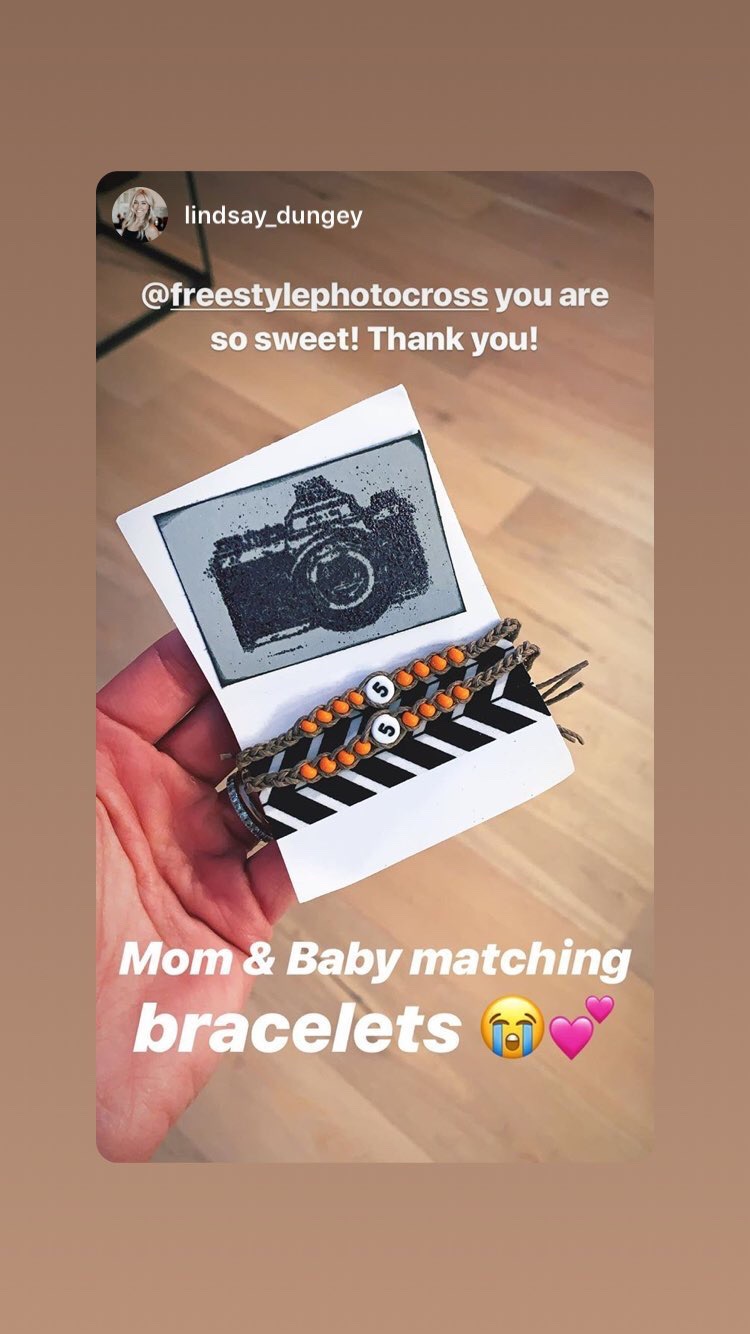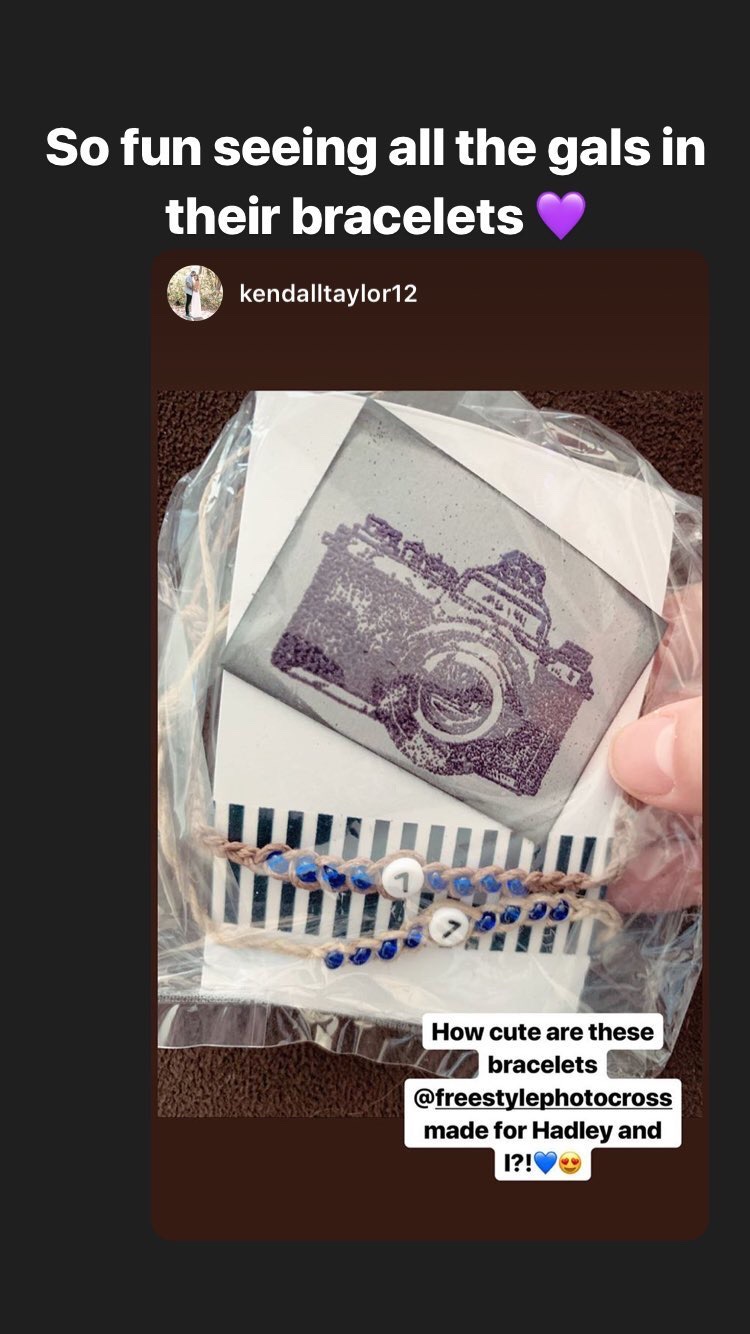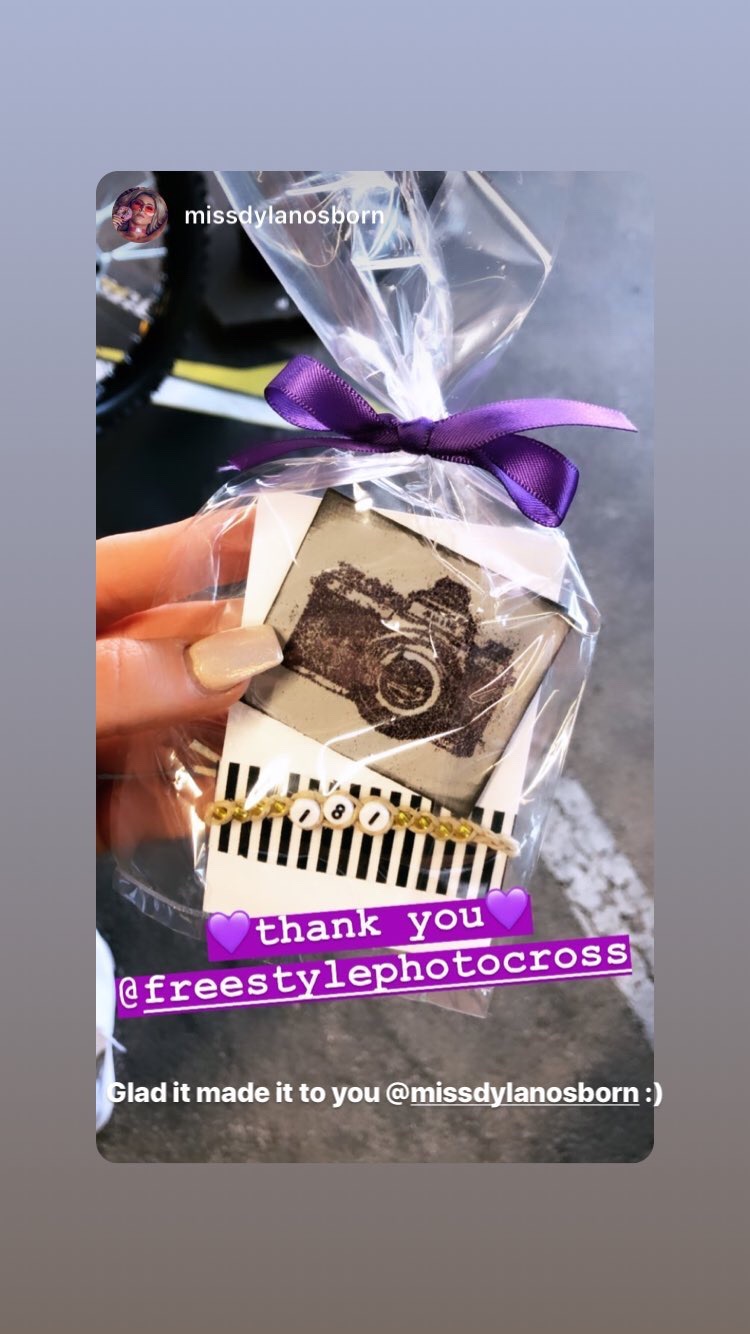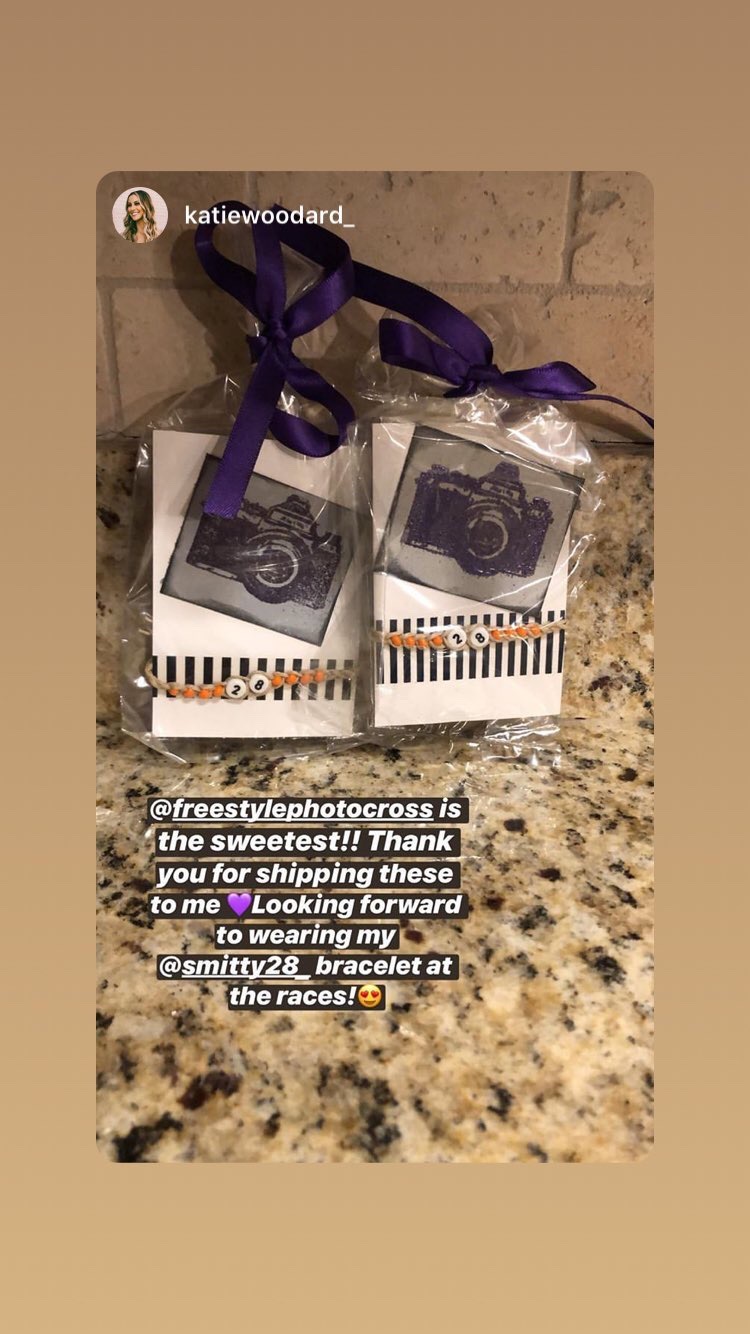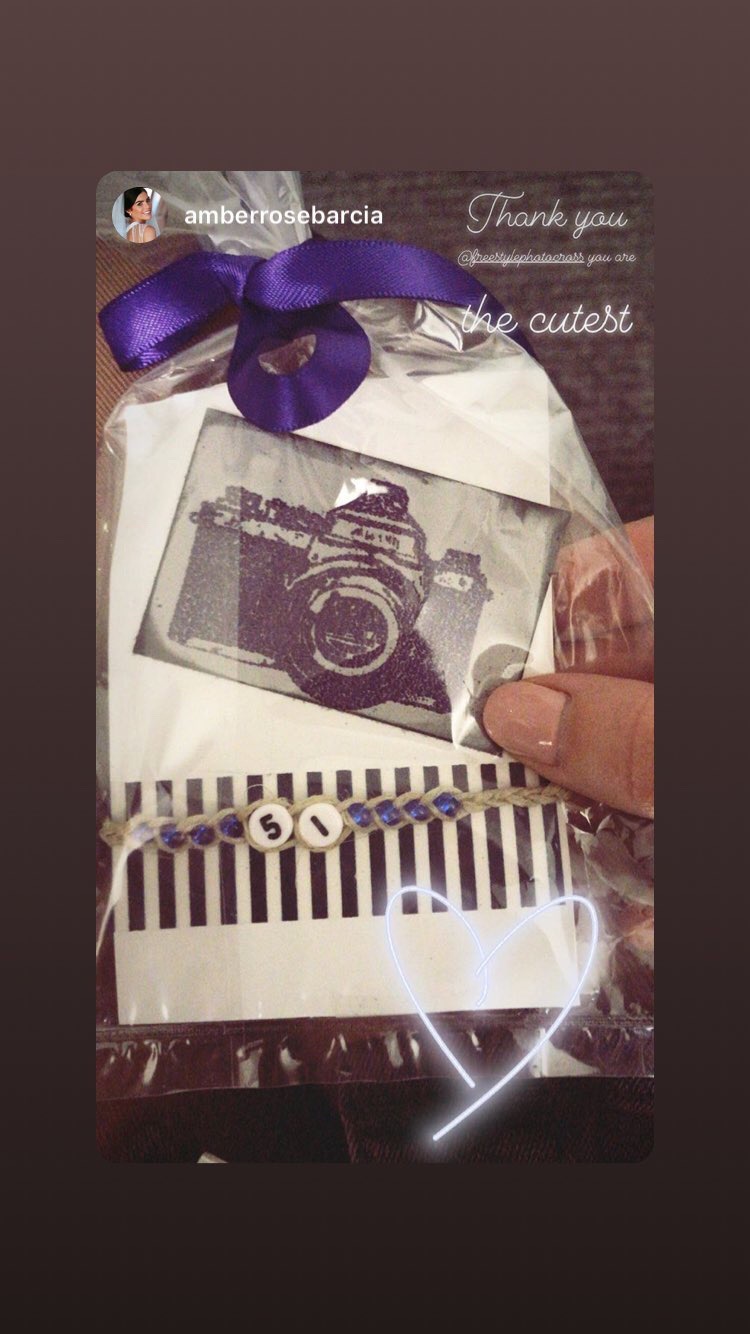 7. "Women of Moto" Bracelets
One thing I've learned during my time in this industry, but especially this last year, is that moto is definitely still a "boys club" on most days. I'm still one of the very few females out there, but that has given me the chance to really get to know the wives, girlfriends, and moms of the riders. These gals sacrifice so much for their rider to be able to line up every Saturday – many of them doing so much work behind the scenes, only to be known as "so and so's wife". I've always had a desire to tell more than just the racing story, because there is so much more that goes into it than what you see once the gate drops and the "Women of Moto" play a HUGE part in that story, but are often left in the dust. In 2019 I wanted to find a way to recognize these incredible women, and also give them a bit of solidarity and a reminder that they are not alone out there and that their hard work does not go unnoticed. I have always been a maker and creator of some sort, so I knew something handcrafted and personal would be the best way to show my appreciation for all the women who do most of their support behind the scenes and out of the spotlight. I decided on bracelets that included beads that represented the bike brand as well as their rider's racing number. Gifting these bracelets to all the wonderful women I've met in the industry filled my heart with so much joy! They were so well-received that I started getting messages on Instagram from other "Women of Moto" from around the country who also wanted to show their appreciation for their rider. Making these personal creations was such a fun way to link together so many different moto gals around the country.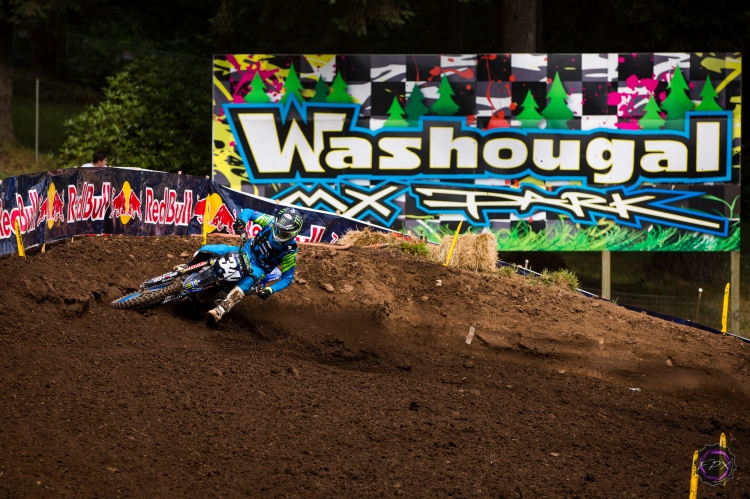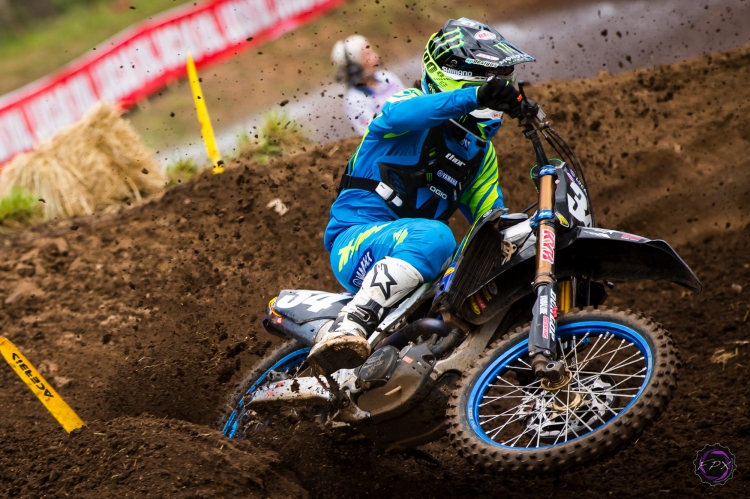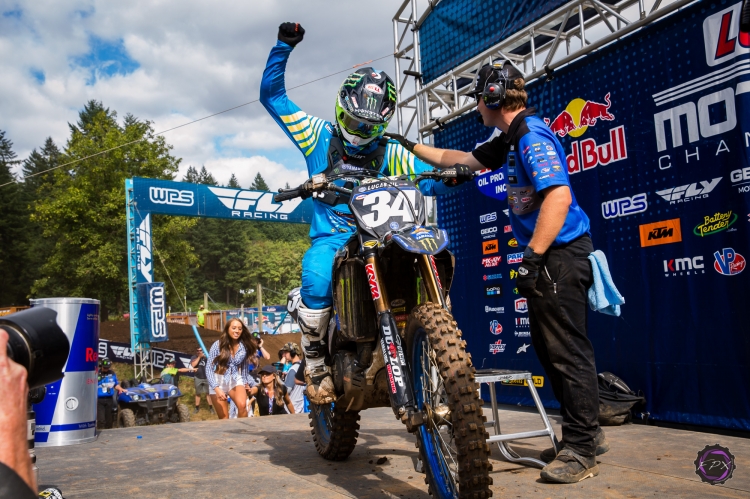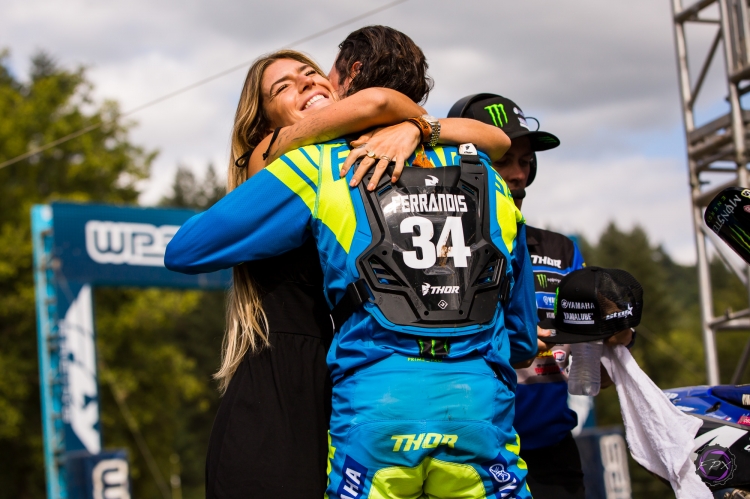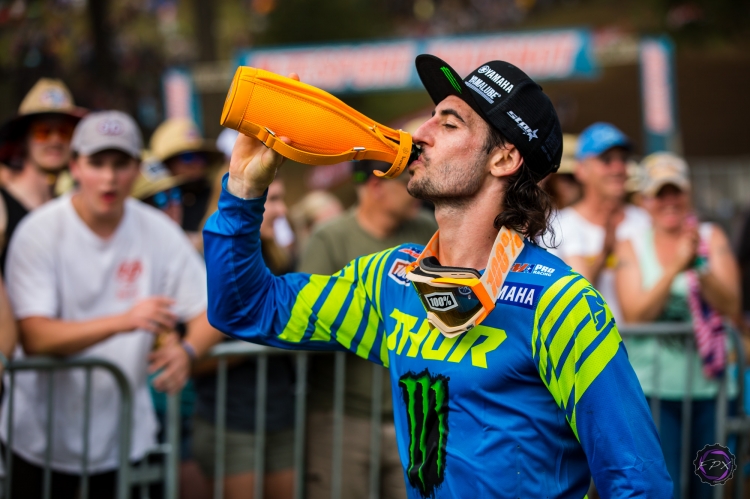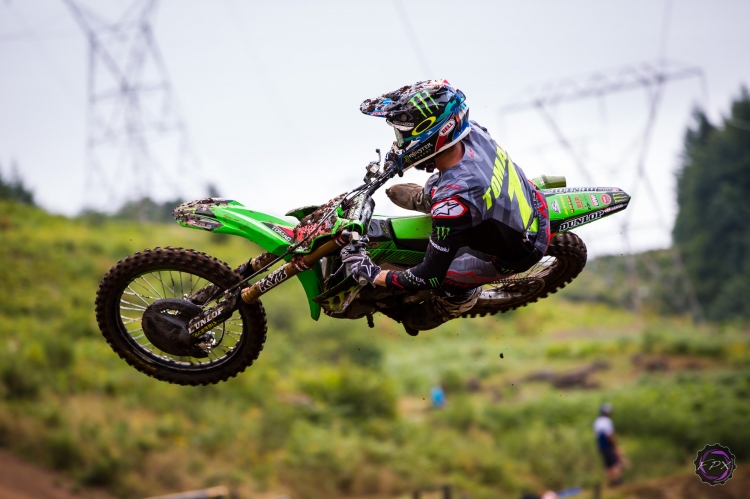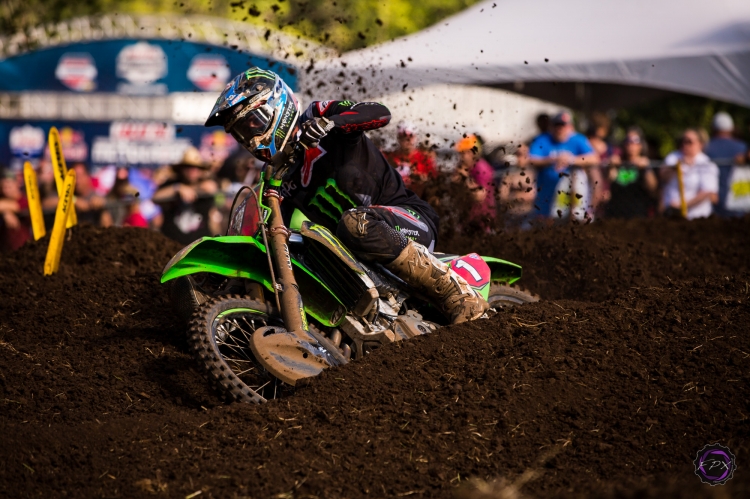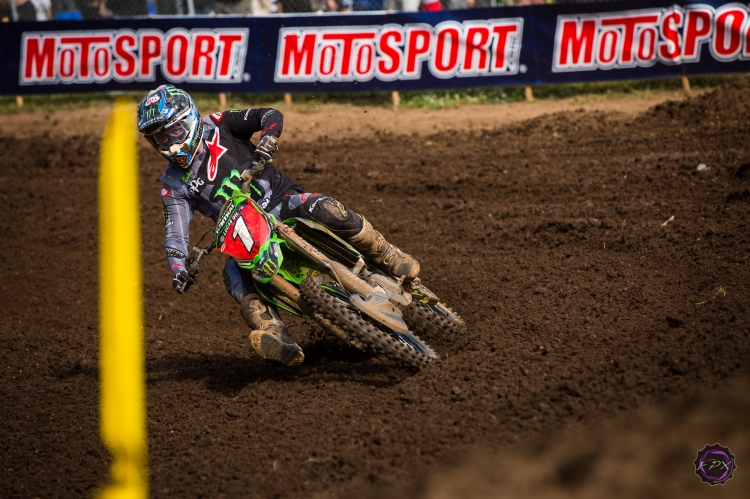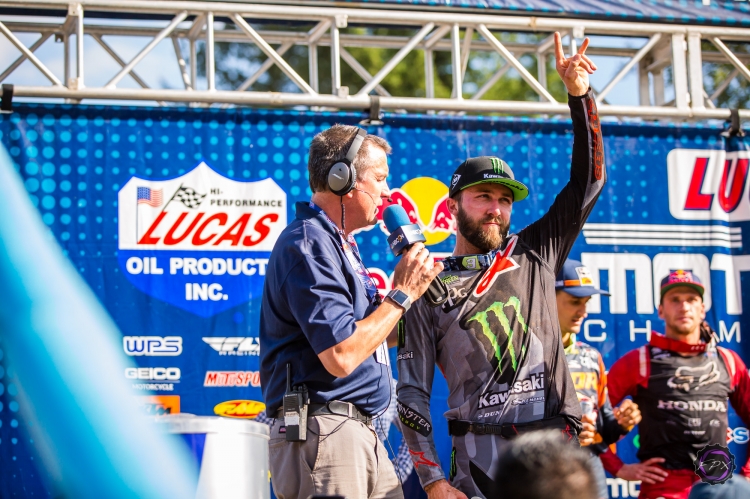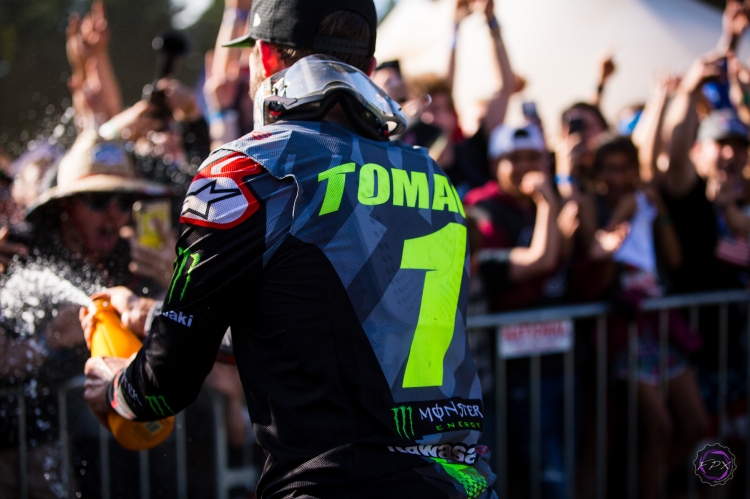 6. Perfect Day at Washougal
2019 was a year of GREAT racing, both in Monster Energy Supercross and Lucas Oil Pro Motocross. Battles, rivalries, and different points leaders emerged during one of the most competitive seasons of racing in recent years. One of my favorite days of racing happened to take place at one of my favorite tracks on the Pro Motocross circuit. Located in Washougal, WA amongst the acres of sprawling trees and beautiful mountains lies one of the most picturesque places in moto – Washougal Motocross. While this is always one of my favorite races in the Pro Motocross series, 2019 proved to be exceptional. Not only does this track provide challenging terrain to navigate for riders, making it one of the toughest races in the country, but it's an incredible challenge for us photographers as well due to the changing lighting conditions, elevation changes, and treacherous terrain we have to climb with all of our gear, but it's the challenge that makes it fun! This year at Washougal, we got to watch one of the most intense battles of the year, both in the 250 class and the 450 class! The thing that made the Washougal National make the list on the Freestyle Photocross "Top 10" for 2019 wasn't the close racing as much as it was the outcome. For the first time of the year, there was a perfect 1-1 finish for both the 250 class and the 450 class. In the 250 class, Dylan Ferrandis battled relentlessly with  teammate, Justin Cooper, in Moto 1 and then the then points leader, Adam Cianciarulo, in Moto 2, but ultimately it would be Ferrandis who was able to take the checkers in both motos to claim his second 1-1 victory on the season. Racing was equally as exciting in the 450 class, with incredibly close battles between Eli Tomac and Ken Roczen in Moto 1 and then Eli Tomac and Marvin Musquin in Moto 2. In typical Eli Tomac fashion, he was able to turn on the turbo boosters near the end of the moto and gap his competition to take the 1-1 win. It is rare that we see a 1-1 victory in one class, let alone in both in a single day of racing.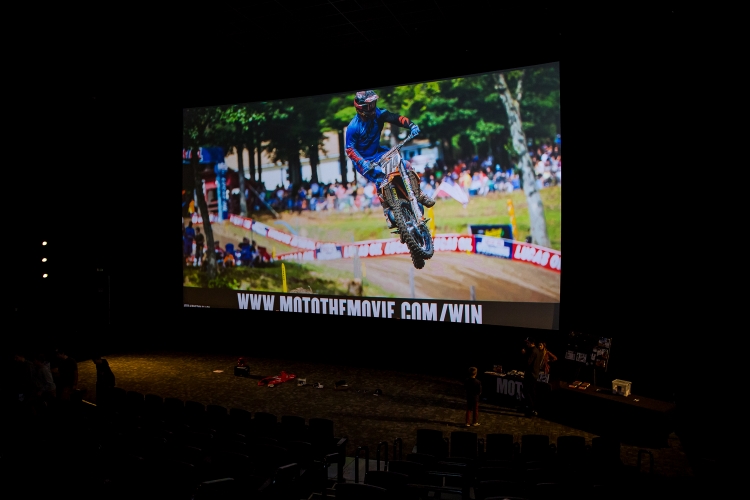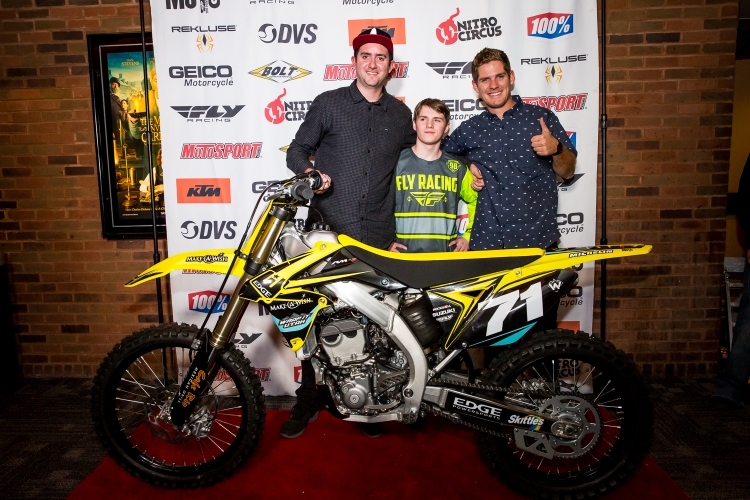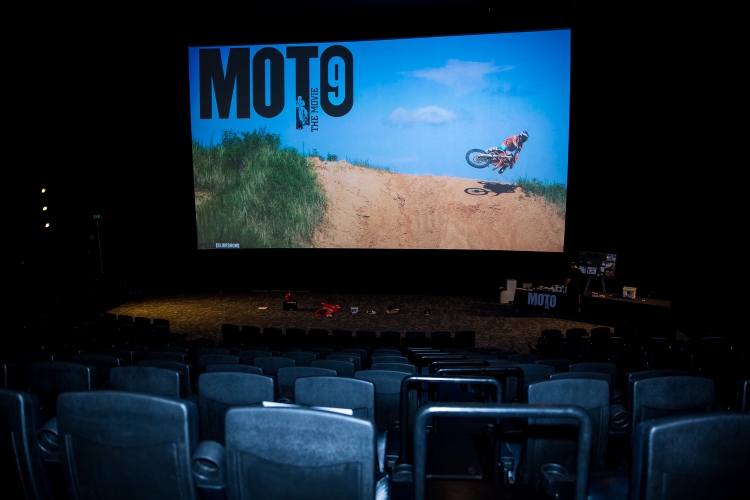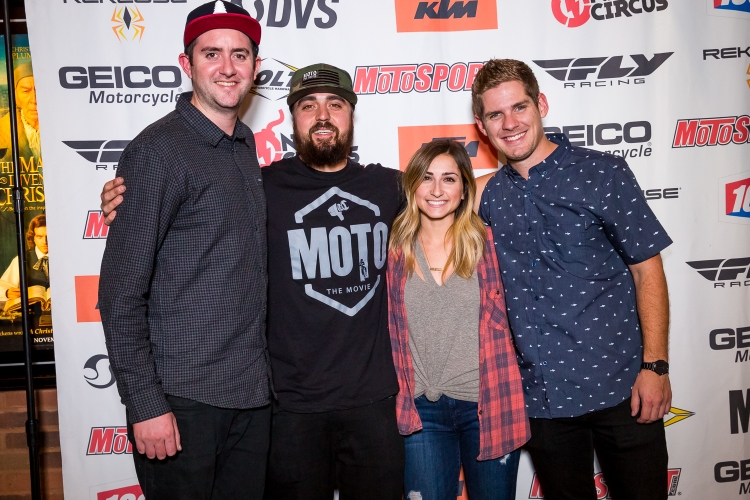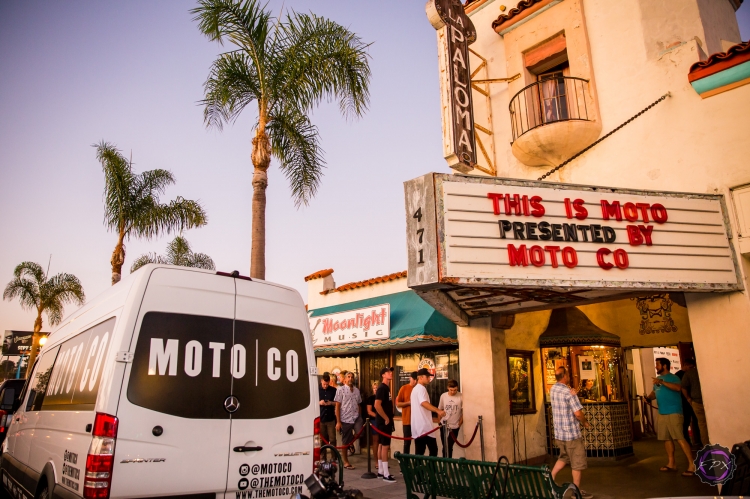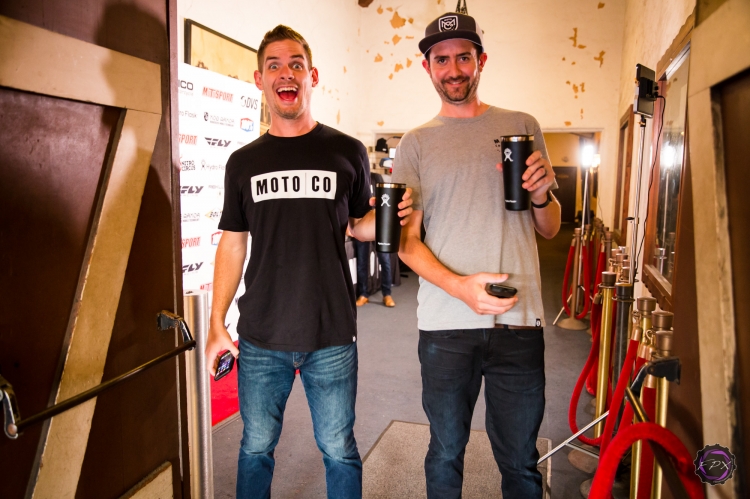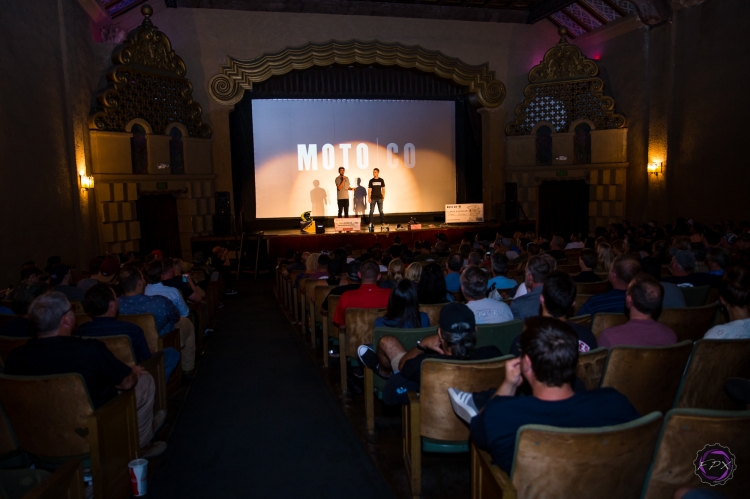 5. "This is Moto" Premiere
For nearly the entire time Freestyle Photocross has existed, I have had the opportunity to partner with filmmakers Jason Plough and Dominick Russo of The Moto Co. In 2019, the dynamic duo took over full ownership of the brand and transitioned away from the familiar "Moto the Movie" series to produce "This is Moto" – a feature-length film that highlighted anything and everything there is to love about motocross. These guys have supported me from the beginning, recognizing Freestyle Photocross as a legitimate media entity early on and giving me the chance to conduct my first-ever rider interviews with "The SevenDeuceDeuce" himself, Adam Enticknap, and freeriding legend, Kris Foster. Jason and Dom have previously also had be out as a stills photographer for one of the installments of "Moto the Movie". Over the years, it has been a pleasure and an honor to support these guys on their filmmaking journey! This year, with the release of "This is Moto", I couldn't miss the chance to see the film on the big screen. I attended and covered the Encinitas, CA premiere and had an absolute blast! It so rad to see how these guys have grown as creatives and as filmmakers over the years. "This is Moto" is handed down the BEST The Moto Co. movie of the decade and it has everything to do with the incredible passion and dedication that Jason and Dom have put into their film. I look forward to our continued partnership and mutual support in 2020!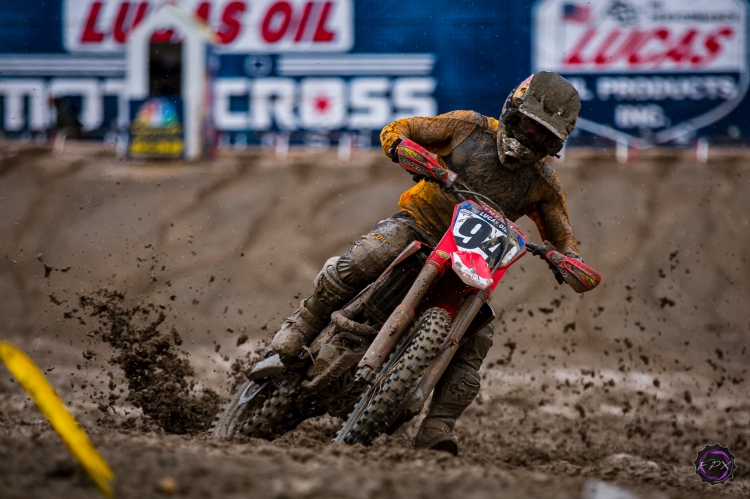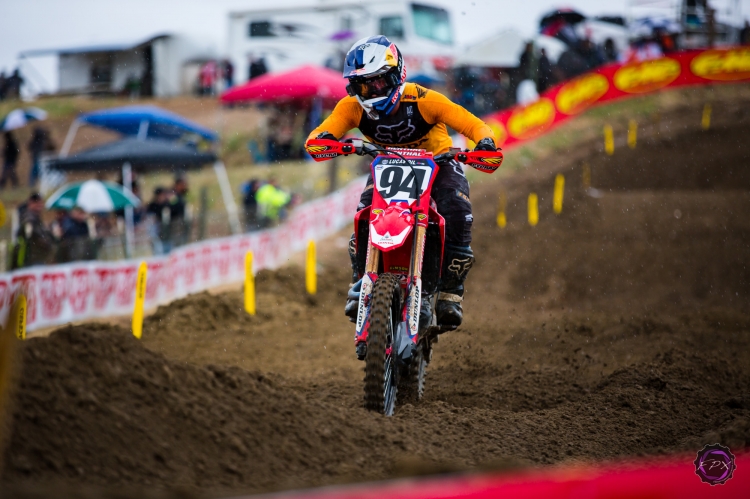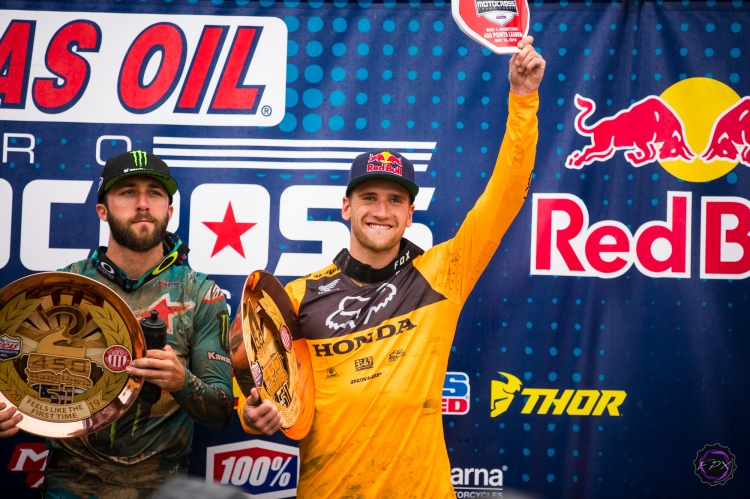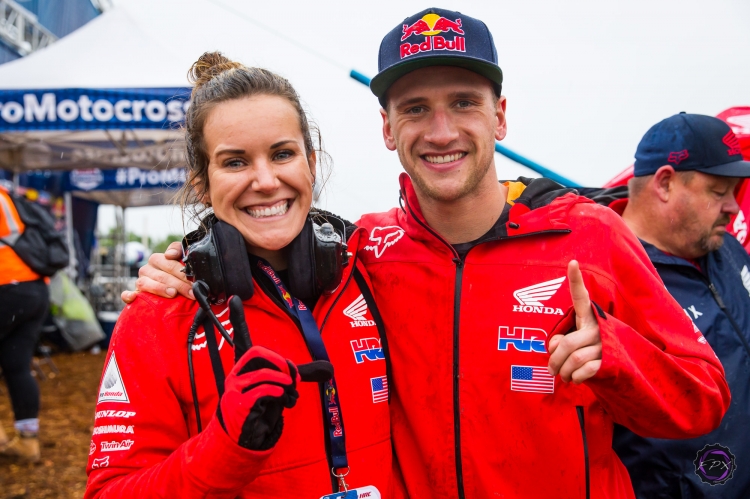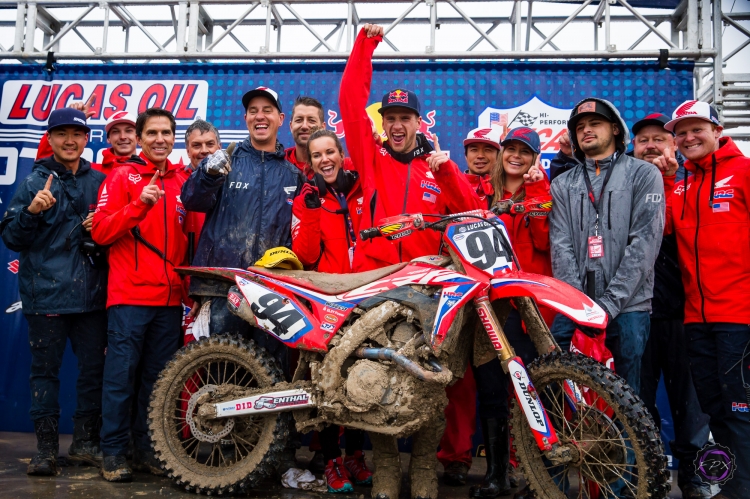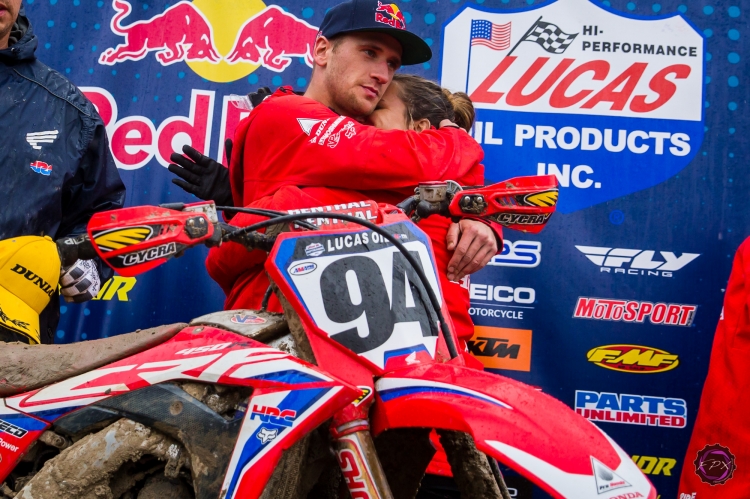 4. Ken Roczen Wins the Pro Motocross Season Opener at Hangtown
It's easy to see why Ken Roczen is easily the fan favorite on the top of so many peoples' favorite riders list – he's dedicated, he's skilled, he's a great competitor and great sportsman, and he's one of the nicest and most humble guys in the pits. As a member of the media, having the chance to watch his story unfold is one of things I'm most grateful for in this industry. At the end of the day, it's hard not to root for the guy, even when you're supposed to be an "unbiased" member of the media. The Pro Motocross season kicked off on May 18, 2019 with the Hangtown National and fans were fired up! The moment the first gate dropped, Ken Roczen grabbed an early lead and never looked back – finishing more than 15 seconds ahead of the second place finisher. He would go on to score another great finish in Moto 2 with a 2nd place finish. The 1-2 score was enough to put Kenny up on the top step and the crowd erupted in thunderous cheers. What made this one of my favorite moments of the year is that this was his first win in 854 days – his last being San Diego Supercross in 2017. Having seen this story arc unfold from the beginning, it was incredibly emotional to watch Kenny raise the first place trophy on the top step of the podium. There were tears in the eyes of the entire Honda HRC team and hive fives and hugs all around. These are the moments I live to capture, because 10, 20, 30, years from now, they will matter the most – far more than a racing photo ever will. Roczen's return climb to the top step and his ability to triumph over any and every difficulty in his path proves that he is one of the most mentally tough athletes on the planet. Like I said, it's hard not to root for the guy!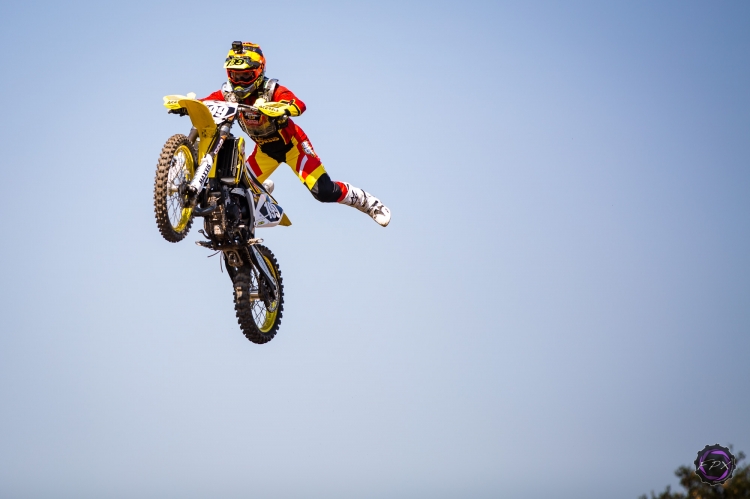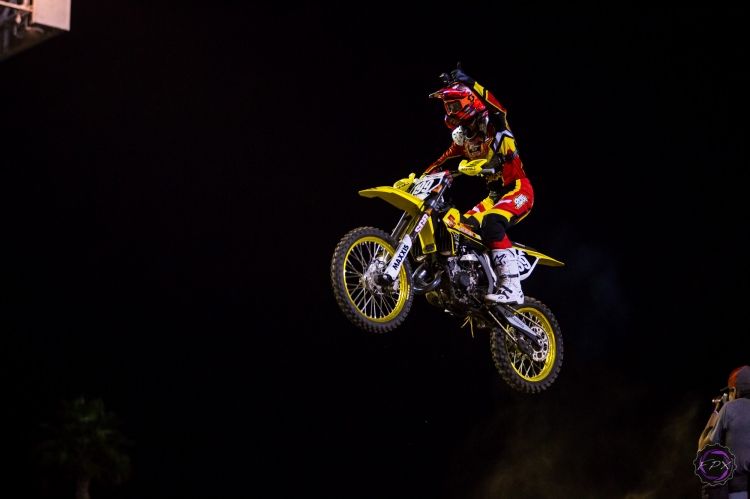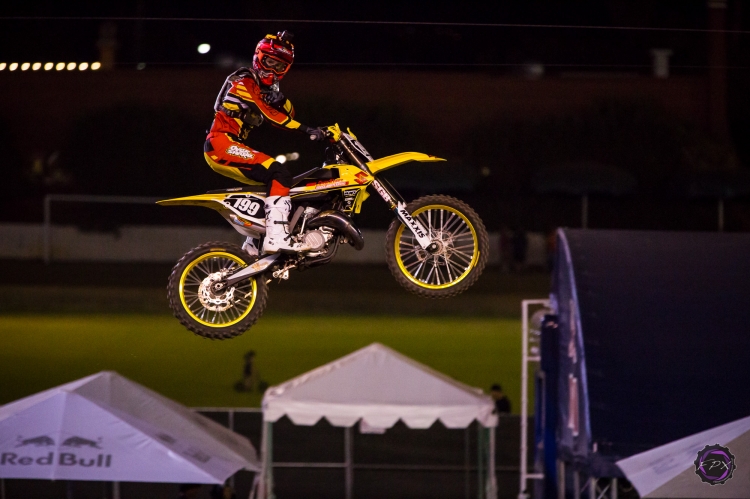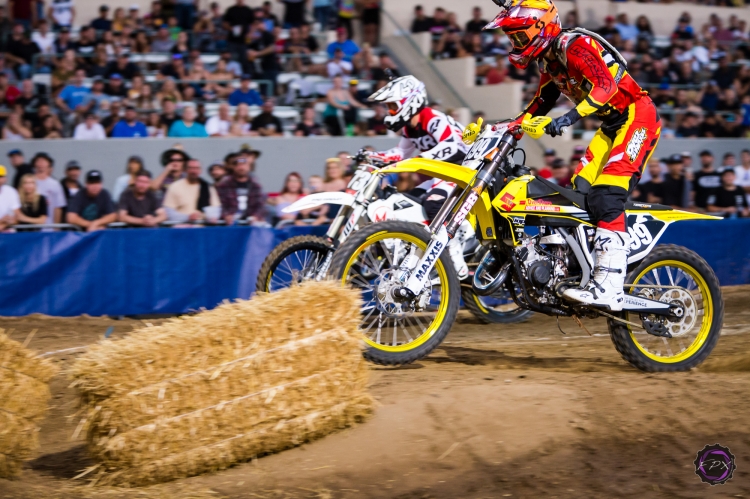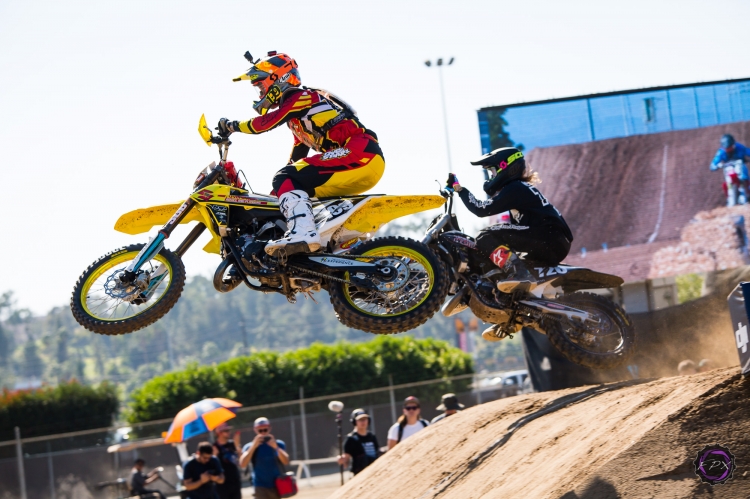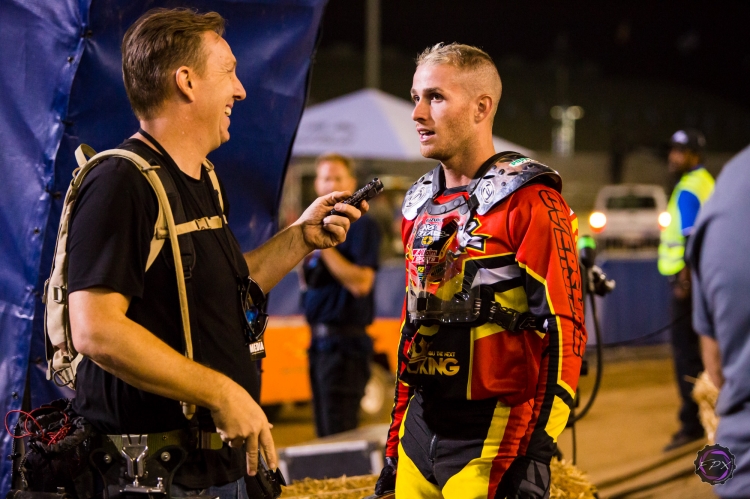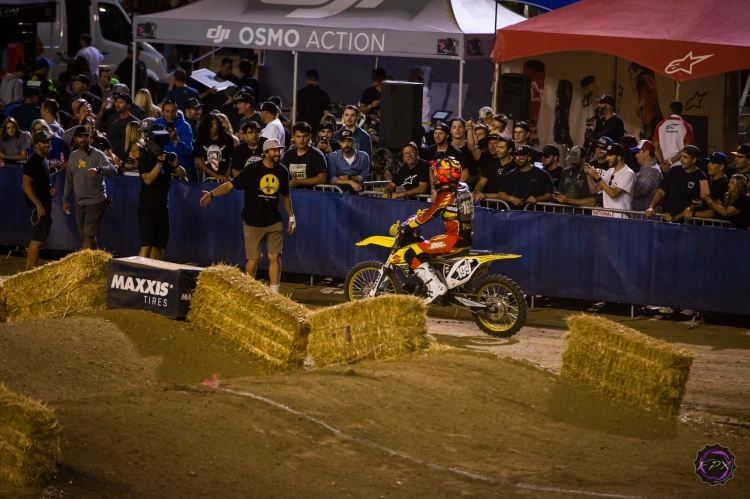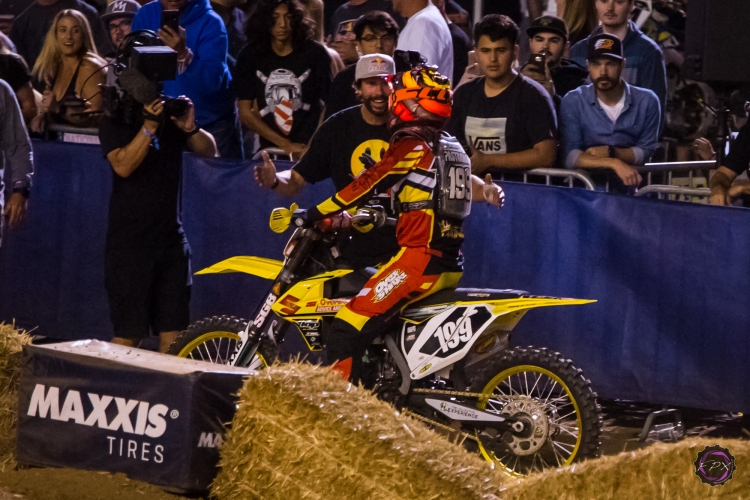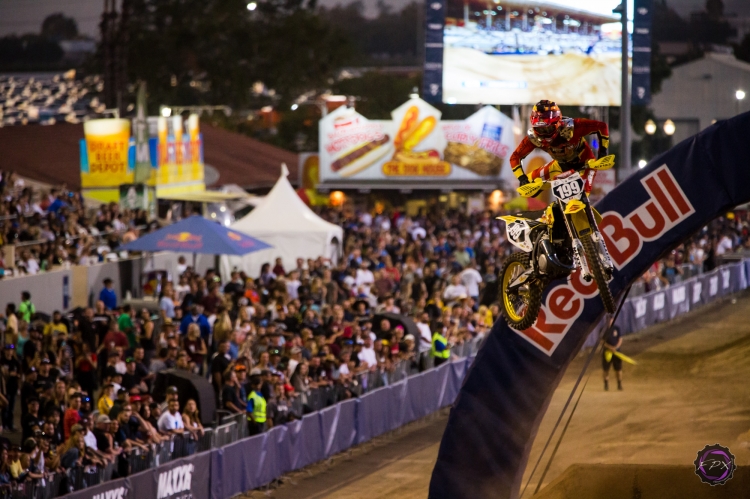 3. "What Would Travis Do?" at Red Bull Straight Rhythm
Over the years, the off-season, "the rules are made up and the points don't matter" Red Bull Straight Rhythm event has become a fan favorite and certainly on my list of events that I look forward to annually. This year, the rule was "Two Strokes Only" for what I dubbed the "Premix Remix". Once again, this event was a great reminder as to why we are like dirt bikes so much to begin with! 2nd place finisher from 2018, AJ Catanzaro, returned in 2019 and once again went full-tilt with embracing the retro theme. Last year Catanzaro paid tribute to James "Bubba" Stewart and this year it was Travis Pastrana, even acquiring one of Travis's old chest protectors to fully commit to the throwback theme. The coolest part is that Travis Pastrana was also racing the event this year… more on that later. AJ even took it a step further and totally embodied Pastrana's always fun racing style during the practice runs – throwing tricks like a Superman and Nac-Nac on the course. The fans absolutely loved it! When it came down to race time, one of the wildest things I've ever seen happened during one of AJ's runs where he managed to pull off the save of the century! He ended up in an accidental Superman and almost one of the sketchiest crashes I've ever seen, but instead of losing control of the bike, he tapped into some more TP199 energy and literally had the thought "What would Travis do?". Ultimately, he ended up pulling of a remarkable save, even getting a high five of approval from Pastrana himself. The whole thing was wild and definitely a racing moment I'll remember for a long time!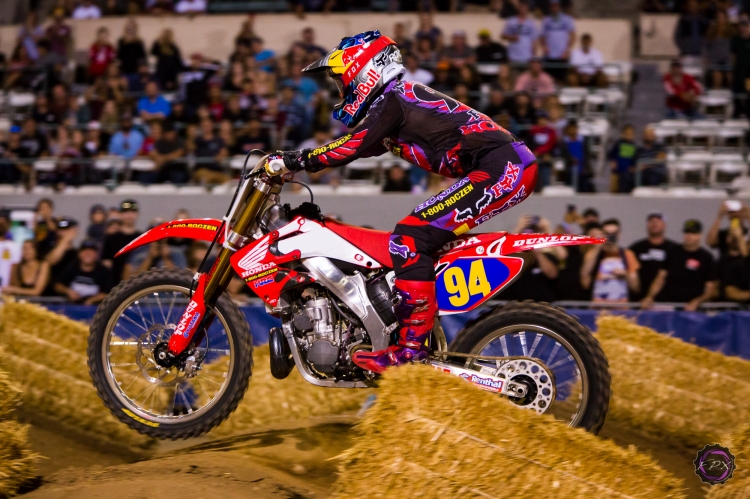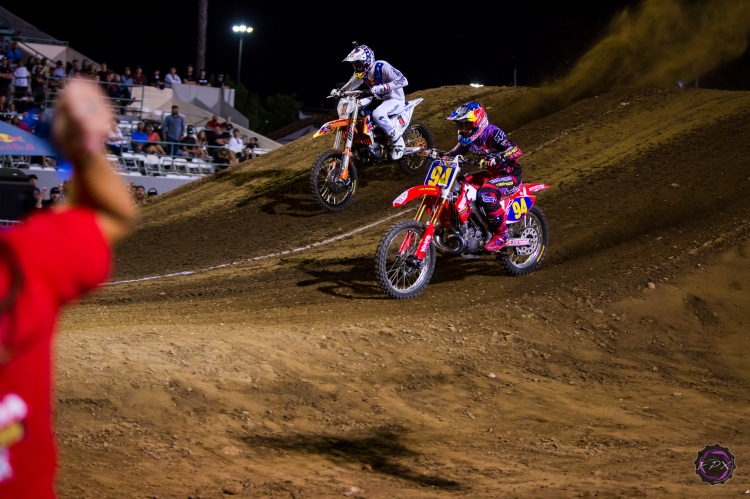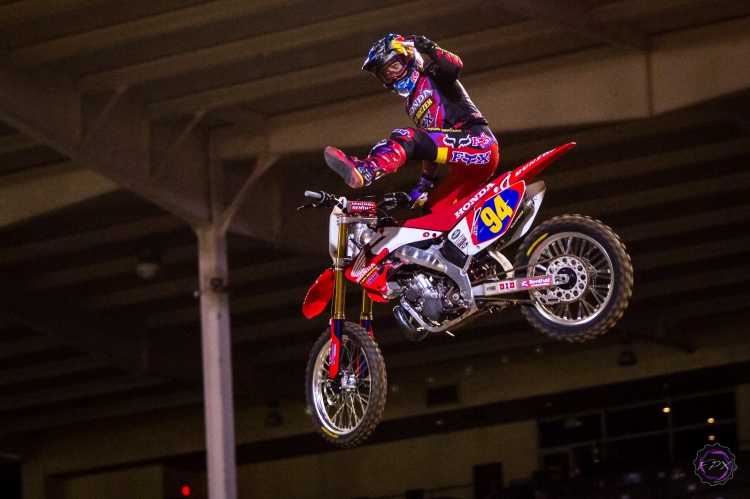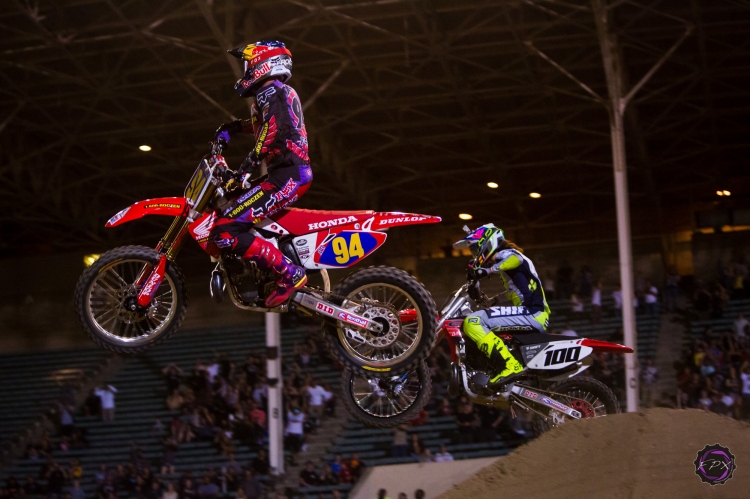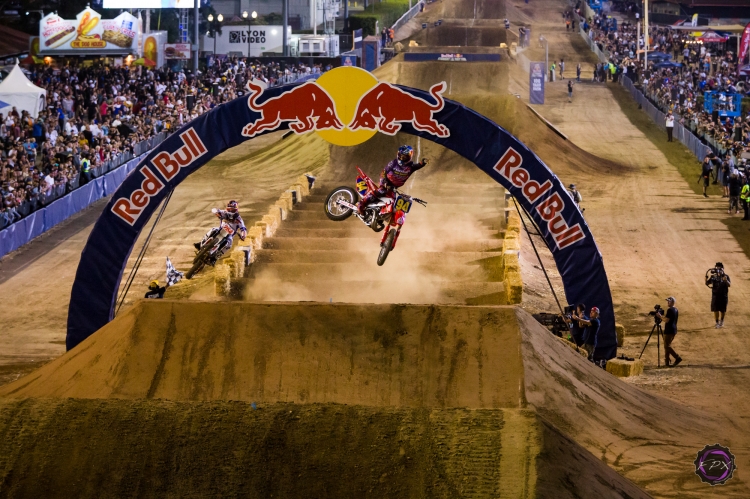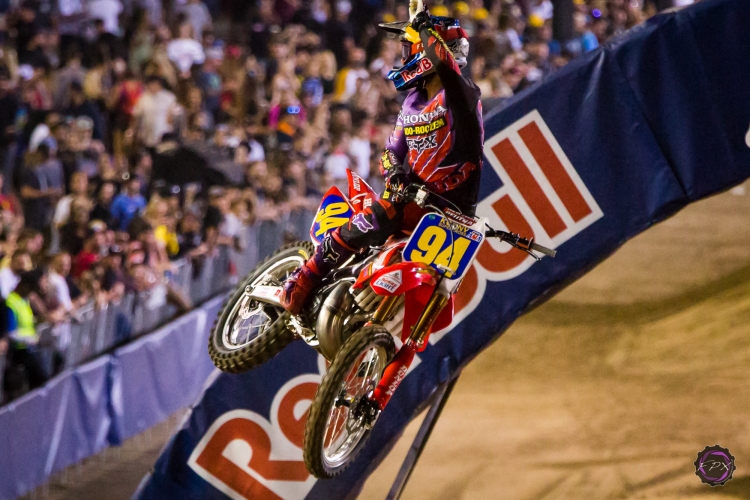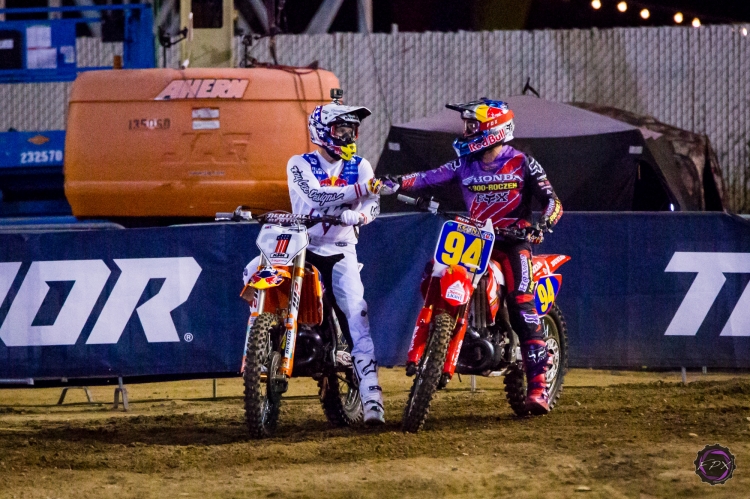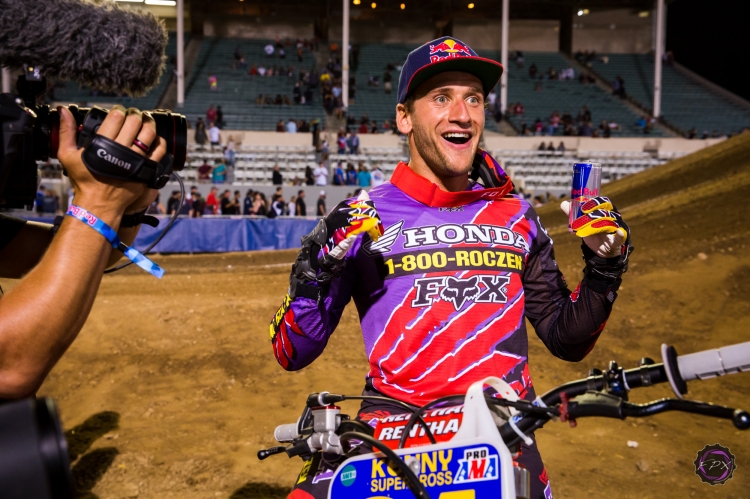 2. Ken Roczen Wins Red Bull Straight Rhythm on Jeremy McGrath's '06 CR250
For Red Bull Straight Rhythm this year, every single rider really committed to the "two strokes only" rule by riding old bikes, new bikes made to look old, old bikes with new parts, and even race-ridden bikes from our 90's moto heroes. Ken Roczen raced the event on Jeremy McGrath's 2006 CR250! Not a bike that was inspired by the King's '06 CR250, his actual '06 CR250! As if that wasn't cool enough, Mitch Peyton was on hand lending his tuning expertise on the old 2-smoker. Walking by the Honda HRC setup was honestly like stepping back in time to the Golden Era of moto! It was honestly one of those moments where my immediate thought was, "man, my dad would've freaking LOVED this!". Ken Roczen steadily knocked his competition out of the elimination bracket until he had made his way to the finals in the 250 class. It came down to the wire, but ultimately it would be Ken Roczen who emerged victorious. The fans erupted with thunderous applause and roaring cheers and the energy in the venue was electric as Ken Roczen claimed his first Supercross-style victory since San Diego Supercross in 2017! Emotions were high as the elusive first Supercross win, post injury, was FINALLY checked off the list! Sure, it wasn't a Monster Energy Supercross victory, but you could tell the stoke was real for the entire Honda HRC team! It's been a long and painful journey for Roczen to return to the top step and it was an honor to be there to capture this victory that was so well-deserved!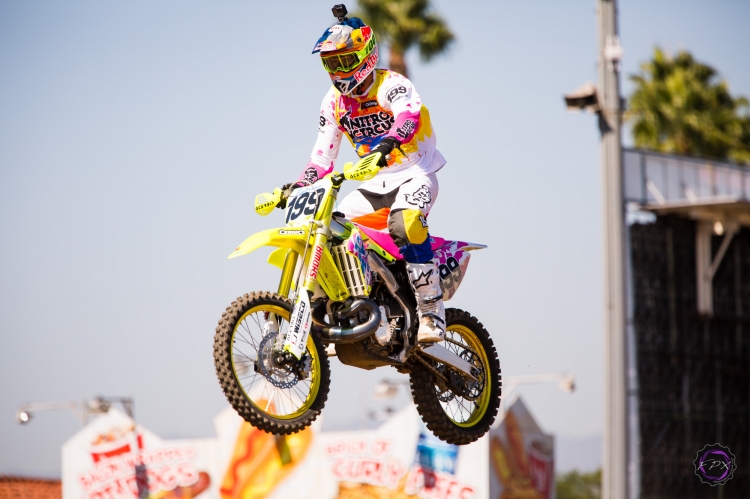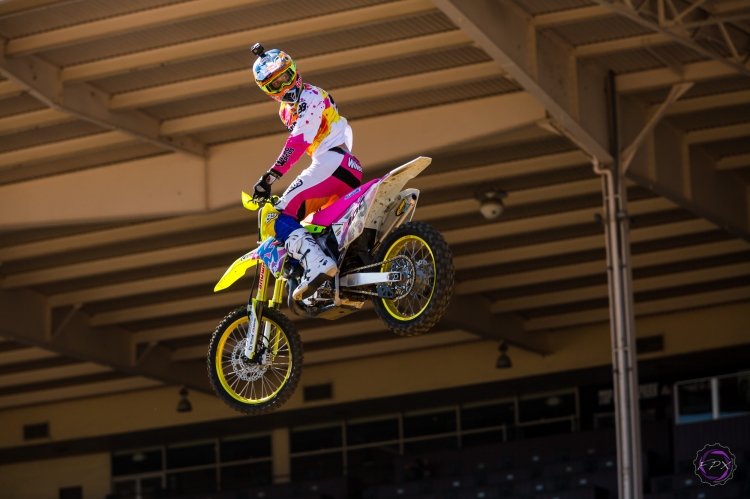 1. Travis Pastrana Flips the RM-Zilla
It was six years ago at the inaugural Red Bull Straight Rhythm where I saw one of the coolest things to ever happen on a dirtbike. I happened to be a spectator at the time as I was just barely getting started in learning the ins and outs of motocross photography and the ultimate forever fan favorite, Travis Pastrana, had signed up to race the event on his RM-Z 500 two-stroke. This was significant for two reasons: 1. It was one of the first dirt bike races TP199 was competing in since his retirement from racing two wheels and 2. He signed up to race on a two stroke. Although he didn't win the event, he did something that truly only Travis Pastrana could do, and that was FLIP THE FINISH LINE! In a feat that literally seemed to defy the laws of physics based on the weight and size of the bike alone, TP flipped and landed the behemoth RM-Zilla like it was nothing. The crowd went absolutely bonkers. I saw that flip at that inaugural Red Bull Straight Rhythm and immediately set it on my goals list that one day I would have the chance to photograph the RM-Zilla upside down on a race track. Flash forward to 2019 where the entry list for Red Bull Straight Rhythm once again listed Travis Pastrana on, you guessed it, the RM-Zilla beast! I knew that this would be the moment of opportunity I've been dreaming about for the last five plus years. If Travis Pastrana throws a leg over a dirt bike, it's almost a guarantee that bike is getting flipped off something and sure enough, he did not disappoint. Only this year, Travis didn't flip the finish line! Nope, this year, Travis found his opportunity to continue to defy physics in the middle of the race track!! He flipped the RM-Zilla MID COMPETITION and then just went about his race. As you can imagine, the crowd went absolutely bonkers! Talk about a throwback! As for me, this was a moment that I had been visualizing for more than five years, knowing that one day I would have a chance to photograph Travis Pastrana upside down. After studying his rhythm choices during the practice runs, I was able to line myself up perfectly to capture my once in a lifetime shot! It was the ultimate cherry on top of a really fun year of racing and I couldn't be more grateful to have witnessed (and captured it on camera) in person from the "other side of the fence" as I put it.
2019 was a wild ride filled with highs and lows, but still brought lots of growth to Freestyle Photocross. I am so incredibly grateful that you all continue to support me and trust me with capturing some of the most unique content in the industry. Thank you for your shares, and re-posts, and tags, and likes, and for joining me on this journey! I looking forward to bringing you even more great content in 2020! Freestyle Photocross – female owned, motorsports driven!