The 6th annual Red Bull Straight Rhythm took place on Saturday, October 5, 2019 at the Pomona Fairplex. Red Bull is known for constantly elevating experiences in the action sports space and Straight Rhythm is no exception. I've jokingly dubbed Straight Rhythm the "Whose Line is it Anyway?" race – because the rules are made up and the points don't matter. The relaxed "counts for nothing but bragging rights" atmosphere is reminiscent of the moto days of old where racing with your buddies and having FUN was the priority. But don't let the party atmosphere fool you, there is still plenty of competitive racing going on! Who knew that two guys going head to head drag racing style could be as exciting as a 20 or 40 man gate? Once again, Straight Rhythm consisted of a head to head drag race style bracket that whittled down the riders in a best two of three race format that culminated in a podium celebration for the top three finishers in each bike class. Red Bull Straight Rhythm is definitely the biggest party on two wheels and an event I look forward to every year. Without further ado, here's a look at the top five moments of the 2019 Red Bull Straight Rhythm in this edition of the Fast Five Recap.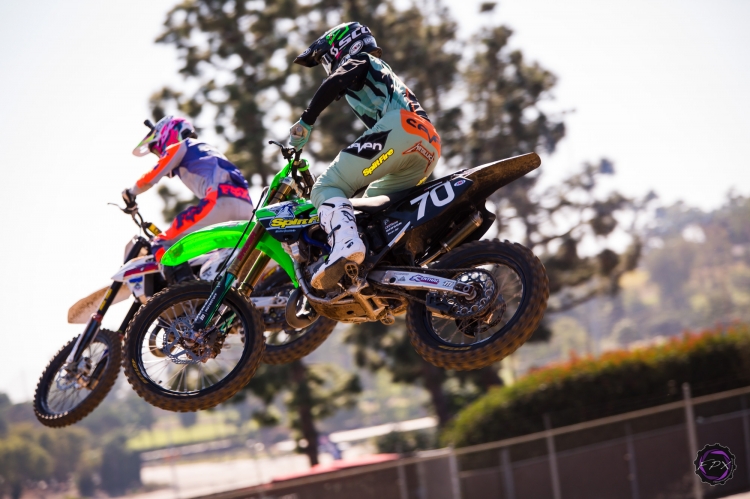 5. Premix Remix – 2-Strokes Only
Inspired by the success of last year's throwback vibes as well as the commitment from riders to 90's replica retro kits and bikes, if you were going to ride Straight Rhythm this year, you'd have to do so on a 2-smoker. That's right, this year's Red Bull Straight Rhythm was once again a 2-strokes only race! If you remember from last year, AJ Catanzaro and Luke Renzland were the two riders who committed to the 90's throwback, full tilt! AJ chose to ride in tribute to the #259 of James "Bubba" Stewart and Luke honored the King himself, Jeremy McGrath. The two riders had the bikes, the gear, the chest protectors, everything to fully embrace the 2-stroke only theme.
For the 6th annual running of Red Bull Straight Rhythm, it was a true "Premix Remix" for 2019 with riders showing up in big ways. Since this year was once again a 2-stroke only race, almost every rider on the ticket went head-to-toe throwback for their head-to-head races by showing up in custom and one off kits and decked out bikes, celebrating some of the legends of our sport and even other sports as well. The sights, sounds, and smells of this event transported you immediately to another place in time. We had riders paying tribute to guys like the goat, Ricky Carmichael, the king of supercross, Jeremy McGrath, Johnny "O Show" O'Mara, Kevin Wyndham, Larry Ward, Nathan Ramsey, Travis Pastrana, Grant Langston, Ryan Hughes, David Pingree, and Ernesto Fonseca. We even had riders repping legendary stunt rider, Evel Knievel,  superstar golfer, Rickie Fowler, and even fan favorite former supercross rider, Jessy Nelson. The riders were super into it, the teams were super into it, the fans were super into it, and the stoke level was off the charts for this year's Red Bull Straight Rhythm.

4. Joey Crown Wins the 125cc Class
Joey Crown, who is a relative newcomer, having turned pro at the end of 2017 at the Unadilla National, was back in the states for Red Bull Straight Rhythm. Crown, who had a very successful amateur career, didn't have the easiest transition into the pro ranks in the states. However, he has spent the last two seasons racing in the Rockstar Canadian Series gaining more experience at the pro level, where he's racked up plenty of wins and podium finishes. He showed up at Straight Rhythm ready to race! In the best of three bracket format, Crown first defeated Carlen Gardner, followed by AJ Catanzaro in the semi finals and then ultimately went head-to-head with Michael Leib to claim victory in the 125cc class aboard his KTM 150 SX.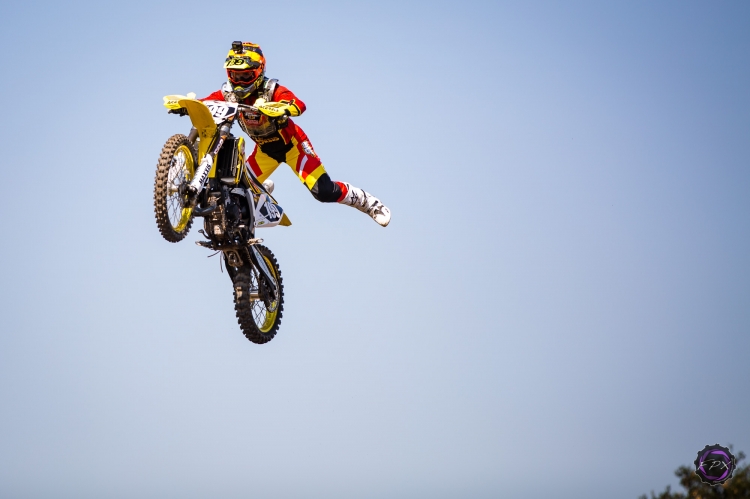 3. What Would Travis Do?
AJ Catanzaro, who finished 2nd in last year's 125cc class, was back this year to not only take another run at the win, but also defend his "best head-to-toe throwback tribute" title. Ok, maybe I made up that second part, but the "Big Cat" definitely set the bar pretty high after last year's epically Bubbalicious James "Bubba" Stewart tribute. He did not disappoint in 2019. This year, AJ was able to put together a full Travis Pastrana #199 throwback, including rocking one of Travis Pastrana's own personal chest protectors.
During practice and qualifying, AJ really got into the Travis Pastrana mindset, throwing a few freestyle tricks into his runs. Whether the actual TP199 or just the look-alike, there is no denying that Pastrana is one of the lifelong fan favorites to throw a leg over a bike. Fans were loving AJ's full throwback – cheering every time he hit the track. Catanzaro first went head to head with Chase Marquier, defeating him in the quarter finals. Then came his bracket with Joey crown in the semi finals. During his first run, Catanzaro and Crown were fairly evenly matched up until the final quarter of the track when all of a sudden a collective gasp and "Oh s**t!" echoed throughout the venue. In an instant AJ's feet were off the pegs, and launched into the air into a full "Superman". It's one thing to hit a ramp as a freestyle mx rider with the intent to perform a Superman trick; it is quite another when you lose your feet off the footpegs in the middle of a rhythm section during a race. What happened next was both surprising and impressive! AJ not only managed to pull off the save of the century, but did so without sustaining any serious injuries. The crowd erupted in cheers! Catanzaro ended up losing that semi-final run to Joey Crown, finishing 3rd on the night, but he was definitely the most talked about rider of the evening.
In an interview after the race, AJ was retelling that crazy moment when he was certain that he was headed straight for some catastrophic injuries, and he said the only thought that crossed his mind in that moment was "What would Travis do?" And he knew in that moment that Travis would absolutely ride it out and finish the race. Turns out that was a great strategy move for the "Big Cat". Not only was he able to finish the race relatively unscathed, but his impressive save even got him the seal of approval from Travis himself.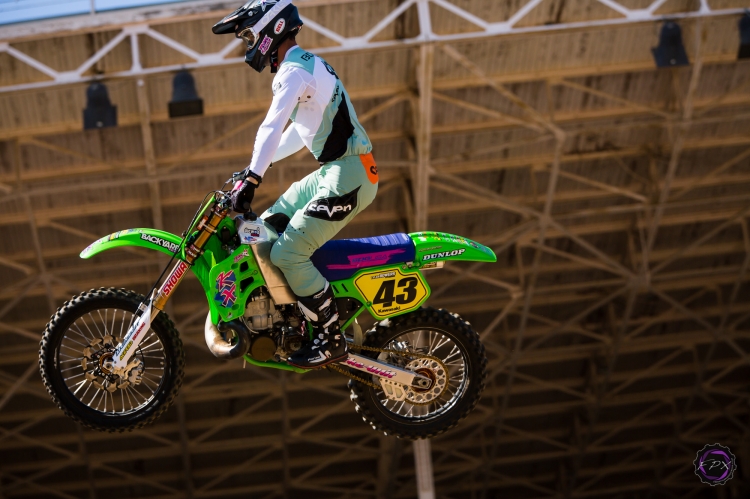 2. 1000cc of 2-Stroke Heaven
During the inaugural Red Bull Straight Rhythm in 2014, Travis Pastrana showed up to race his first dirt bike race in years, and did it on his RM-Zilla, 500cc 2-stroke Suzuki. In true Travis Pastrana fashion, the legend decided to backflip his bike at the finish. Yes, you read that right; he backflipped the 500cc 2-stroke beast! Ever since that first Red Bull Straight Rhythm, people have been talking about that backflip and the opportunity to see it again in person. Ok, maybe that's just been me, but I've definitely waited five years for the chance to photograph the RM-Zilla upside down.
This year, Travis Pastrana, the real Travis Pastrana, not just the AJ Catanzaro look-alike, showed up to once again race the legendary RM-Zilla. Only this year, he was able to find another 500cc beast to race against. Tyler Bowers busted out his famed 1992 KX500, nicknamed "The Unit", for the occasion! The two raced in their own 500cc class and even brought a special element into the mix. With the help of RAK Racing as well as moto legend Broc "Golden Boy" Glover, Tyler Bowers used this race as an opportunity to raise funds for cystic fibrosis research and awareness, including to help pay some of the medical expenses for Broc's son who has CF.
Throw a good cause together with two awesome riders on two awesome bikes and you've got yourself a party. The RM-Zilla and The Unit raced head-to-head, instantly transporting fans back to another place and time. The crowd went absolutely bananas every single time the 1000cc combined power took to the track. The two legends battled back and forth, but ultimately it was Tyler Bowers who emerged victorious.
And of course, what would a Travis Pastrana sighting be without a backflip, or two, or three? Once again, the fans were able to see the RM-Zilla upside down! A feat that seams against the laws of physics, but then again, I'm pretty sure those laws don't apply to Travis Pastrana. Only this time around, Pastrana didn't wait until the finish line to effortless toss the beast upside down. He flipped that Suzuki DURING his qualifying and racing runs. As you can imagine, the crowd lost it. It's just a fact that people love seeing 2-strokes back on the track. The sounds, the smells, the premix – all of it; and then add in having the chance to see Travis Pastrana race again, it's safe to say the nostalgia vibes were being laid on thick!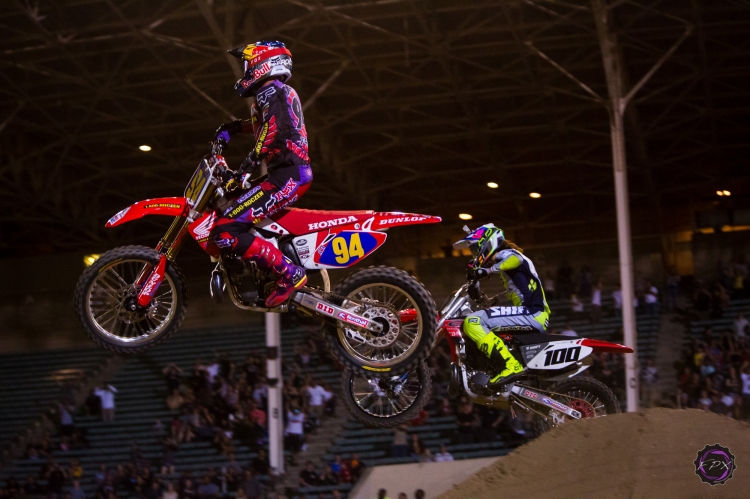 1. Ken Roczen Wins the 250cc Class on Jeremy McGrath's 06' CR250!
Ken Roczen showed up to race this year's Red Bull Straight Rhythm in a big way. We already know that it was a 2-stroke only, throwback themed race with many riders opting to honor racing legends with throwback kits and graphics – an instant classic. But Ken Roczen took the retro challenge to a whole new level when he showed up to race not only in an "inspired by Jeremy McGrath" kit, but actually ON Jeremy McGrath's 06' CR250 race bike! Of course, thanks to the folks at Honda, they were able to spruce it up with some modern updates paired with some heartwarming nostalgia, making it fit for a king once again. 
In the 250cc class, there were 16 riders who qualified for the Night Show. These riders went head-to-head, eliminating riders down to the quarter finals, then semi finals, then finals. Ken Roczen first eliminated Tevin Tapia to advance on to the quarter finals, then beat out Ryan Sipes to move on to the semi finals. This led him to face Brandon Hartranft in the finals. As to be expected, the fans went nuts seeing Kenny out there not only riding with immense speed and skill, but also having a damn good time doing it. The final runs between Hartranft and Roczen had the crowd on their feet as they came down to the wire. Ultimately, it was Ken Roczen who won the whole kit and caboodle after winning two of the final three runs, defeating Brandon Hartranft for the top step of the podium. While the may be an off-season race where "the points don't matter and the rules are made up", it was still a significant win for the entire Roczen camp as it marked his first "supercross" win since Round 2 of Monster Energy Supercross in 2017. This is exactly the kind of confidence boost many riders love to have coming into the new Supercross season.
All in all, this year's 6th Annual Red Bull Straight Rhythm was once heck of a throwback good time! Red Bull has definitely figured out the formula for a bitchin' off-season event! Already looking forward to next year!