Red Bull is always elevating the action sports game, creating brand new experiences to delight the adrenaline junkies in all of us. For Straight Rhythm, Red Bull had the idea to take a Supercross track, cut it, and straighten it out, without removing any of the traditional supercross track elements like whoops, rhythm sections, and triple jumps and then race guys head-to-head in a bracket format. This year marked the 5th annual running of Red Bull Straight Rhythm, an event continues to gain popularity over the years and has become of the top fan favorite off-season events. To celebrate the 5th anniversary, Red Bull made a bold rule choice: NO FOUR STROKES ALLOWED! As you can imagine, the buzz that a two-stroke only race created in the motocross community was louder than the bumblebee buzz of the 2-stroke engines themselves. The event was filled with throwback vibes that both the riders and the fans loved! In keeping with a truly authentic 90's moto event, no factory rigs were allowed either – which meant box vans, RV's, and trucks only! Two things are for certain: 1) that the 2018 Red Bull Straight Rhythm event was one of epic proportions and that it's hard not to have an amazing time with total 90's throwback vibes and 2) that very few riders actually know how to spell the word "rhythm", but they are great at racing dirt bikes. Here's a look at the top 5 most memorable moments from the 2018 Red Bull Straight Rhythm.
5. TLD KTM Ready for their 722 Lit Kit Award
TLD KTM riders Jordon Smith (#28), and Shane McElrath (#12) took advantage of the nearly-Halloween timing of the event to debut a special edition TLD kit. The gear was all back with a cohesive skeleton design on both the back and front of the gear. The finished off the kit with a brightly colored skull inspired helmet that even had some special attention to detail thanks to Joy McElrath, wife of Shane McElrath. As the only currently rostered factory riders racing the 2018 Red Bull Straight Rhythm, it was quite the change up from a full factory rig to a box van, but that didn't stop Smith and McElrath from having a darn good time.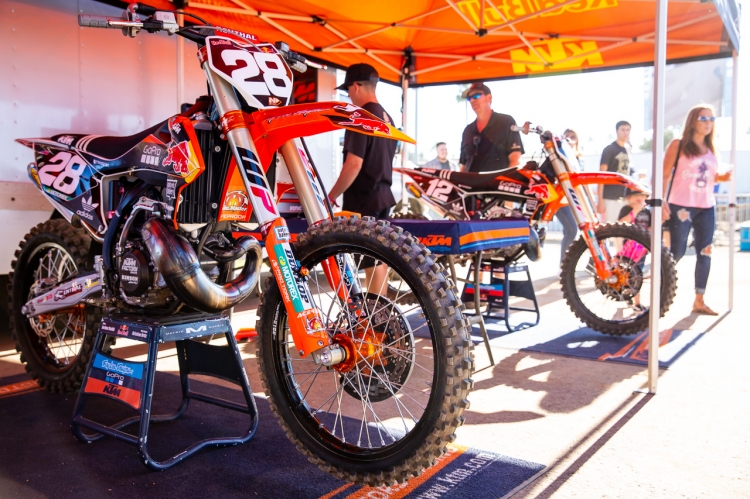 4. Luke Renzland and AJ Catanzaro Fully Commit to 90's Throwback
When Luke Renzland and AJ Catanzaro found out that the 2018 Red Bull Straight Rhythm was going to be a 2-strokes only race, they both had a similar idea – make it a REAL 2-stroke only race and pay homage to "Bubba" and "The King". AJ Catanzaro, with the help of RAK Racing, and Spencer "Lucky" Luczak (and many others) was able to create the ultimate Bubbalicious tribute. He rode a full works replica KX 125, ran the #259, and had a custom replica JS7 kit from the good ol' days, and even rocked the "Bubbalicious" butt patch. Luke Renzland went all-in as well with a head-to-toe Jeremy McGrath replica kit and bike reppin' the old PEAK days. His attention to detail and authenticity even grabbed the attention of "The King" himself, who wrote a post about the radness on his Instagram.
You could feel the excitement from fans and riders alike throughout the day as they were instantly transported back to the glory days of moto when they saw the lengths these two riders went to be fully committed to the 2-stroke only race. Even better, they ended up bracketed against each other, and fans went nuts! The two raced hard and made sure to not only focus on the competition, but also the fun – and boy was there a ton of fun to be had as fans got to relive the 2-stroke magic of Bubba and MC racing "each other" for the first time in years.
With a best-of-three bracket race, it came down to nearly a photo finish for each of the three races as Catanzaro and Renzland were bar to bar for  practically the duration of every race of their bracket. These two riders are some of the most dedicated in our sport and even for this "counts for nothing but bragging rights" no-point earning race showed their dedication to bringing back the glory days of 2-smoker goodness. As both are east coast based riders, it was no small feat to get out to California for Red Bull Straight Rhythm and they showed up in a big way. The riders would ultimately go on to finish 2nd (AJ Catanzaro) and 3rd (Luke Renzland) in the 125 class.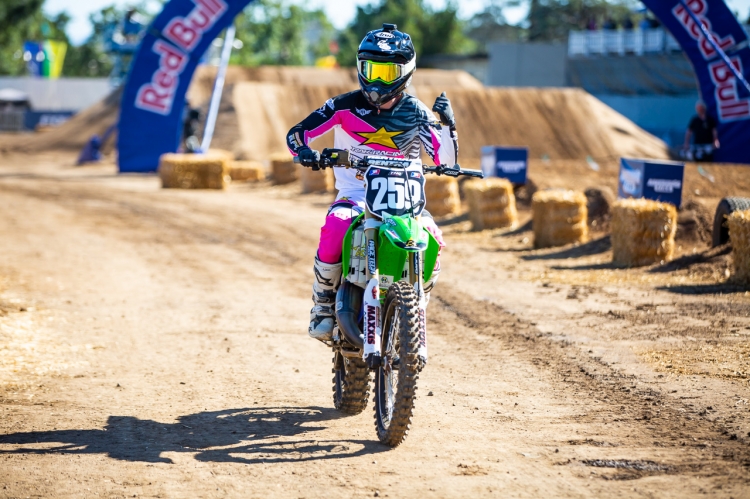 3. Just a Couple of Retired Ryans
There is something about premix that is like a moth to a flame the way it brings riders out of the woodworks. For the 2018 Red Bull Straight Rhythm, a couple of retired guys decided to show up and race. Ryan Villopoto and Ryan Dungey – maybe you've heard of them – lined up to rip the 2-smokers. It started with Ryan Villopoto calling out Ryan Dungey on social media and challenging him to "get off the couch" and line up for Straight Rhythm. Well of course, Dunge wasn't going to let RV talk too much trash – challenge accepted!
Ryan Villopoto has lined up for a handful of one-off races recently, but this was the first time Ryan Dungey has lined up since he announced his retirement at the end of the Supercross season in 2017. Fans were delighted to see the former champions take to the 1/4 mile drag race and battle each other for some excellent race nostalgia. It's great to see how racers evolve from direct and fierce competitors to a couple of retired dudes who can loosen up a bit and shoot the s*** with one another. It was a "couch to podium" event for these two former champions who finished 2nd (Dungey) and 3rd (Villopoto) in the 250 class.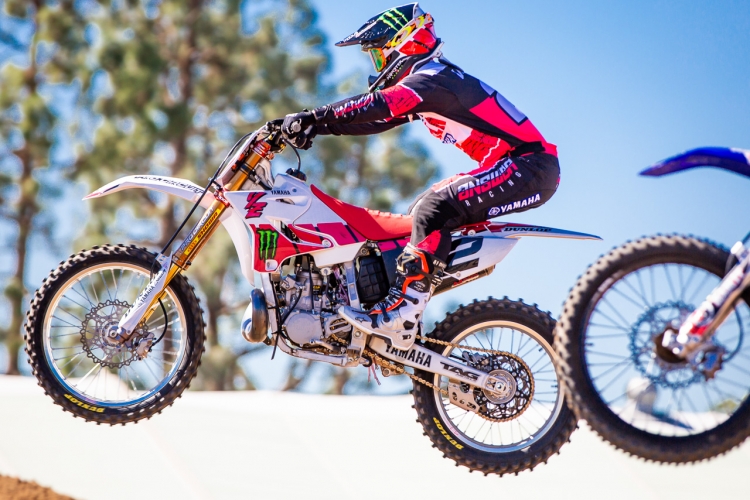 2. Newcomer Carson Brown wins 125 Class
Probably one of the biggest surprises of the event was the dynamite performance from newcomer, Carson Brown. Brown, who has previously raced Arenacross and in Canada, made his pro debut this year during the High Point National. Even though Straight Rhythm isn't a race that counts for any points, as a rookie, it's important to get as much seat time during a race scenario as possible.
Carson Brown took full advantage of the opportunity on his JMC Motorsports Husqvarna and won heat after heat as he proceeded to knock his competitors out of contention. One by one, the rest of the 125 field was chipped away until Brown ultimately emerged victorious!! For a total rookie to claim the top step of the podium in his first season as a pro (even in an "off-season" race like Straight Rhythm), is nothing short of impressive!

1. Shane McElrath is once again Victorious in the 250 Class
Shane McElrath came to Red Bull Straight Rhythm ready to defend his victory from 2017. And while he was still technically in the 250 class this year, this time around the 250 class WAS the big bike class thanks to the 2-stroke only event. Not only did McElrath line up with some heavy hitters like Ryan Villopoto and Ryan Dungey, but it was the first race sporting his newly earned career number of 12.
McElrath and teammate Jordon Smith were two of the only riders at the event who have factory rides for the 2019 season – so the pressure was on for them to perform well at the event. Shane was calculated and deliberate in his runs at the 2018 Straight Rhythm and eliminated his competition, one-by-one until he emerged victorious and once again was able to call himself Straight Rhythm champion.


Red Bull Straight Rhythm may not count for much more than bragging rights and a good purse, but riders continue to make it a very competitive and very entertaining event for fans and riders alike. The 5th anniversary of this unique event was the best on yet! Already looking forward to next year!